Russian Feminist Band Pussy Riot Announces North American Tour, $1 From Each Ticket Sold to Go to Planned Parenthood
Russian punk rock protest group Pussy Riot announced Tuesday that they will embark on a North American tour in 2020, with proceeds benefiting Planned Parenthood.
Pussy Riot are set to headline 19 dates across North America, beginning March 13 in Los Angeles, California and ending in Toronto, Canada on May 19.
The feminist art collective debuted a new song titled "No More Wire Hangers" at a sold-out show in support of reproductive and sexual health care organization Planned Parenthood on July 11 in Birmingham, Alabama. The concert was organized to protest an anti-abortion law that had been recently passed in the state. The law has yet to be enacted, due to a legal challenge citing constitutional issues.
The band have partnered with nonprofit group PLUS1 on the upcoming tour, which helps bands donate a portion of ticket proceeds to charity. A dollar from each ticket sold for the Pussy Riot tour will go directly to local branches of Planned Parenthood.
A 27-second promotional video accompanies the group's tour announcement. Tickets are on currently available on the band's website.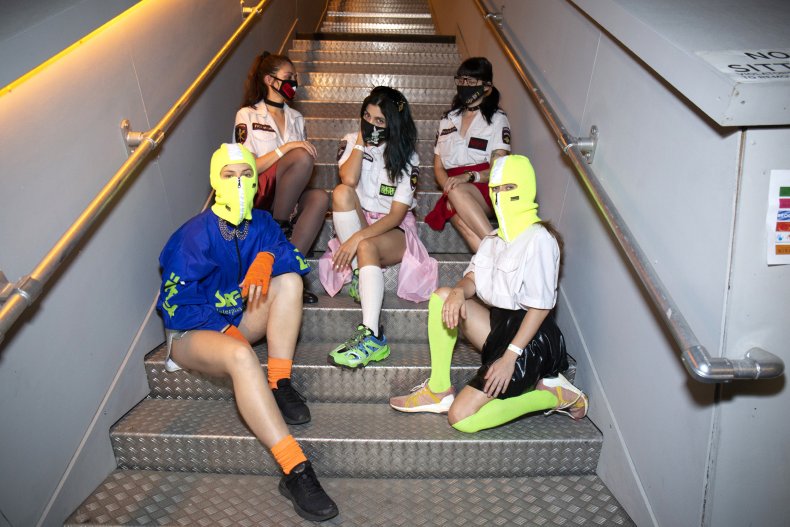 Pussy Riot was founded in 2011 and quickly became known for their left-wing ideals and strong opposition to Russian President Vladimir Putin, often making unannounced guerilla-style performances in public while wearing brightly colored clothing and balaclava ski masks.
The group first came to international attention after the February 2012 political arrest of three members involved in an anti-Putin "Punk Prayer" performance at a Russian Orthodox church in Moscow.
Founding members Nadezhda Tolokonnikova and Maria Alyokhina each spent 21 months behind bars for the incident. They were charged with "hooliganism" that was "motivated by religious hatred." Yekaterina Samutsevich, the third arrested member, was released in October 2012. The group's large and variable membership is mostly anonymous.
Pussy Riot's difficulties with Russian authorities resulted in a wave of support from international human rights activists. The band also gained the endorsement of numerous popular musicians and pop culture figures from around the world.
Despite the group's fame, some members rejected the idea of performing for a paying audience at the time, vowing to only perform according to their anti-capitalist ideals at "illegal" concerts.
"We're flattered, of course, that Madonna and Björk have offered to perform with us," a group member identified as "Orange" told Radio Free Europe in 2012. "But the only performances we'll participate in are illegal ones. We refuse to perform as part of the capitalist system, at concerts where they sell tickets."
The group's recent concert history appears to contradict that sentiment, although members have been known to disagree on the topic on the past. The band first toured North America in 2018.
According to a November 13 radio appearance by Pyotr Verzilov, the former husband of Tolokonnikova, Russia recently paid a €37,000 fine (approximately $41,000) levied by the European Human Rights Court in 2018, due to human rights violations related to the arrest and imprisonment of the group members in 2012.