Russian forces appear to have moved military vehicles near the country's border with Finland in unverified footage.
The unconfirmed footage, shared online on Monday, showed at least two Russian military vehicles moving towards the border with Finland.
In the clip, shared on Twitter by user OSINTdefender, the vehicles appear to be K-300P Bastion-Ps, which are coastal defense missile systems.
Towards the end of the 43-second video, the person holding the camera focuses on a street sign which gives directions to Helsinki, the capital of Finland.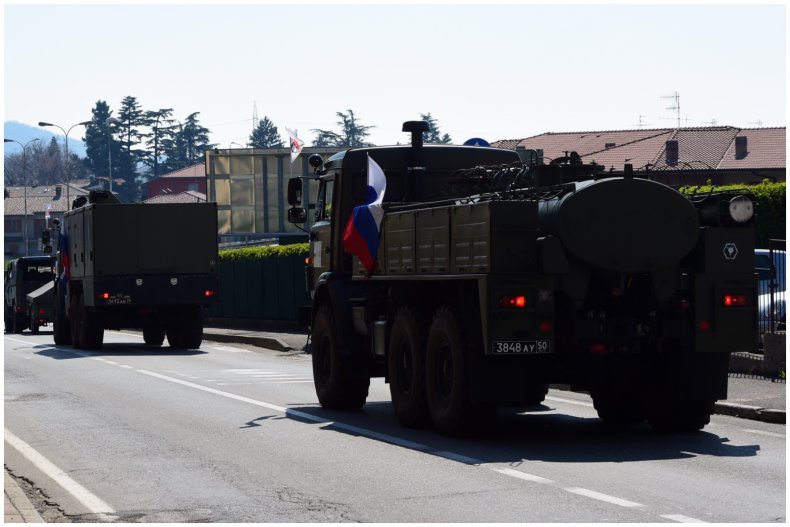 Since being uploaded, the clip has been viewed some 465,600 times and commenters have claimed it could have been shared as part of a Russian propaganda effort.
The video was shared on social media just hours after Russia warned its Western neighbor against joining NATO.
According to U.S. officials cited by The Times of London, Finland will aim to join NATO as early as this summer.
Estonian and U.K. officials previously told Newsweek that the report was accurate. The Estonian official said Sweden and Finland participated in a NATO meeting last week.
Finland, which gained independence from Russia in December 1917, had long resisted joining the alliance—even at the height of the Cold War.
But Russia's invasion of non-NATO member Ukraine has led Finland and nearby Sweden to reconsider their neutral stances towards the military alliance.
The Kremlin snapped back on Monday and warned both nations against joining the organization.
"We have repeatedly said that the alliance remains a tool geared towards confrontation and its further expansion will not bring stability to the European continent," Kremlin spokesperson Dmitry Peskov told reporters.
Newsweek has contacted Finnish national security officials for comment.
Finland's Prime Minister Sanna Marin said earlier this month the country would make a decision by the end of spring on whether to apply for NATO membership.
NATO Secretary-General Jens Stoltenberg told CNN's Dana Bash earlier this month that it was ultimately up to Finland whether or not to join the alliance.
He said: "We respect the sovereignty and the territorial integrity of Finland to decide their own future.
"That's exactly what Russia does not respect, they're actually trying to intimidate and are saying that if Finland decides to join NATO, there will be consequences."
Should Finland join NATO it would represent a spectacular blunder for Russian President Vladimir Putin who has said the alliance is a threat to the country.
He previously cited NATO's eastern expansion as part of his justification for launching his invasion of Ukraine on February 24.