Russian Forces Fail to Cross Ukraine River in 'Highly Risky Maneuver': U.K.
A new intelligence report about the fighting in Ukraine shows Russian forces recently encountered resistance during an attempted operation that the United Kingdom's Ministry of Defence called "highly risky."
The U.K. posted on social media Friday morning that Russian forces tried to cross the Siverskyi Donets River west of Severodonetsk in the Donbas region but were unsuccessful. The report said the Russians were trying to "achieve a breakthrough towards Sloviansk and Kramatorsk."
The report said that images of the unsuccessful crossing show Russia lost military supplies such as "significant armoured maneuvre elements" from "at least one Battalion Tactical Group" and also "pontoon bridging equipment."
The report went on to say that the failed effort's main objective was to try to "envelop Ukrainian forces in the Joint Forces Operation area, isolating them from support or reinforcement by units in the west of the country."
Sean Spoonts, the editor-in-chief of SOFREP, a military news outlet, estimated that Russia has three months until its equipment and forces become too drained, forcing the country into a difficult decision.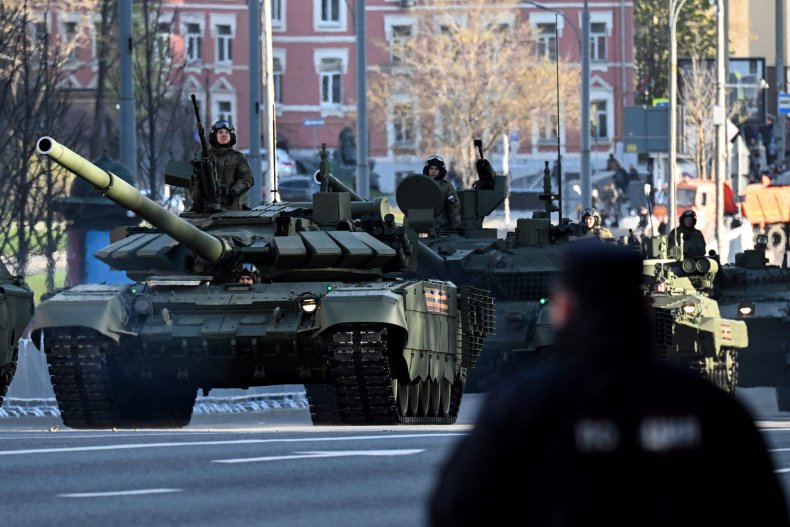 "I think the Russians would not be able to go much further than 90 days longer," Spoonts said. "At the bleed rate that they're going through right now, 90 days may be stretching it."
The equipment that Russia, which invaded Ukraine in late February, is supplying its military has been questioned. One report said that a Russian soldier called his body armor less than ideal.
The soldier, in a phone call captured and released by the Security Service of Ukraine, responded to his mother's inquiry about the state of his equipment that the body armor "we have now is terrible."
Also, undertaking such a daring exercise as a river crossing speaks to the difficult position the Russian commanders are in, due to the pressure they are facing as well as their general lack of "progress in their operations in eastern Ukraine," according to the report.
Russian forces, the report added, "have failed to make any significant advances despite concentrating forces in this area."
The Institute for the Study of War (ISW), which focuses on research and analysis regarding defense and foreign affairs, and provides daily updates on the war, said in its May 11 assessment that Ukrainian forces took further ground northeast of Kharkiv.
Newsweek reached out to the U.K. Ministry of Defence and the Russian and Ukrainian ministries of foreign affairs for comment.