Russian Forces Practice Fighter-Jet Shootout Over Crimea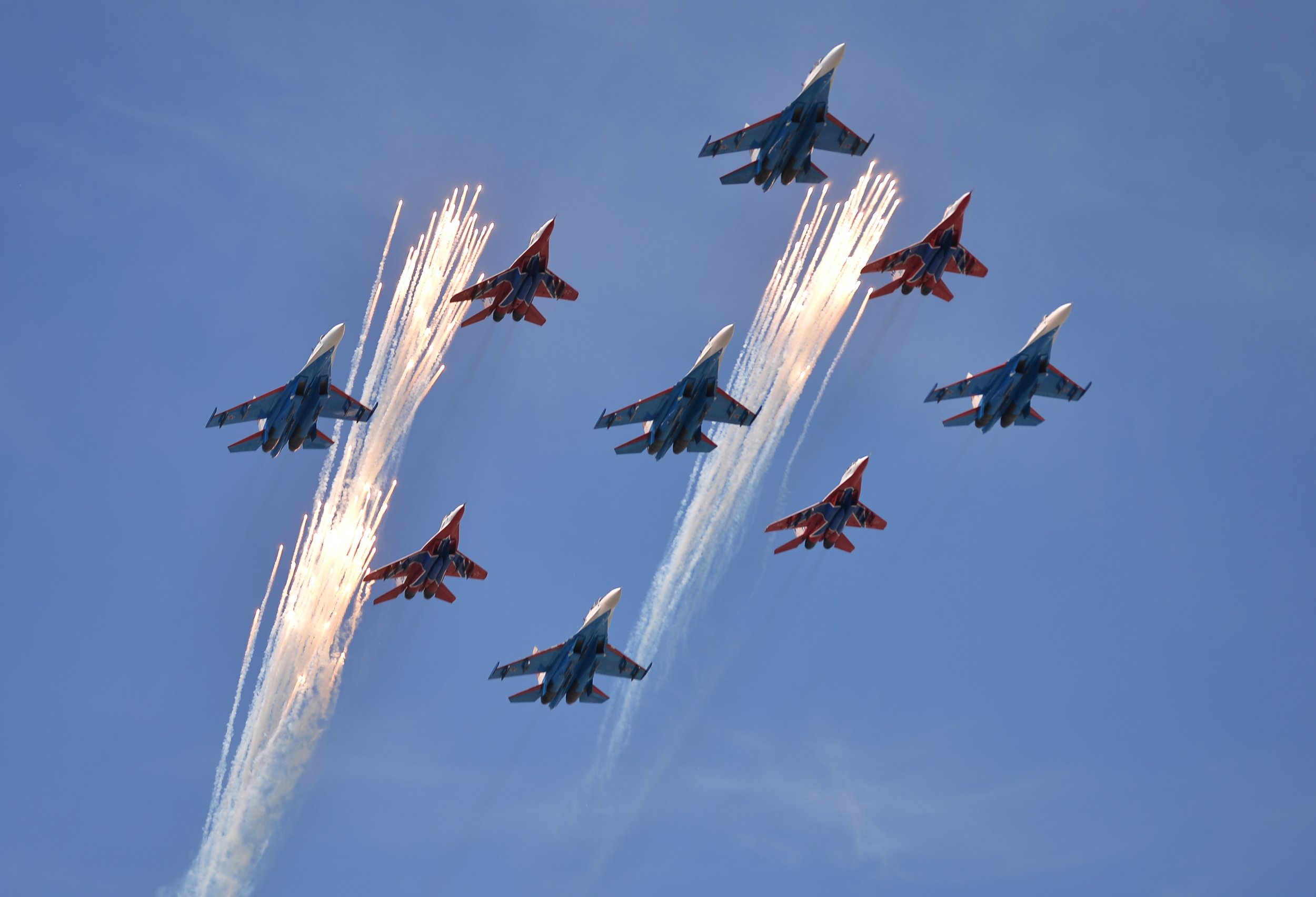 Around two dozen Russian air force pilots practiced unleashing fire against enemy aircraft in a large drill over Europe's Black Sea, where the United States's presence has repeatedly irked Moscow.
The exercise drafted crews of Su-27 and Su-30 fighters in annexed Crimea going over a handful of air combat maneuvers, the Russian Ministry of Defense said in a statement. The wider drill involved a total of 6,000 military personnel, including 100 aircraft across Crimea and two nearby Russian federal regions.
Related: How Do Russia's Overseas Military Bases Compare to the U.S.'s?
The air-fight drill included a simulation of fire in nighttime conditions, with air targets standing in as the air force of a hypothetical enemy. Russian forces also used Su-24 jets to hit ground targets, holding off a hypothetical enemy terrestrial force, while Russian troops delivered a Pantsir surface-to-air missile system to provide covering fire for the jets, state news agency Itar-Tass reported.
Top brass also drafted three different kinds of helicopters to the drill, clearing the area for an amphibious landing by Russia's marines.
Ukraine's government has vowed not to try and retake Crimea by force. But this has not prevented some tense encounters and near misses between Russian forces and foreign militaries near Crimea. The Russian military rallied 6,000 troops for an artillery drill in Crimea during March.
U.S. officials complained that Russian aircraft treated U.S. jets with hostility in the Black Sea. The U.S. said that a Russian aircraft performed an unsafe intercept of its own aircraft in January, two months after a similar incident resulted in a dramatic encounter that caused "violent turbulence" for the U.S. aircraft.
The two countries appear to be working at cross-purposes with each other, as the Russian Ministry of Defense said the U.S. should get used to having its jets buzzed if it keeps sending them near Crimea. After one incident, Russia's ex-air force general went as far as to say that the U.S. had no business in the Black Sea.
Meanwhile, the U.S. has continued military deployments to its allied ports in the Black Sea, most recently sending two warships there in February. A U.S. military official told CNN at the time that the U.S. was trying to "desensitize Russia" to Western maneuvers in the sea that was once almost entirely surrounded by the Soviet Union and its allies but currently is shared between Russia, three NATO allies and two prospective NATO members.