Russia Is Preparing for a Nuclear or Chemical Attack as Tensions With NATO Build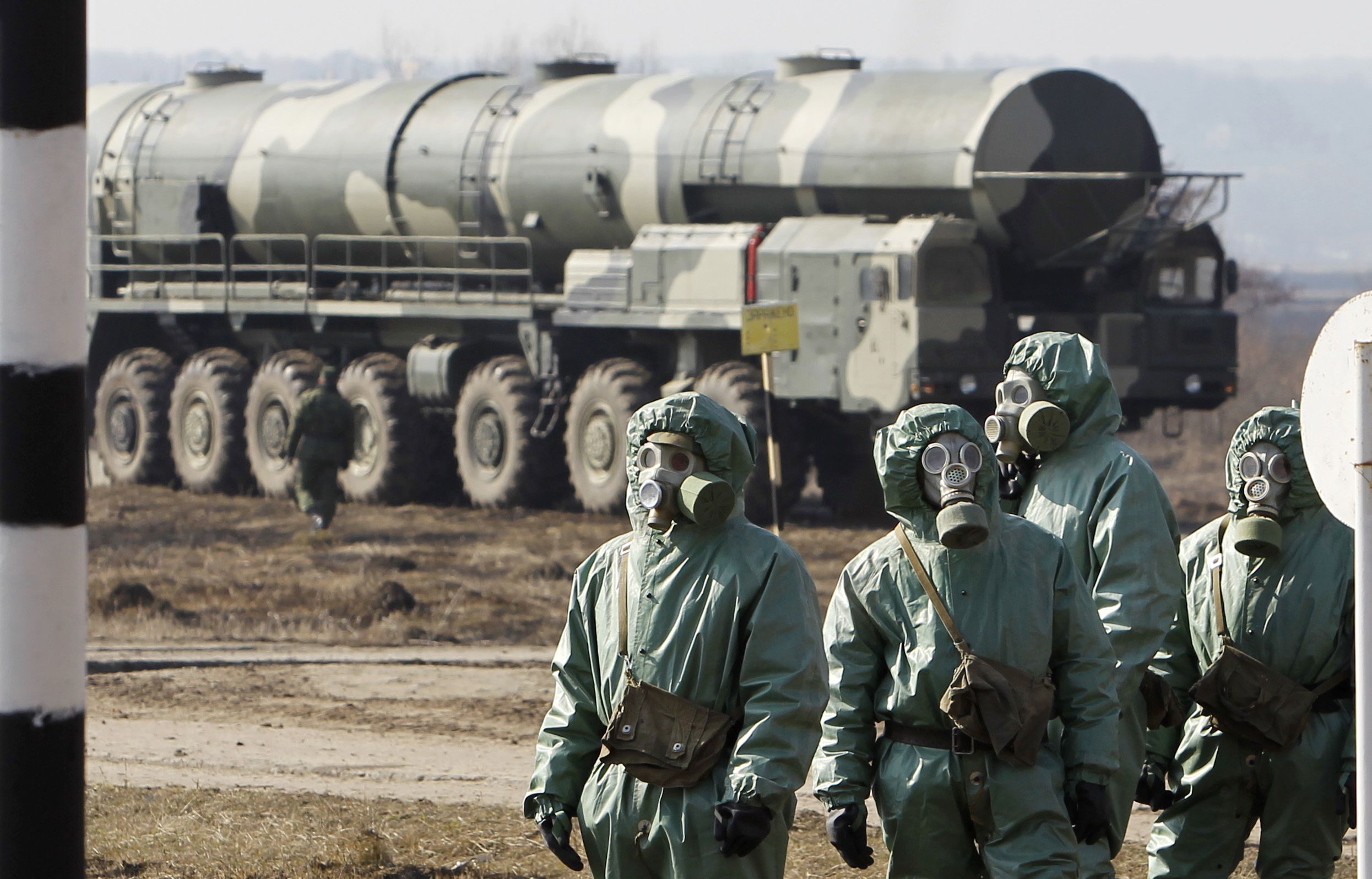 Russian troops near the Black Sea coast have carried out drills for a scenario in which Russia was attacked by a chemical or nuclear weapon, the country's military has revealed.
Spread across three Russian regions between the Black and Caspian seas, the drills involved more than 5,000 troops, the Ministry of Defense announced in a statement Monday.
Preparing for a scenario in which Russia was attacked by "weapons of mass destruction by a hypothetical enemy," soldiers were deployed in hazmat suits and gas masks.
Read More: Russia's nuclear forces can bypass missile shields, Moscow boasts
Units specializing in chemical weapons were deployed in the Krasnodar and Stavropol regions, while at least 100 personnel in the neighboring Rostov region launched a parallel decontamination drill on Monday. It followed similar exercises held by Russian overseas troops in nearby Armenia over the weekend.
Also deployed were mobile laboratories and radioactive- and chemical-tracing reconnaissance vehicles capable of quarantining, assessing and potentially eliminating a chemical or nuclear theat.
In recent weeks, Russia's nuclear-capable forces practiced missile launches and flyovers in apparent offensive measures for a conflict scenario. The military has pledged to test its Sarmat intercontinental ballistic missile system before the end of the year.
Russian Minister of Defense Sergei Shoigu has alleged that NATO is developing use of nuclear arms near Russia's western borders last week, but has not provided evidence for the claims.
Russian President Vladimir Putin has repeatedly warned of the dangers of a nuclear conflict, mostly in response to the growing rift between the West and his government.
Russia's annexation of Crimea, backing of separatist insurgents in Ukraine's east and its military support for Syrian President Bashar al-Assad have been the major sticking points that have worsened ties with the U.S. and European states.
Recent allegations that Russia interfered in the U.S. presidential election last year have halted Trump's campaign initiative to reach out to Putin and improve relations.
While a handful of officials have made a habit of speaking about hypothetical massive and possibly nuclear conflict, opinion polls show the majority of Russians are wary to believe such a scenario is likely, despite the rift with the West.
According to state pollster WCIOM, 63 percent of Russians felt that war with the U.S. or NATO was impossible or unlikely in April. Although North Korea enjoys a better relationship with Russia than with most countries, the country's nuclear weapons program was viewed as a threat by 67 percent of Russians. A total of 39 percent believed North Korea directly threatened Russia.