Russia Bombs Syria Rebel Strongholds After Jet Is Shot Down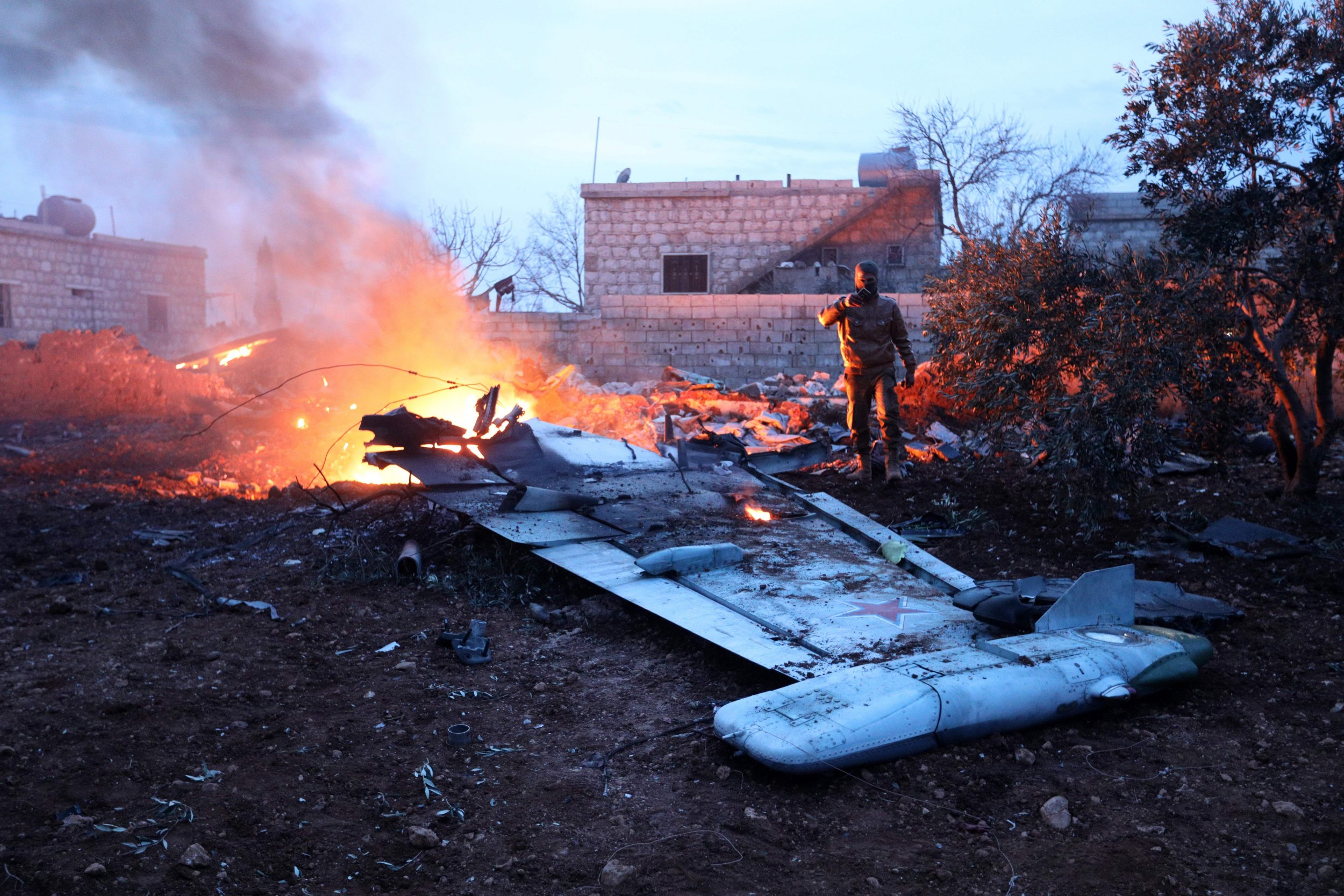 Russia has stepped up its bombardment of rebel-held towns and cities in Syria after a Russian warplane was shot down and its pilot died after ejecting and trading fire with militants.
The Russian Ministry of Defense confirmed that an Su-25 went down in a region of Syria that has seen some of the fiercest fighting between anti-government rebels and Syrian President Bashar al-Assad, who is backed by Moscow. Rebels once affiliated with extremist group al-Qaeda claimed the attack.
Related: Russia's Putin Presents His Generals as the Men Who Saved Syria
Airstrikes in Khan Al-Subl, near where the jet was shot down, killed at least 10 people, including children, rescuers told Reuters. In the town of Ma'asran, rescuers said the bodies of a family of seven were pulled from the rubble.
"We are pulling bodies from under collapsed walls," Ahmad Hilal, a volunteer, said. "The Russians are taking their revenge on civilians, many of whom were already displaced and had fled their homes from earlier bombardment."
Citing the White Helmets civil defense group, The Washington Post reported that 25 strikes, most of which targeted residential areas, had killed at least seven civilians. The BBC reported on Monday that around 15 towns and villages in Idlib province had been targeted, and a hospital where some of the injured were taken had been bombed.
Rebels appeared to have shot down the plane with a shoulder-mounted weapon known as a MANPADS, which the United States denied providing to anti-government forces in the Syrian conflict.
Government forces are on the advance in Idlib province, one of the last rebel-held areas of the country after more than six years of brutal civil war in Syria. The Syrian Observatory for Human Rights, a Britain-based monitoring group, estimated that at least 465,000 people have been killed in the conflict, with millions displaced.
The Russian Ministry of Defense has consistently denied reports of any civilian casualties over more than two years of military intervention, despite allegations of assisting in the striking of hospitals and of shedding more civilian blood that any other party in the conflict in some months.
A long-standing ally to the Syrian regime, Russia will retain and upgrade its naval base in northern Syria and its airfield in Khmeimim.