Russian Forces Spark War Fears With Surprise Combat Drill in Armenian Village
Russian troops caused a diplomatic scandal when they rolled into a nearby country with a bang, launching a surprise combat drill that had locals fearing war had broken out.
The government of Armenia has demanded an explanation from Moscow about why Russian soldiers opened fire in western parts of the former Soviet country this week. Residents of a nearby village, ironically named Panik, rushed out of their homes to witness Russian military vehicles rolling down the streets accompanied by the sound of gunfire. They recorded some of the ruckus on their smartphones.
"What is all the shooting for?" one local asked a soldier, surrounded by angry residents. "You frightened the whole village. Do you understand that? Is there a war starting or what?"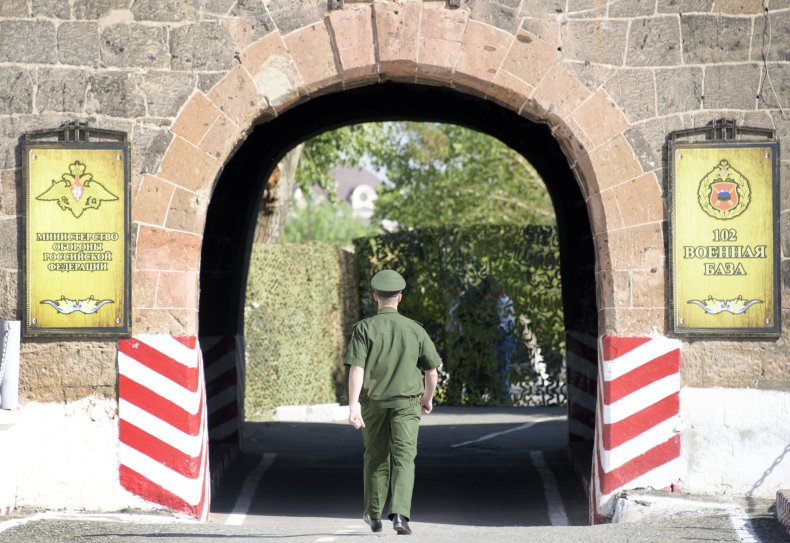 The interrogated soldier refused to identify himself. He then explained his comrades in arms were only firing blanks and asked one of the villagers not to yell at him. His aloofness only prompted more anger from the gathering crowd. "You scared the whole region, now you're telling us not to yell!" one enraged Armenian told the serviceman. The rally of civilians reportedly called the police and kept the soldiers waiting until authorities arrived to ask questions and calm the situation.
Eventually Russia's 102nd Military Base—an overseas contingent based near the Armenian city of Gyumri—confirmed it had sent its soldiers on a training mission nearby but promised to investigate how the group wound up in the unsuspecting streets of Panik.
The advance of Russian forces came as a shock to the entire village, according to local authorities, who said they received no prior warning of a war game nearby. "Everyone immediately ran out of their homes after the noise," Vardan Makeyan, Panik's mayor, told Russian state radio Sputnik on Wednesday. "There were even some kids who lost consciousness."
The scandal quickly traveled up the chain of command, as the governor of Armenia's Shirak region intervened to announce that the Russian troops had issued an apology to him. "They are saying that all of this was a force majeure kind of situation," Governor Karen Sarukhanyan told Radio Free Europe. "They did not intend to carry this out in precisely that place, for which they apologized and assured me it will never happen again."
Related: Russia wants to build a bridge to Japan, linking Tokyo to Europe by train
"They said that they will hold an event, they will organize an open day and invite even local residents so as not to allow animosity to arise between them. They said we are brotherly countries and this was simply negligence," Sarukhanyan said.
The Russian military gave a less self-effacing explanation to Armenia's Ministry of Defense, saying forces coordinated the drill with the Armenian government but simply neglected to "take into account all possible inconveniences" to locals in selecting the area for a drill.
Armenia's recently elected new Prime Minister Nikol Pashinyan struck a stricter tone, telling the News Armenia news agency on Thursday that the incident was "impermissible" and a "provocation" for Russian-Armenian relations, as well as Armenia's sovereignty.
"Those responsible for the incident must be unmasked and held responsible," Pashinyan said, suggesting that Yerevan is not leaving Russian forces to be the only ones investigating the incident. "I know that the police is currently preparing relevant materials and I hope that the next move of the investigators will bring results. "