Russian Frigate Launches Missiles at Ukrainian Targets in Chilling Video
Video released by Russia purports to show one of its warships in the Black Sea launching a salvo of missiles at unseen targets in Ukraine.
Newsflash obtained the footage from the Russian Ministry of Defence (MoD) on Wednesday.
The Russian MoD said (in English): "The Armed Forces of the Russian Federation continue a special military operation in Ukraine.
"High-precision long-range sea-based Kalibr missile strikes destroyed hangars with a large batch of foreign weapons and ammunition supplied by the United States and European countries for Ukrainian troops on the territory of the Zaporozhye aluminum plant."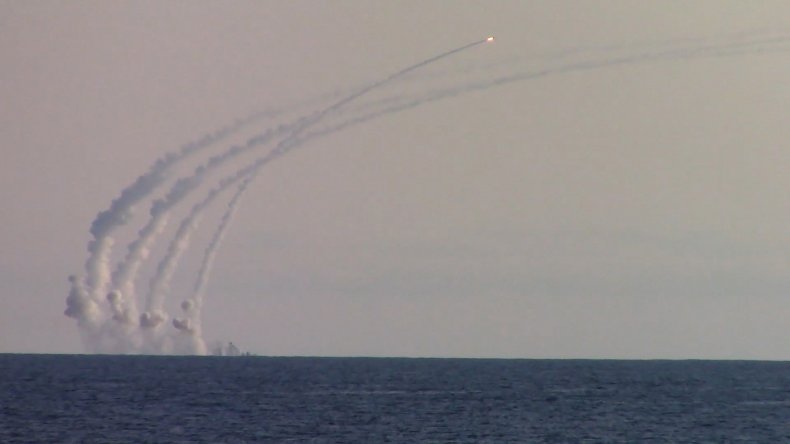 "Operational-tactical and army aviation of the Russian Aerospace Forces hit 59 military facilities of Ukraine overnight.
"Among them: 50 areas of concentration of Ukrainian manpower and military equipment, 4 weapons and ammunition depots near Chervonoe, Dolgenkoe, Pashkoe and Veseloe, and 1 Buk-M1 anti-aircraft missile system near Slavyansk.
"As a result of the strikes, over 120 nationalists and 35 armored vehicles and vehicles were destroyed.
"Missile troops and artillery performed 573 firing tasks during the night.
"Destroyed: 432 areas of concentration of enemy manpower and military equipment, 67 artillery positions, 2 batteries of multiple rocket launchers, as well as 7 ammunition depots.
"Russian air defence means shot down 18 Ukrainian unmanned aerial vehicles near Alexandrovka, Balakleya, Bryanka, Zaporozhskoe, Izium, Kapitolovka, Peremoga, Petrovka, Popasnoe, Proletarskoe, Trudolyubovka, including 2 Bayraktar-TB2 UAVs near Kalesnikovka and Krasny Liman.
"In addition, 1 Ukrainian tactical missile Tochka-U was shot down over Ilyichevka.
"In total, since the beginning of the special military operation, 141 aircraft, 110 helicopters, 607 unmanned aerial vehicles, 273 anti-aircraft missile systems, 2,596 tanks and other armored combat vehicles, 296 multiple rocket launchers, 1,134 field artillery and mortar guns, as well as 2,413 units of special military vehicles have been destroyed."
The General Staff of the Armed Forces of Ukraine (AFU) posted Wednesday on Facebook that "In the Mykolaiv, Kryvyi Rih and Zaporizhzhia directions, the enemy is trying to improve its tactical position. To this end, it is regrouping units, building up a system of fire damage, and also conducting aerial reconnaissance."
The video from Russia comes as the AFU releases its own figures for the losses it says they have inflicted on the Russians.
The AFU General Staff said earlier Wednesday that Russia had already lost about 22,400 troops in Ukraine thus far.
It added that the enemy's total combat losses also include 939 tanks, 2,342 armored fighting vehicles, 421 artillery systems, 149 multiple launch rocket systems, 71 anti-aircraft systems, 185 warplanes, 155 helicopters, 1,666 motor vehicles, eight vessels, 76 fuel tankers, 207 unmanned aerial vehicles, 31 units of special equipment and four mobile short-range ballistic missile systems.
Russia has not confirmed any specific number of losses thus far. Its troops invaded Ukraine on February 24 in what the Kremlin has been calling a "special military operation" to "protect Donbas."
The invasion is now in its 63rd day.
This story was provided to Newsweek by Zenger News.