Russian General Threatens to Target U.S. Allies if Trump Leaves Nuclear Treaty
Russia will retaliate if President Donald Trump leaves a Cold War-era nuclear treaty by targeting allies of the United States, a top Russian military general has warned.
Valery Gerasimov, chief of the general staff of the Armed Forces, made a presentation to foreign military attachés in Moscow on Wednesday, saying that Russia will respond if the decades-old pact is undone.
"If the INF [Intermediate-Range Nuclear Forces] treaty is destroyed, we won't leave it without a response," he said, The Moscow Times reported. "You as military professionals must understand that the target for Russian retaliation won't be U.S. territory, but the countries where the intermediate-range missiles are deployed."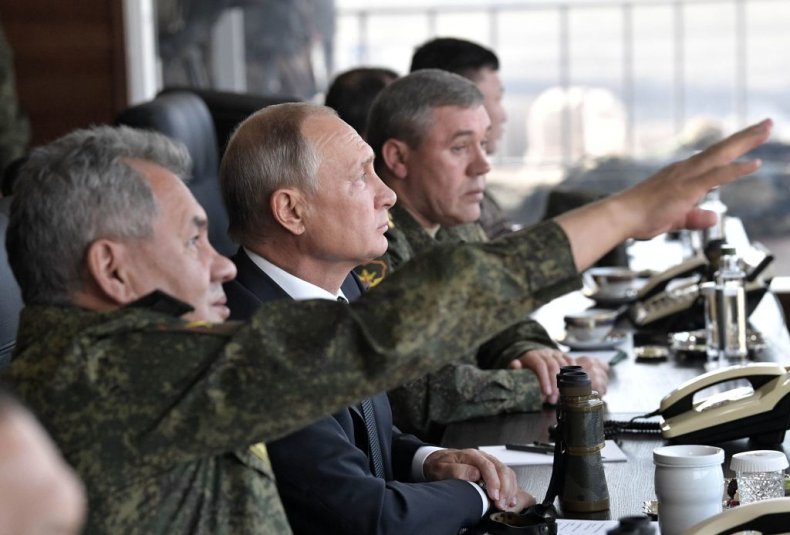 Gerasimov's warning came after Secretary of State Mike Pompeo on Tuesday issued Russia a 60-day deadline to comply with the INF agreement, which was signed by former President Ronald Reagan and Soviet leader Mikhail Gorbachev in 1987. Washington's top diplomat warned that the U.S. would withdraw from the treaty if Moscow did not move toward compliance.
Accusing the U.S. of making Russia into a scapegoat, President Vladimir Putin said that Washington had presented "no evidence of violations," Radio Free Europe reported. "What will be the response from our side? Very simple: We will also do this," the Russian leader told reporters Wednesday, saying that Moscow would follow Washington and withdraw from the INF deal.
The foreign ministers of NATO members also demanded that Russia return to compliance with the treaty in a Tuesday statement, standing in support of the Trump administration's position.
"Russia's violation of the INF Treaty erodes the foundations of effective arms control and undermines Allied security. This is part of Russia's broader pattern of behaviour that is intended to weaken the overall Euro-Atlantic security architecture," the military alliance said, arguing that the U.S. and its allies had remained in full compliance.
Konstantin Kosachev, chairman of the Foreign Affairs Committee at the Russian Federation Council (the upper house of Moscow's parliament) slammed the demand from the U.S. and NATO.
"This is a rude ultimatum, which the US has given just for one goal: to show the world and its allies that it's not they who ruin this vital international security pillar, but it's Russia," the Russian senator wrote in a social media post, according to state-run Tass news agency.
Trump and Putin had been slated to discuss tensions over the INF agreement face-to-face during the G20 Summit in Argentina over the weekend. But the White House canceled the meeting at the last minute, citing Russia's actions towards Ukraine after tensions escalated in the Sea of Azov.