Russian Gymnast Dons War Symbol on Uniform While Standing Beside Ukrainian
A Russian gymnast caused a stir on Saturday after wearing a pro-Russian military symbol during a major athletic event, and afterward while standing on the medal podium next to a competitor from Ukraine.
Ivan Kuliak, 20, won bronze in parallel bars at the International Gymnastics Federation's Artistic World Cup in Doha, Qatar, on Saturday. Throughout his appearance at the event, a white "Z" made of tape could be seen on his uniform, according to Inside the Games. The symbol is similar to the kind spray-painted on Russian equipment and vehicles in Ukraine to help differentiate them.
The symbol has been interpreted by some as a show of support by Kuliak for the Russian invasion of Ukraine, according to sports journalist Rick Westhead.
Kuliak's display was especially notable given that he competed against an athlete from Ukraine, 18-year-old Kovtun Illia, and even stood beside him during the medal ceremony. Illia won the parallel bars event, while Kulak placed third, and Kazahkstan's Karimi Milad in second.
The competition marked the last for Kuliak and other gymnasts from Belarus and Russia. Beginning March 7, they are barred from competing in International Gymnastics Federation events due to Russia's invasion of Ukraine and Belarus' support of the military operation. The federation's ban follows similar measures made in response to the invasion of Ukraine by the International Olympic Committee and FIFA.
During Saturday's competition, Kuliak wore a neutral uniform since Russia's flag is banned from appearing in international competition while the nation serves out punishment tied to a state-sponsored doping program. The 'Z' symbol was taped onto Kuliak's chest during the meet, in the space where a nation's flag would traditionally go.
In response to the seemingly pro-invasion display by Kuliak, the International Gymnastics Federation confirmed on Sunday that it had requested an investigation from the Gymnastics Ethics Foundation with a punishment potentially to follow, according to a statement sent to Sky Sports in the U.K.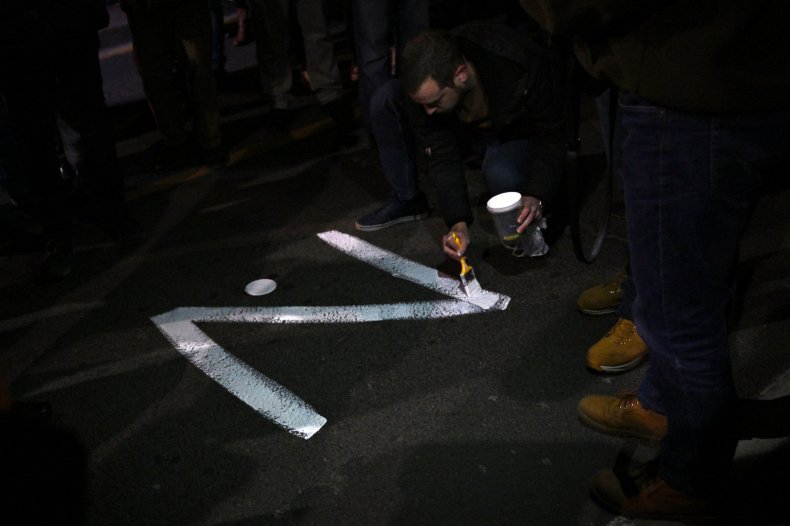 Newsweek reached out to the Gymnastics Ethics Foundation for a comment on this story but did not hear back before publishing.
In response to Kuliak's gesture, Ukrainian gymnast Oleg Verniaiev took to Instagram to speak out against it.
"Of course, you will excuse me, but let the Russians not shout that sport is out of politics!" Verniaiev wrote. "Congratulations to our guy [Illia], everything is in its place glory to Ukraine."
By contrast, earlier in the week two-time Russian Olympic gold medallist Svetlana Khorkina shared a similar "Z" symbol in a post alongside a pro-Russia message.
"A campaign for those who are not ashamed to be Russian," Khorkina wrote.