Russian Humanitarian Aid Convoy Raises 'Trojan Horse' Suspicions En Route to Ukraine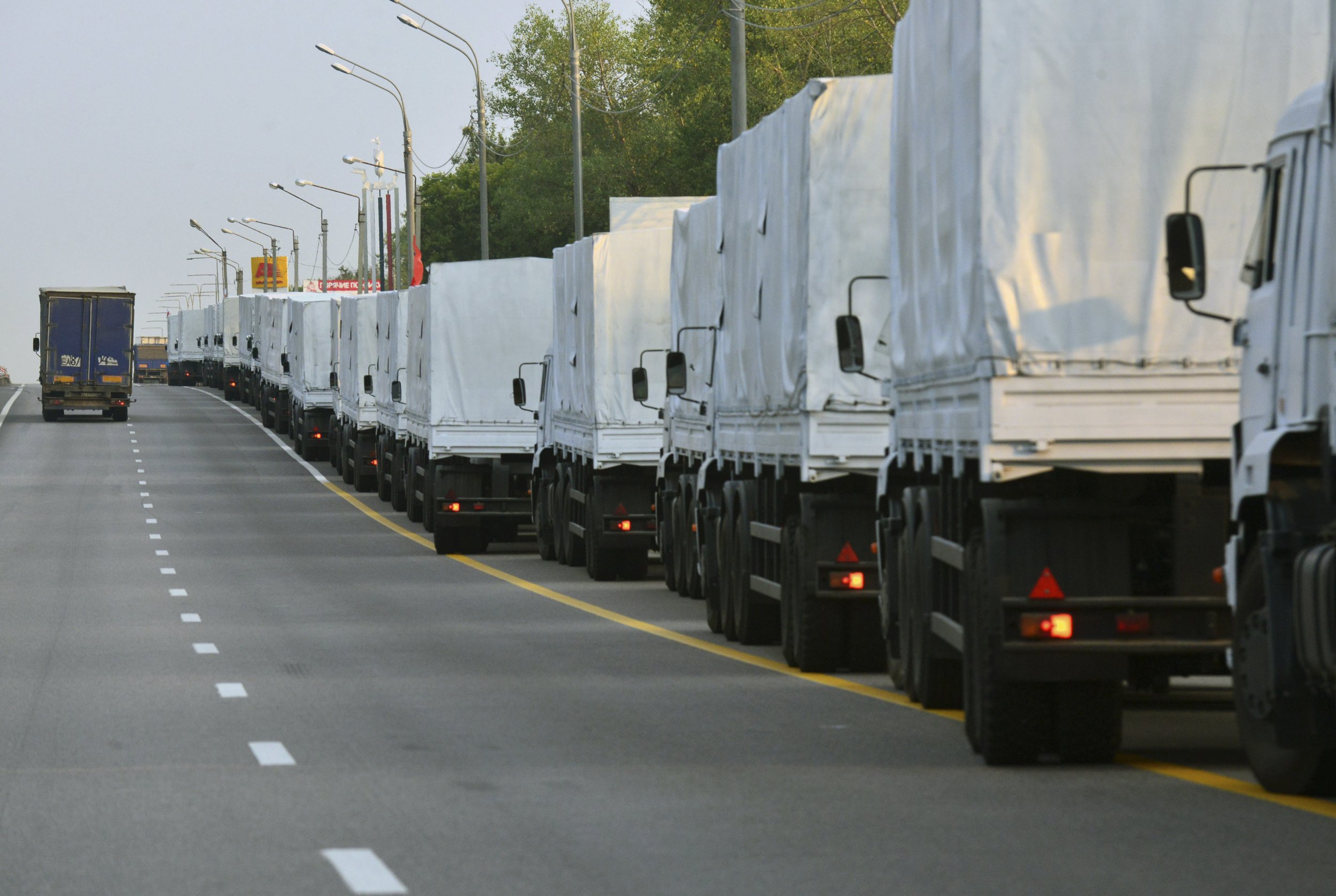 A 280-truck Russian convoy carrying humanitarian aid has left Moscow for eastern Ukraine amid fears it could be a cover for a stealth invasion.
Russia says the 2,000 tonnes of aid is primarily intended for Luhansk, the rebel-held city in eastern Ukraine where government forces are closing in on rebels. American, French and Australian governments have all voiced concerns over the operation, which many think could be a "Trojan Horse" — a reference the tale of Greek forces who secretly entered the city of Troy in a large wooden horse — allowing Russia to infiltrate rebel-held areas under siege by government forces.
French Foreign Minister Laurent Fabius said the aid convoy "could be a cover for the Russians to install themselves near Luhansk and Donetsk and present us with a fait accompli," the BBC reports. Russian President Vladimir Putin's press secretary called the prospect of a military operation under the guise of humanitarian aid "absurd."
The convoy includes 400 tonnes of cereals, 62 tonnes of baby food and 12,000 sleeping bags, according to Russia's Itar-Tass news agency. Humanitarian aid is desperately needed and "critical" as thousands of people in Luhansk and rebel-held areas are without water, electricity and medical aid, the International Committee of the Red Cross (Red Cross) said.
The organization tweeted earlier today that they are not in charge of the convoy.
NATO estimates there are 20,000 Russian troops along the border with Ukraine, but Ukrainian military spokesman Andriy Lysenko puts the number at 45,000, The New York Times reports. Russian troops are supported by 160 tanks, 1,360 armoured vehicles, 390 artillery systems, 150 truck-mounted ground-to-ground rocket launchers, 192 fighter jets and 137 helicopters, Lysenko said.
NATO secretary general Anders Rasmussen said that there's a "high probability" that Russia will intervene militarily in Ukraine. The conflict has resulted in more than 110,000 displaced Ukrainians fleeing their homes and sheltering in refugee camps, with many heading over the border to live in Russia. More than 1,000 people have been killed in the four months of fighting, UN figures show. A BBC report shows a disturbing photo of one Luhansk resident sat beside a dead body in the road.
Reports today suggest Ukraine might block the convoy. "We will not allow escort by the emergencies ministry of Russia or by the military (onto Ukrainian territory). Everything will be under the control of the Ukrainian side," Reuters quotes Valery Chaly, a Ukrainian presidential aide, as saying.
Chaly said Ukrainian authorities will instead take goods from Russian vehicles and load them onto others at the border, ensuring the convoy enters Ukraine "under the aegis" of the Red Cross. Russia also said it would transfer the convoy into the hands of the International Red Cross, Reuters reports.
The trucks will take two days to travel 620 miles to reach eastern Ukraine.