Russian Invasion Is for 'More Farmland,' Senator Tommy Tuberville Says
Alabama Republican Senator Tommy Tuberville recently spoke to a group in which he said that the impending Russian invasion of Ukraine was because they need "more farmland."
The senator made his comments about Russia and Ukraine this week as he addressed the Montgomery Area Chamber of Commerce, according to 1819News.com. Additionally, Tuberville claimed Russia is a communist country and said Putin, at the present time, is unable to feed his people, which is why he needs "more farmland."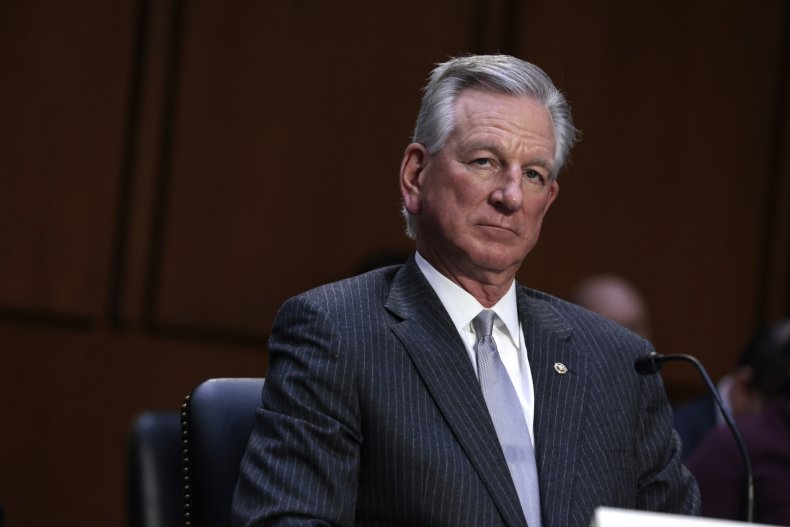 "He can't feed his people. It's a communist country, so he can't feed his people, so they need more farmland," he said.
Additionally, Tuberville told the group that the president of Ukraine, Volodymyr Zelenskyy, told him personally that boots on the ground are not of paramount importance at this time. Instead, Tuberville said the country is in need of both weapons and supplies.
Tuberville went on to say that sanctions on Russia do not provide any assistance, specifically mentioning Russia and Crimea in 2014.
"We've been sanctioning Russia since 2014 since they came into Crimea. Sanctions don't help. We are getting ready to put sanctions on Russia, and every day, Joe Biden buys 500,000 barrels of oil from Russia. Now how in the hell can you put sanctions on somebody, and you're buying stuff from him? We bought 232 million barrels of oil from Russia in Joe Biden's first year," he said.
Late Wednesday night, the Russian invasion of the small Eastern European country got underway with air assaults on the country's larger cities, Kyiv, Kharkiv and others. Air raid sirens sounded in Kyiv, the country's capital, sending several residents to seek shelter and protection in subway stations and other reinforced structures.
Nearly 60 Ukrainians have been killed and almost 170 people have been injured since the invasion of Ukraine got underway, according to USA Today.
In addition to his comments on Russia, Tuberville discussed a variety of other topics, including China and the supply chain.
He told the group that China, not Russia, posed the greatest problem in the world. He pointed to the eastern Asian country's economy and military as having surpassed the U.S., 1819news.com reported.
"The number-one problem in this world is China. Their economy is past ours, their military is past ours, and they are getting ready to move just like Russia is moving across the world," Tuberville said.
As to the lack of truck drivers, the Republican said it's because they are relinquishing their jobs due to vaccine mandates.
"A lot of them are quitting because of vaccine mandates. I hope it doesn't get out of hand, but we've got truckers coming to D.C. I wouldn't care if they shut down the government for about eight months until November because we're in the minority right now. They do not want people telling them they got to take a shot, and I don't blame them because you own your own body," Tuberville said.
A former Auburn University football coach, Tuberville was elected to the U.S. Senate after defeating Democrat Doug Jones in 2020.
Newsweek reached out to Senator Tuberville's office for comment but did not hear back before publication.