Russian Jet Crashes in Syria, All 32 People On Board Assumed Dead
This is a developing story. Please check back for updates.
A Russian jet carrying about 30 people has crashed in Syria at the airbase used by Moscow's armed forces, state news agency Tass reported.
The An-26 aircraft was reportedly trying to land at the Khmeimim air base in northern Syria before crashing on Tuesday afternoon. The jet was carrying 26 passengers and six crew members, according to preliminary information from the Ministry of Defense. All are presumed dead, according to a short statement by the ministry. Their identities or the reason for their flight to the military airfield have not yet been revealed.
Related: A passenger jet has crashed outside Moscow and nobody knows why
Numerous Russian outlets have speculated that the reason for the crash could have been a technical fault, while an investigation is pending. The ministry's statement underlined that based on currently available information, the plane was not under enemy fire when it crashed.
The An-26 is a Soviet-made twin-engine turboprop jet first developed in 1969 and is used by the Russian government for short-range flights.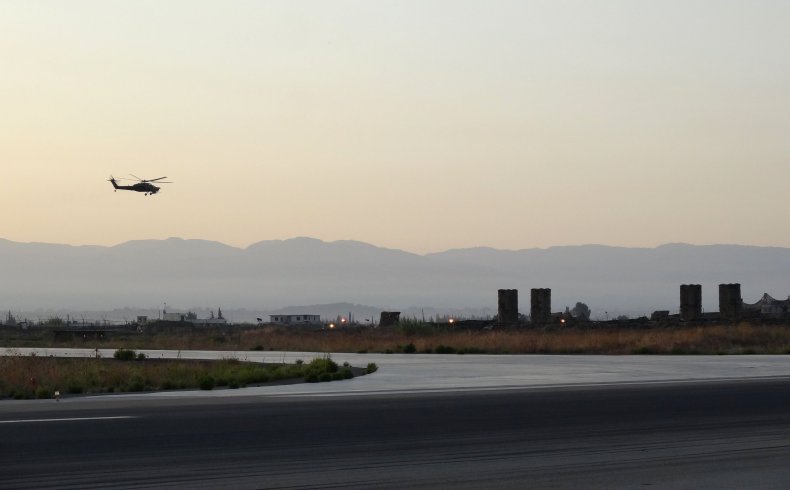 If preliminary information proves correct, the tragedy would not be the first fatal air crash suffered by Russia in connection with its campaign in Syria. Russian fighter jets have been downed twice, once by Turkey's armed forces in 2015 and once by militants on the ground earlier this year. In 2016, a Russian military passenger jet crashed on its way to Syria, killing 92 people, including military singers, dancers and entertainers. However, it plunged into the Black Sea, a considerable distance away from its destination.
Russia's deadliest air casualty tied to its military support for Syria's regime actually took place in Egyptian skies in 2015, shortly after Moscow's operation began. Militants affiliated with the Islamic State group (ISIS) claimed responsibility for an explosion aboard a civilian passenger jet flying from Sharm el-Sheikh to St. Petersburg. All 224 people on board died.