Russian Investigative Journalist Arrested on Drug Charges, Says Cops Planted Substance
One of Russia's best-known investigative journalists, who has exposed numerous corruption scandals in the country, has been arrested on what his lawyer says are trumped up charges.
Ivan Golunov, 36, was working for the independent outlet Meduza, where he had recently uncovered predatory microfinance institutions and reported on relatives of Moscow's deputy mayor earning billions on city contracts.
Golunov was about to meet a contact in central Moscow on Thursday afternoon when he was approached by two plain-clothes officers. They took him in for questioning but did not give him access to a telephone or a lawyer, Meduza reported.
At the station, one officer opened his backpack and found a package which they claimed contained the synthetic amphetamine mephedrone. Bags of the drug were also found in his apartment, police claimed.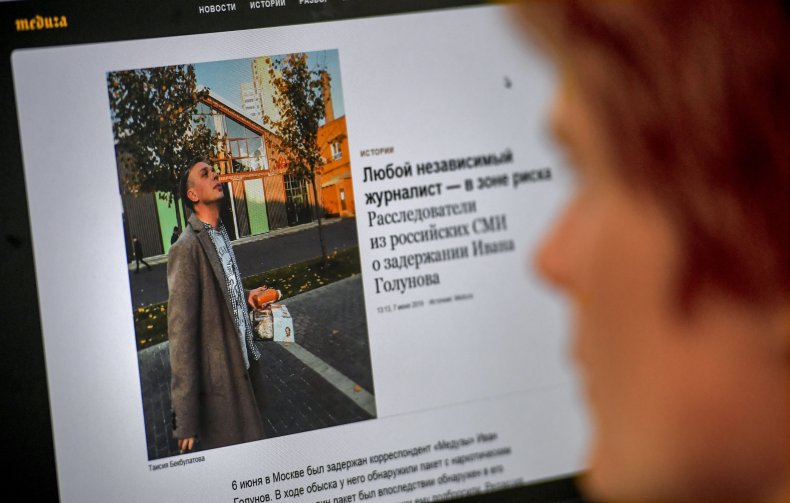 Golunov said he was beaten by officers, pulled and dragged along the ground.
"I was lying on the ground at the bottom of the stairs when I was dragged along. (A police officer called) Maxim put his foot on my chest and one of his colleagues punched me on the cheek," he said, according to Meduza.
Moscow's police department has denied that the journalist was beaten.
Dmitry Djulai, Golunov's lawyer, told BBC Russian that police had planted the drugs on his client to frame him.
He added that police refused to take swabs from his hands or the rucksack to see if he had been in contact with drugs. He also said that officers refused to call an ambulance to the police station after he was beaten.
In a statement, Meduza CEO Galina Timchenko said: "We are convinced that Ivan Golunov is innocent. Moreover, we have reason to believe he's been targeted because of his work as a journalist. We know that Ivan has received threats in recent months, and we think we know from whom.
"We will find out who is behind this, and make the information public. We will defend our journalist by all available means."
Golunov has received the support of rights groups and fellow journalists. Reporters Without Borders said: "Suspicious police behavior may indicate that the drug case was fabricated and needed to silence the journalist. We are closely monitoring the situation."
Novaya Gazyeta journalist Ilya Azar called for people to go on single-person pickets to champion his cause. Under Russian law, people who picket on their own in a public place do not require police permission to protest.
TVi Deputy Editor-in-Chief Tikhon Dziadko published a photograph on Twitter showing Azar holding a poster demanding Golunov's release.
Meanwhile, head editor at Carnegie.ru, Alexander Baunov, dismissed the police's drug claims, saying that Golunov would rarely even drink wine, saying "I think an international response will begin right now."
Pickets in support of Golunov have begun in Perm, Yaroslavl, Krasnodar, and other Russian cities.