Russian Journalist Who Faked Own Assassination Tells Media Critics to 'F*** Off'
The dissident journalist whose murder was faked has lambasted those who criticized his hoax assassination.
Ukrainian security services said vehement Kremlin critic Arkady Babchenko, 41, was shot dead in Kiev on Tuesday. But the next day, he appeared in a news conference where the head of the Ukrainian security service, the SBU, Vasily Gritsak said the death was faked to stop a Russian plan to kill him.
Videos show colleagues at the Ukrainian TV station where he worked dancing and clapping in disbelief when he emerged as they watched the press conference live.
Yet both pro- and anti-Kremlin voices have criticized the hoax.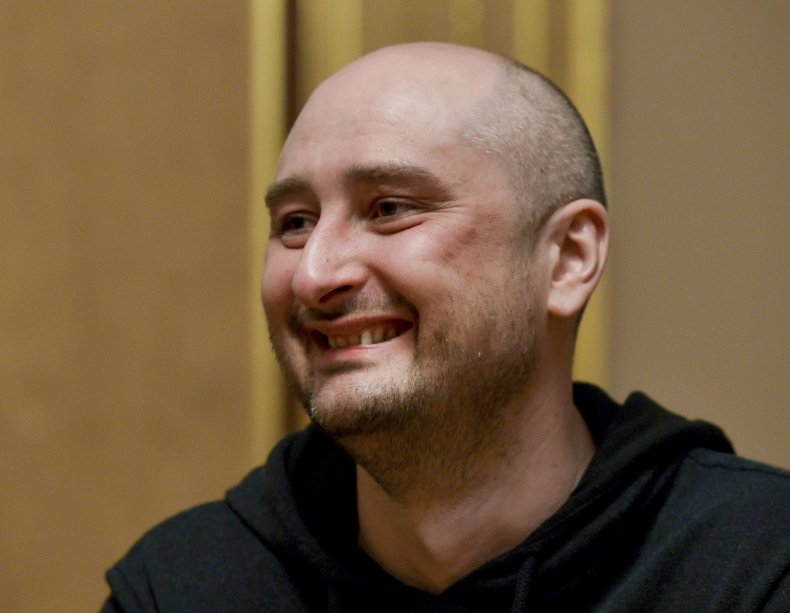 Konstantin Kosachev, the head of Russia's international affairs committee, said the staged murder was akin to British claims that the Kremlin poisoned former spy Sergei Skripal and his daughter Yulia. "The logic is the same, to defame Russia," he said.
The chief of Reporters Without Borders. Christopher Deloire, condemned the operation. "It is pathetic and regrettable that the Ukrainian police have played with the truth, whatever their motive... for the stunt," he told Agence France Presse. "It is always deeply dangerous that states play with the facts, moreover on the backs of journalists."
But Babchenko hit back at suggestions that the false assassination would cast doubt on any genuine attacks on critics of Russian President Vladimir Putin on Thursday. "Dear British Press. Please fuck off! If you want to be of use, give me a British passport and protection," he wrote on Facebook. "Then you can teach me how to save my family. Fucking smartasses, fuck."
He continued to take a bullish tone on the social media platform, reacting to people's posts on his page which ranged from expressions of relief to criticism. "Arkady Babchenko has managed to insult the feelings of the mourners of Arkady Babchenko. Tell me, I'm a fucking great guy huh?!" he wrote in another post.
He also posted how he will now have "the best couple of months in recent years. I'm walking. I'm smiling. It's fucking good." He also promised to "die at the age of 96, having danced on Putin's grave."
But Russian journalist Alexey Kovalev said on Twitter that Babchenko was "a total ass" and that "we're all dunces for falling for this."
Meanwhile, Andrei Soldatov, a Moscow-based investigative journalist, said on Twitter that Babchenko had "undermined even further the credibility of journalists and the media."
Kiev said that investigators have identified a Ukrainian citizen who was allegedly paid $40,000 by the Russian security service to carry out the killing. A statement from the Ukrainian embassy in London said "the perpetrator of a crime" had been arrested and that Ukraine will "bring organizers to justice."
"Ukrainian authorities must now disclose what necessitated the extreme measure of staging news of the Russian journalist's murder," Nina Ognianova, the Europe and Central Asia program coordinator for the Committee to Protect Journalists (CPJ) told CNN. "CPJ is investigating this unprecedented situation and will have no further comment until we have more details."