Russian Journalists Inching Toward Justice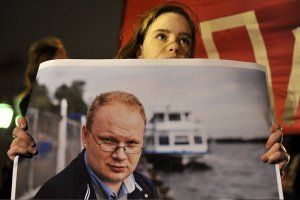 Whenever Russian reporters were shot, attacked, or threatened during Vladimir Putin's presidency, many looked to the Kremlin as a culprit, or at least a silent accomplice to the violence. When crusading investigative reporter Anna Politkovskaya was shot in 2006, for instance, Putin showed his contempt by calling the prize-winning reporter "extremely insignificant."
Now, under Dmitry Medvedev, attacks against journalists continue—but at least the Kremlin has adopted a very different tone. When Oleg Kashin, a top reporter for Russia's leading business daily, Kommersant, was beaten half to death last week, it looked like another depressing landmark in the unending narrative of attacks that have made Russia the second-most-dangerous place in the world, after Iraq, to be a reporter. According to the Glasnost Defense Foundation, eight reporters and editors have been killed and 40 injured this year alone. "The message the attackers are sending us [journalists] is easy to read," says Alexei Venediktov, director of Radio Echo of Moscow. "They broke Kashin's jaw, so he would not talk; his fingers, so he would not write; and his legs, so he could not walk—a typical ordered attempt to shut up a reporter."
But the reaction, both by the press and the Kremlin, shows an interesting change of mood. Russia's press put on an unprecedented show of solidarity with Kashin, with hundreds of editors and reporters signing a petition to the Kremlin to demand that the attackers who left him in a coma be found. Dozens of famous media figures protested in the cold and rain outside the gate of Moscow's police headquarters last weekend, together with students of Moscow State University and young TV, radio, and newspaper reporters. In a sign of the fractionally more liberal times, the nonsanctioned protest was not harassed or broken up.
But most surprising was the reaction of the Kremlin. Medvedev sent a personal message to Kashin in the hospital and blogged that the culprits would be brought to justice.
Russians have heard such pledges before, of course: last year Medvedev also promised justice for lawyer Sergei Magnitsky, who died in jail after being falsely imprisoned by crooked cops—justice that failed to materialize. But Medvedev's latest gesture offered powerful symbolic support to the beleaguered Russian press. Even more important, the wording of Medvedev's response also seemed to imply that he was willing to go after the culprits even if they were in positions of power. "Whoever is behind this crime will be punished, irrespective of his status and his achievements," Medvedev wrote. He also ordered the prosecutor's office to set up a special task force with top investigators to pursue the culprits. The State Duma, always hypersensitive to the slightest change in political wind blowing from the Kremlin, even hatched a plan to give investigative reporters a special legal status, alongside law-enforcement agencies. "Crimes against reporters should be investigated with as much effort as a crime against a police officer," suggests Gennady Gudkov, deputy head of the Duma's Security Committee. "Reporters deserve this status more than most politicians."
The leading suspects in the Kashin beating, according to the blogs of Kashin's fellow Kommersant reporters and stories in the liberal daily Novaya Gazeta, are corrupt regional governors and pro-Kremlin youth organizations that he had investigated prior to the attack. The youth branch of the ruling United Russia party, known as the Young Guard, published an article last summer declaring that "Journalist-traitors must be punished!" and openly threatened Kashin and Kommersant's editor, Mikhail Mikhailin, over the paper's coverage of the youth group's activities. "This is very dangerous—a government-backed organization involving thousands of brainwashed young people is encouraging journalist-haters," says Vladimir Solovyev, Kommersant's international-affairs analyst. "The president is aware of that."
The problem is that Medvedev is not the only, or even the most powerful, player in Russian politics. As Alexei Venediktov puts it, "The Kremlin has 22 towers." Medvedev may have demonstrated his liberal credentials by supporting Kashin and unexpectedly vetoing a law passed by the Duma that would have further restricted freedom of assembly in Russia. But the same week, masked police raided the offices of Alexander Lebedev, the owner of Russia's most liberal newspaper, Novaya Gazeta, as well as the British Evening Standard and The Independent. It's not clear who ordered the raid, though Lebedev blamed "business rivals."
Most probably, he's right: both the Lebedev raid and the attack on Kashin were cases of private retribution by powerful individuals with ties to Russia's bureaucracy and law enforcement. Whether Medvedev is able to protect and enforce the liberalism that he so often talks about is going to be the key test of whether he is actually starting to bring change to Russia or whether he's just a talking head spouting liberal clichés while journalists and businessmen get taken out on the whim of powerful bureaucrats.