Russian Ka 52 Choppers Reportedly Destroy Ukrainian Munitions and Tanks
Russian released video Wednesday of its Ka-52 'Alligator' helicopters taking to the sky and reportedly destroying Ukrainian ammo depots and armored vehicles.
The Russian Ministry of Defence (MoD) said pilots of the Ka-52 Alligator reconnaissance and attack helicopters destroyed Ukrainian ammunition depots and armored vehicles in an unspecified region of Ukraine.
The combat helicopter is capable of stealthily "sneaking up" on a target outside the range of enemy air defense systems, destroying it, and quickly avoiding possible return fire at maximum speed.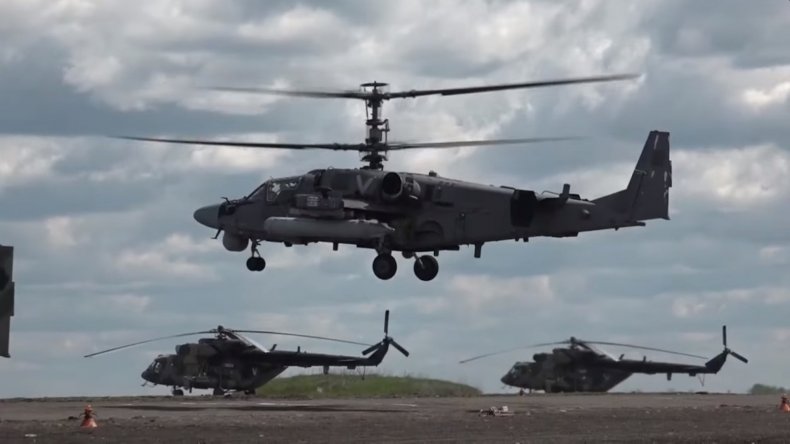 The "Alligator" can attack and defend, providing cover for military columns on the ground and reliable rear support for transport helicopters in the air.
Crew commander Boris said: "We carried out operations to destroy enemy strongholds. We carried out a flight and worked in two pairs, hitting the targets and returning to base.
"Everyone is alive and well. In these conditions, the helicopter is proven to be effective. It allowed us to emerge in front of the forest without alerting the enemy."
Russian engineer Andrey said: "We are providing special attention to ensure that all helicopters are in full working order.
"After refueling and carrying out an external pre-flight inspection, we then rearm them."
Russian troops invaded Ukraine on February 24 in what the Kremlin is calling a "special military operation." Wednesday marks the 77th day of the campaign.
From February 24 to May 11, the total combat losses of Russian troops stand at around 26,350 personnel, according to the General Staff of the Armed Forces of Ukraine.
The Ukrainian military also claims that Russia has lost 1,187 tanks, 2,856 armored fighting vehicles, 528 artillery systems, 185 multiple launch rocket systems, 87 anti-aircraft systems, 199 warplanes, 160 helicopters, 1,997 motor vehicles and fuel tankers, 12 vessels, 390 unmanned aerial vehicles, 41 units of special equipment and 94 cruise missiles.
The latest statistics come as the U.S. House of Representatives agreed to President Joe Biden's request for extra cash for Ukraine. He said that without the $40 billion aid package, the fund would run dry, and it was approved Tuesday to help Ukraine fight back against Russia in what is nearly a 3-month-old invasion.
Legislators approved the Ukraine bill by 368 votes to 57 and the cash will be used to give military and economic assistance, as well as funding the work of regional allies. The bill now heads to the Senate which is expected to also quickly react before the existing money runs out later this month.
This week, Russian President Vladimir Putin addressed a huge military parade on Red Square in Moscow to commemorate the defeat of Nazi Germany at the hands of the Soviet Union in World War II.
Putin used his speech to claim that Russian troops in eastern Ukraine were "defending the motherland." He also said that the "special military operation" in Ukraine was necessary and was provoked by the West.
President Volodymyr Zelensky has warned that the Russian blockade of Ukraine's Black Sea ports threatens global food supplies.
This story was provided to Newsweek by Zenger News.