Russian Man Chooses Living in Freezing Forest Over Joining Putin's Draft
A Russian man has resorted to living in a freezing, snow-covered forest, at temperatures as low as 12 degrees Fahrenheit, to escape President Vladimir Putin's draft for the war in Ukraine.
The man is in his 30s and goes by the pseudonym "Adam Kalinin" to protect his identity and stop him getting found out. He's even managed to hold down his job, creating a new definition of "remote working."
Speaking to Newsweek, Kalinin said he had decided to disappear from the state authorities "nearly a week" after Putin announced his partial mobilization on September 21 of 300,000 reservists.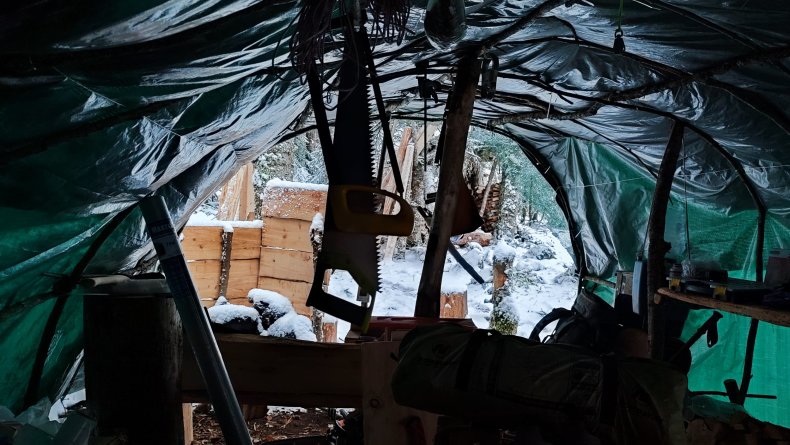 In the hours following the announcement, there were nationwide protests and a mass exodus of Russians fleeing across the border to neighboring countries, including Georgia, Finland, Kazakhstan and Mongolia, to avoid being conscripted.
But Kalinin, who has to keep his exact location secret for fear of being called up to fight, chose not leave the country as "the movement was too complicated for us at that moment."
"There was a hype around the air tickets, the queues on the borders... We were not ready for such serious changes: on one hand we didn't want to leave our parents and friends and one the other hand we simply had a lack of money for moving."
Asked why he chose to flee the draft, Kalinin said: "I'm against any war principally. I'm a pacifist. I don't want my country to take part in the war and I especially don't want to take part in any war activity personally. And I suppose that an army must be optional. I think that Putin went crazy, I feel deep sorrow for the Ukrainian people, I don't support this war, I don't understand why it is going on."
He said he was ready to make the move quickly because he spend a lot of time camping in Russia with his wife and friends, and so he already had the equipment he needed.
"I've created quite comfortable conditions in the forest already. Despite the freeze I'm great: I sleep well, I eat well, I keep on working as a software developer."
"I tied the antenna to a fir tree for the internet and I use the solar panels for generating the energy."
But unfortunately, the winter in Russia has limited daylight, and Kalinin doesn't have enough solar power to work full days, so he works on the weekend too.
To help with cooking, Kalinin has installed a metal cover inside his large tent, to keep him warm. In terms of food supplies, he has oats, buckwheat, tea, coffee and sugar.
"Not enough fresh fruit and vegetables of course, but it's not too bad. But I have dried vegetables, fruits and meat. My wife dries it for me in the special dryer for vegetables and fruits," he said.
Since he went off grid, he is no longer living with his wife and only sees her in person every three weeks at a point where she drops him supplies.
"I then take the supplies away to a safe place which I visit every few days to stock up," Kalinin said.
He is not too worried about the security services finding him and making him fight in Ukraine, as there is much more incentive to look for men in cities.
"I don't think that they will search for one man in the wilderness."
Kalinin said he has survived the worst of the winter in the niveous forest.
"For example, recently, the temperature dropped to [12 degrees Fahrenheit], colder than I had expected. But now the days are getting longer again and the snow is beginning to melt. I plan to stay where I'm for a while. I don't know, actually... I can't plan anything at all..."
Kalinin has been documenting his life in hiding on his Telegram blog.
On Monday, Russian lawmakers proposed placing restrictions on citizens attempting to leave the country. Russian politicians have even suggested punishments for those fleeing conscription and military "deserters."