Russian Man Sues Apple After Claiming iPhone 'Turned Him Gay'
A Russian man has sued Apple after claiming a mysterious message sent to his iPhone turned him gay, according to a report from The Moscow Times.
The man, who the outlet names as D. Razumilov, says that an anonymous English-language message was sent to a cryptocurrency app on his iPhone in 2017 urging him "don't judge without trying." The message was attached to 69 units of GayCoins, an obscure cryptocurrency.
Razumilov is seeking over $15,000 in damages from Apple for allegedly "turning him gay." He claims the company, which makes the iPhone, caused him "moral suffering and harm to mental health," due to "manipulatively pushing me towards homosexuality."
According to a complaint published by Russian radio station Govorit Moskova, Razumilov said "I thought, indeed, how can I judge something without trying it? And decided to try some same sex relationships."
After the supposed trial run of same sex relationships, Razumilov seems to have entered into a steady romantic partnership, but claims that this is a negative development.
"I have a steady boyfriend and I don't know how to explain it to my parents. After receiving the aforementioned message, my life has changed for the worse and will never be normal again," Razumilov complained. "I can say after the passage of two months that I'm mired in intimacy with a member of my own sex and can't get out."
Razumilov claims that his iPhone is responsible for the alleged gay conversion, and he is due to argue his case in court October 17. Apple appears to have no stake in the GayCoin cryptocurrency, which is currently valued at less than two cents.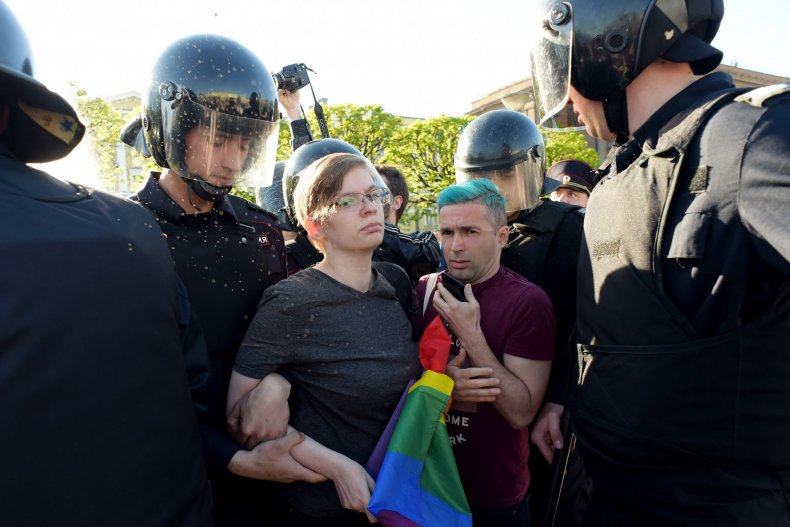 LGBT rights in Russia have been subject to a fair amount of international criticism in recent times, with observers accusing the country of human rights abuses. In 2013 Russia passed a so-called "gay propaganda" law, which critics say effectively legalized LGBT discrimination. Recent polls have shown public opinion remains decidedly disapproving of LGBT people, and reports indicate homophobic vigilante gangs regularly terrorize LGBT people in the country.
The belief that otherwise heterosexual people are regularly recruited and converted into "the gay lifestyle" is not a new concept. In the United States, the notion was popularized in 1977 when singer and anti-gay activist Anita Bryant claimed "homosexuals cannot reproduce, so they must recruit." It has remained a popular refrain among activists opposed to LGBT rights ever since.
Non smartphone or app-based conversion therapy has historically been focused on converting gay people to heterosexuality, but the practice has been widely discredited in recent years. Although Russian courts may see things differently, the claim that a person can be coerced into changing their sexual orientation appears to be without scientific merit.