Russian Markets Plunge as Putin Tightens Crimea Grip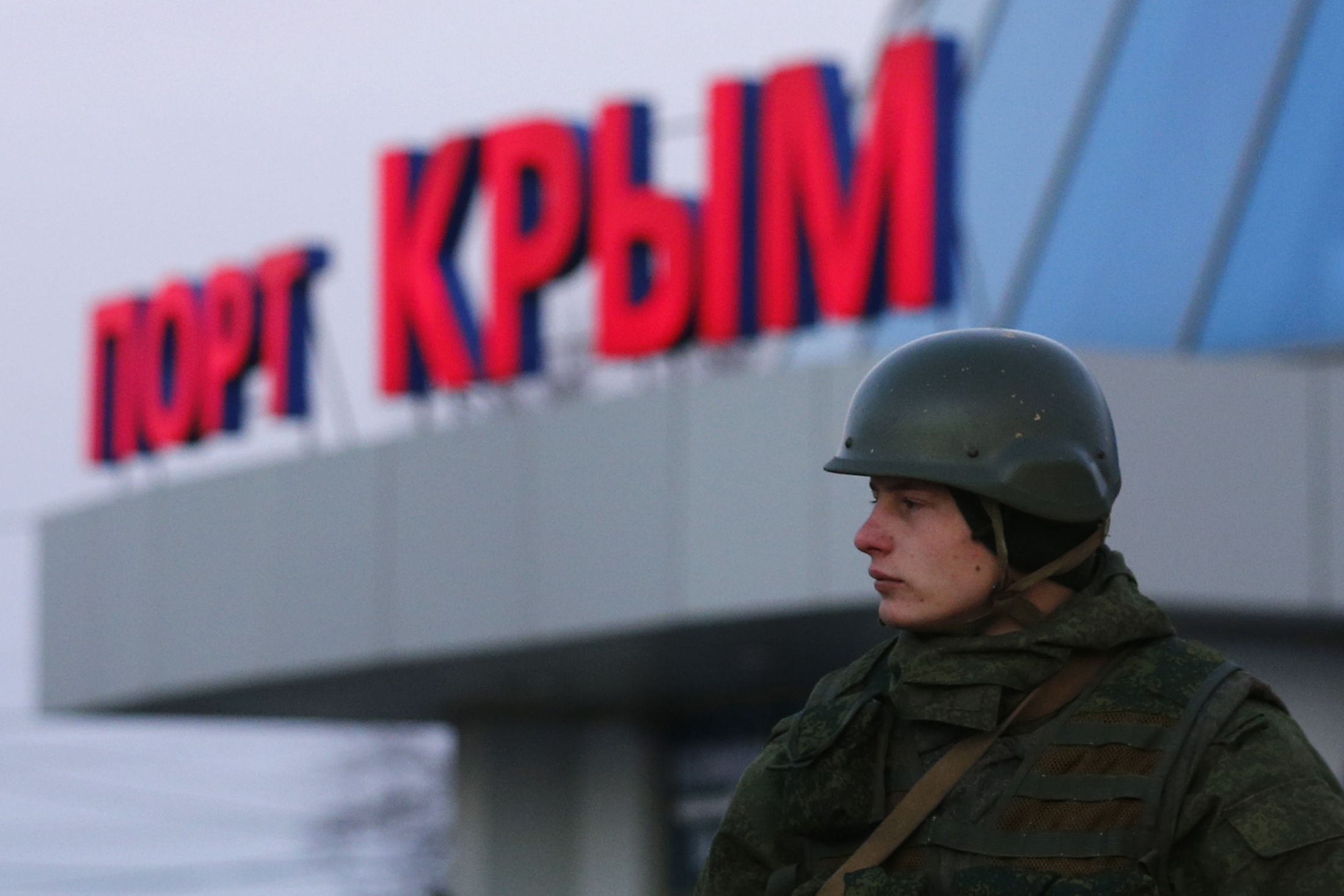 (Reuters) - Russia paid a heavy financial price on Monday for its military intervention in neighboring Ukraine, with stocks, bonds and the rouble plunging as President Vladimir Putin's forces tightened their grip on the Russian-speaking Crimea region.
The Moscow stock market fell 11.3 percent, wiping nearly $60 billion off the value of Russian companies - more than the $51 billion Russia spent on the Winter Olympics in Sochi last month.
The central bank spent as much as $12 billion of its reserves to prop up the rouble as investors took fright at tensions with the West over the former Soviet republic.
U.S. President Barack Obama called Russia's actions a violation of international law and of Ukraine's sovereignty, saying his government would look at a series of economic and diplomatic sanctions that would isolate Moscow.
Putin needs to allow international monitors to mediate a deal in Ukraine acceptable to all Ukrainian people, Obama told reporters in Washington. "Over time this will be a costly proposition for Russia. And now is the time for them to consider whether they can serve their interests in a way that resorts to diplomacy as opposed to force," he said.
The European Union threatened unspecified "targeted measures" unless Russia returns its forces to their bases and opens talks with Ukraine's new government.
In his first public appearance for nearly a week, Putin flew to watch military maneuvers in western Russia in what appeared designed as a show of strength.
Russia's Black Sea fleet denied reports that it had given Ukrainian forces in Crimea an ultimatum to surrender by early on Tuesday or face a military assault, Interfax news agency said after earlier reporting such a threat.
The U.S. State Department said if true, an ultimatum would be a dangerous escalation of the crisis. The United States was likely to move down the path of imposing sanctions, it said.
Ukraine's acting president said Russia's military presence in Crimea was growing, and Ukrainian officials said Russia was building up armor on its side of a narrow stretch of water closest to Crimea after Putin declared at the weekend he had the right to invade to protect Russian interests and citizens.
Both sides have so far avoided bloodshed, but the market turmoil highlighted damage the crisis could wreak on Russia's vulnerable economy, making it harder to balance the budget and potentially undermining business and public support for Putin.
Russian Deputy Economy Minister Andrei Klepach said market "hysteria" would subside but strains with Brussels and Washington - which has threatened visa bans, asset freezes and trade curbs - would continue to weigh on the economy.
On the ground in Perevalnoye, half way between the Crimean capital of Simferopol and the Black Sea, hundreds of Russian troops in trucks and armored vehicles - without national insignia on their uniforms - were surrounding two military compounds, confining Ukrainian soldiers, who have refused to surrender, as virtual prisoners.
Ukraine called up reservists on Sunday after Putin's action provoked what British Foreign Secretary William Hague called "the biggest crisis in Europe in the twenty-first century".
NATO allies will hold emergency talks on the crisis in Ukraine on Tuesday, for the second time in three days, following a request from Poland, the alliance said.
In calling the meeting, Poland, a neighbor of Ukraine, invoked a NATO rule allowing any ally to consult with the others if it feels its security, territorial integrity or independence are under threat, the so-called Article 4.
European Union foreign ministers held out the threat of sanctions against Russia on Monday if Moscow fails to withdraw its troops from Ukraine, while offering to mediate between the two, alongside other international bodies.
At talks in Brussels, they agreed no deadlines or details about any punitive measures against Russia, but leaders of the bloc's 28 nations will hold an emergency summit on Thursday.
OBSERVER MISSION
The Organization for Security and Cooperation in Europe (OSCE) said it was trying to convene an international contact group to help defuse the crisis after Germany said Chancellor Angela Merkel had convinced Putin to accept such an initiative.
Switzerland, which chairs the pan-European security body, said the group would support Ukraine during its transition and coordinate aid and could also discuss sending observers to monitor the rights of national minorities.
"There will be very, very broad consensus for that monitoring mission. We call on Russia to join that consensus, make the right choice and pull back its forces," U.S. Assistant Secretary of State Victoria Nuland told OSCE envoys in Vienna.
The Russian central bank raised its key lending rate by 1.5 percentage points after the rouble fell to all-time lows, closing 2 percent down at 36.50 to the dollar and 1.6 percent lower at 50.38 against the euro.
The MICEX index of Russian shares tumbled 10.8 percent to close at 1,288.8 points and the dollar-denominated RTS collapsed 12 percent to 1,115.1 points.
The east-west tension also knocked 2-3 percent off European stock markets and one percent off Wall Street, and sent safe haven gold to a four-month high.
Chicago wheat futures rose more than 5 percent and corn about 4 percent as tensions in Ukraine stoked fears of disruption to shipments from the Black Sea, one of the world's key grain-exporting zones.
Russian gas monopoly Gazprom, which supplies Europe through Ukraine, was down nearly 14 percent.
Gazprom's finance chief warned Ukraine that it may raise gas prices from next month, accusing Kiev of a patchy payments record, but said gas transit to Europe was normal. Ukraine has been stocking up on gas imports in the last few days to beat a feared rise, a spokesman for its gas transit monopoly said.
Ukraine's Prime Minister Arseny Yatseniuk, head of a pro-Western government that took power when former president Viktor Yanukovich, a Russian ally, fled on February 21 after three months of street protests against his rule, said Putin had effectively declared war on his country.
Yatseniuk said the government planned to cut spending by 14 to 16 percent as Ukraine prepared for talks on Tuesday with the International Monetary Fund to avert the danger of default.
Western leaders have sent a barrage of warnings to Putin against armed action, threatening economic and diplomatic consequences, but are not considering a military response.
A Ukrainian border guard spokesman said Russian ships had been moving around the Crimean port city of Sevastopol, where the Russian Black Sea Fleet has a base, and Russian forces had blocked mobile telephone services in some parts of Crimea.
He said Moscow was building up its armor near a ferry port on Russia's side of the 4.5 km (three mile) wide Kerch Strait, which separates Crimea from Russia.
Russian Prime Minister Dmitry Medvedev issued an order on Monday to push ahead with a plan agreed with the previous Kiev government to build a bridge over the strait, which would be its first direct land link to Crimea bypassing Ukraine.
RUSSIAN FLAGS FLYING
Russian forces seized Crimea, an isolated Black Sea peninsula with an ethnic Russian majority, without firing a shot. All eyes are now on whether Russia makes a military move in predominantly Russian-speaking eastern Ukraine, where pro-Moscow demonstrators have marched and raised Russian flags over public buildings in several cities in the last three days.
Pro-Russian protesters besieged lawmakers inside the regional government building in the eastern city of Donetsk, Yanukovich's hometown, on Monday in the latest such action.
Russia has staged war games with 150,000 troops along the land border, but so far they have not crossed. Kiev says Moscow is orchestrating the protests to justify a wider invasion.
Ukraine's security council has ordered all armed forces to be put on highest alert. However, Kiev's small, under-equipped military is seen as no match for Russia's superpower might.
While the EU and NATO stepped up verbal pressure on Moscow, a German spokesman said Merkel believed it was not too late to resolve the Ukrainian crisis by political means despite differences of opinion between Putin and the West.
The German leader, who speaks fluent Russian, has had several long telephone calls with the German-speaking Putin since the crisis erupted with mass protests in Kiev, creating a major policy dilemma for Berlin, which is heavily dependent on Russian gas and has close economic ties.
So far, the Western response has been largely symbolic. Obama and others suspended preparations for a G8 summit in Sochi, where Putin has just finished staging his Winter Olympic games. Some countries recalled ambassadors.
On Kiev's Independence Square, known as the Maidan, where protesters manned barricades for three months to bring down Yanukovich, crowds were smaller than in the past few days as people returned to work.
"Crimea, we are with you!" read one placard. "Putin - Hitler of the 21st century," read another.