Russian Bot Amplified Racial Tensions at University of Missouri in 2015, Report Says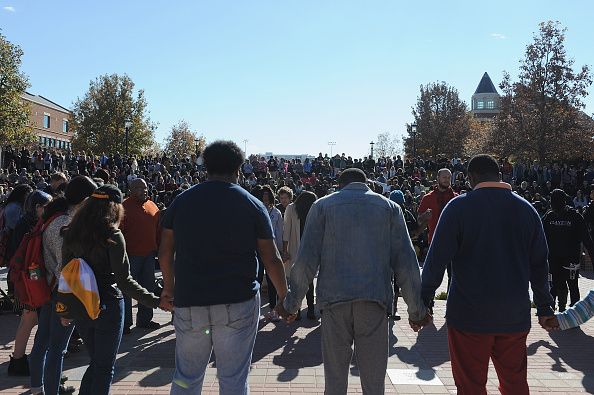 Before Russian bots meddled in the 2016 presidential election, they targeted the University of Missouri to further aggravate heightened racial tensions, a recent report found.
Frustration with pervasive racism on Mizzou's campus came to a head in fall 2015 with student protests, a hunger strike, a football team strike, boycotts and other activism, which culminated in the resignation of university President Tim Wolfe on November 9, 2015.
Two days later, with #PrayForMizzou trending on Twitter, a tweet from user "@Fanfan1911" said the Ku Klux Klan was on campus.
"The cops are marching with the KKK! They beat up my little brother! Watch out!" the tweet said. It included a picture of a black child with a severely bruised face.
Reaction to the unconfirmed tweet was immediate. Student government President Payton Head posted on Facebook that "KKK members were confirmed on campus." National news networks halted coverage to revert to local camera feeds in search of violence, and news anchors read tweets that claimed there were shootings, stabbings and cross burnings.
It was fake, according to a Strategic Studies Quarterly article by Air Force Lieutenant Colonel Jarred Prier.
User @Fanfan1911, Prier said, was a Russian bot that utilized the #PrayForMizzou hashtag to evade Twitter algorithms meant to catch bots and to garner retweets from real users monitoring the hashtag. About 70 bots automatically retweeted the tweet, leading to thousands of related tweets within minutes, the report found.
"The image and the narrative were part of a larger plot to spread fear and distrust," Prier said. "Russians trolls were able to spread the information because of an underlying fear and an existing narrative that they were able to exploit."
Christian Basi, director of the news bureau at Mizzou, told Inside Higher Ed on Wednesday that this account "was consistent with what university officials believe happened."
"This certainly helped explain the origin of some of the 'news' that we were trying to combat," he said. The school saw a freshman enrollment drop of nearly 23 percent the following year.
The same bot later began tweeting in German and spreading rumors about Syrian refugees, the report said. By spring 2016, it had morphed into an account touting messages from right-wing news organizations such as Breitbart. The account is now suspended on Twitter.
Russian bots also manipulated social media leading up to and during the 2016 presidential campaign. About 50,000 automated Russia-linked Twitter accounts sent more than 2 million election-related tweets—many praising then-candidate Donald Trump and villainizing Hillary Clinton—between September 1 and November 15, 2016.
Twitter notified 1.4 million people in January that they may have interacted with fake Russia-backed accounts. Interference also extended to platforms such as Facebook and Google.
Special counsel Robert Mueller is still investigating whether Trump and his team were knowledgeable about, or had a hand in, this interference.