Russian Media Hail Gymnasts As 'Best in the World' After Beating Team USA
The victory of Russia's women's gymnastics team over the U.S. at the Tokyo Olympics has made a splash in the country's media which praised Tuesday's dramatic gold medal win.
"Russian gymnasts have proven that they are the best in the world," was the headline in the mass-circulation tabloid Komsomolskaya Pravda, which added: "Our girls are our pride!"
There was drama ahead of the final at the Ariake Gymnastics Centre when American superstar Simone Biles pulled out of the event citing a "medical issue."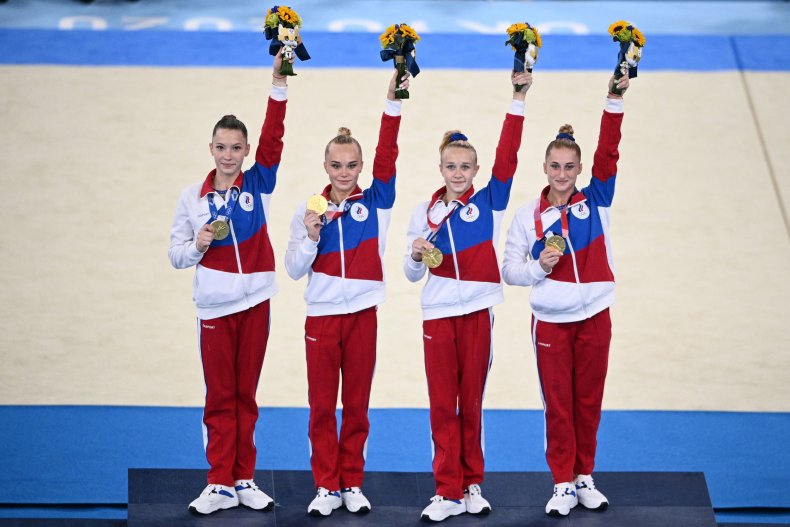 It dealt a blow to the U.S. which were the favorites after winning five successive world titles and back-to-back Olympic gold medals in London and Rio.
The Russian team comprising of Angelina Melnikova, Vladislava Urazova, Viktoria Listunova and Lilia Akhaimova triumphed as they competed under the banner of the Russian Olympic Committee (ROC) owing to World Anti-Doping Agency (WADA) sanctions.
"At the final stage, the Russians performed brilliantly," wrote Lyubov Troshkina as she also referred to the victory of the men's team the previous day.
Another correspondent of the paper wrote: "Our girls fought the American team to the end and survived. For the second day in a row, Russia is proving its status as the main country in the gymnastics world."
Noting that the average age of the Russian women's team was only 19, he added that even "without a flag" to compete under, the Russian team "defeated the formidable and powerful American women."
Meanwhile, the correspondent in Tokyo for Moskovsky Komsomolets wrote: "This is not fiction. This is the reality of Tokyo 2020."
"Our women's team....are the strongest at the Olympic Games."
Russian state-funded outlet RT's headline said: "GOLDEN GIRLS: Russian team clinch Olympic gymnastics title to end U.S. dominance in dramatic final after Biles withdraws."
Its report noted that "on sealing victory, the Russian team erupted into cheers and tears of joy, and were gracefully congratulated by the American team and coaches, including Biles."
The newspaper Izvestia carried a more prosaic headline, stating simply: "Russian gymnasts have won the team competition at the Olympic Games for the first time."
Meanwhile, the business daily Kommersant reported: "In the not so short list of victories already won by the Russian national team in Tokyo, this one will certainly hold an extremely prominent place."
Update 7/27/21 12:21 p.m. ET: This article has been updated with additional information.