Russia Is Building Advanced Military Weapons Based on U.S. Missiles Used in Syria
Russia's arms makers are working on technology specifically designed to take out the U.S. cruise missiles fired at Moscow's ally Syria, a senior arms design official has said.
Speaking more than a month since the U.S. fired a salvo of advanced Tomahawk missiles at Syrian regime military facilities, an adviser at Radio-Electronic Technologies Concern (KRET) said that Moscow is studying the remains of the rockets to exploit their weaknesses. The end result would be a weapon that can disrupt the flight of the smart rockets, KRET's adviser to the deputy director Vladimir Mikheev told state news agency RIA Novosti.
"The new technology should cover all frequency ranges, which we have seen in the manufacture of our (U.S.) counterparts," Mikheev said. He estimated that it would take up to three years to develop the jamming weapon.
Related: Russia and China say they are closer than ever, as Putin prepares new visit during U.S. tension
Tomahawks are difficult to shoot down: They can fly low where enemy rockets risk hitting obstacles on the ground, and they can be reprogrammed midflight. Although Russia, which supplies Syria's anti-aircraft defenses, claims its S-400 and S-300 systems can down cruise missiles, it has yet to show convincing proof that it has taken out a Tomahawk.
"As specialists, first and foremost, it is very interesting for us to watch real implementation of different combat technology in Syria, including the Tomahawks," Mikheev said. "Having this rocket in our hands, we will firmly understand what communication channels it has to relay information, control, navigation and location."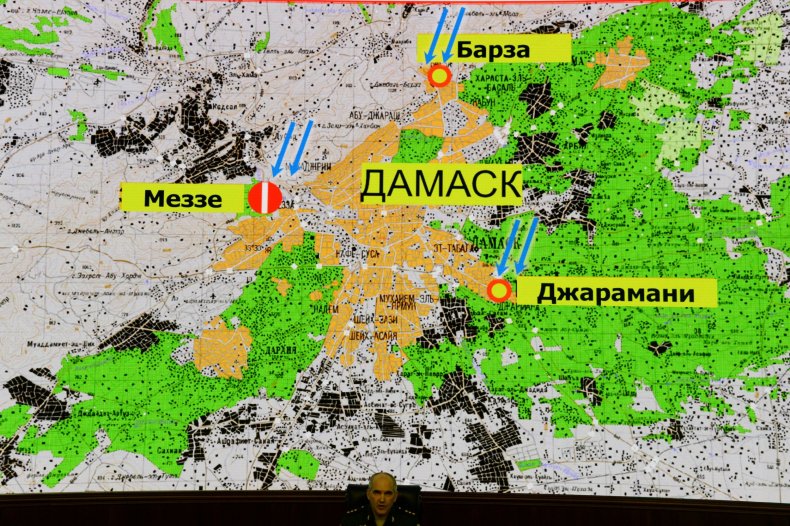 The comments from KRET follow a concentrated effort by Syrian and Russian officials to portray the U.S.-led airstrike against the regime in Damascus as unsuccessful. Russia's Ministry of Defense issued a televised message last month, claiming that Soviet-made Syria defenses had shot down most of the U.S. Tomahawks.
The Pentagon has resoundingly dismissed the idea that Syria or Russia could have intercepted any of the missiles, and Department of Defense spokesman Eric Pahon described the claims as "absurd."
"This is another example of the Russian disinformation campaign to distract attention from their moral complicity to the Assad regime's atrocities and the civilian carnage in western Syria," Pahon told CNBC last month.
While Russian S-300 and S-400 anti-air defense systems have twice had U.S. Tomahawk attacks within range in Syria, neither has been employed to take out the missiles. This has prompted speculation that despite their advertised capabilities against cruise missiles, they may be unable to stop a barrage of many, low-flying Tomahawks.
"This is likely another smoke screen of propaganda to distract from the real issue at hand—the murder of innocent civilians by a murderous regime propped up by Russian backing," Pahon added.
The Department of Defense was not immediately available to comment on KRET's latest claims about developing an anti-Tomahawk weapon.