More than 60 Russian soldiers were reportedly killed or wounded recently by an artillery strike from their own military.
Yuriy Mysiagin, a member of Ukraine's parliament, wrote about the incident in a September 10 post on Telegram. The Kyiv Post on Thursday said Russian military bloggers and other Ukrainian sources have since confirmed Mysiagin's report. Newsweek has not been able to independently verify the claims.
The deadly incident was said to have occurred in Optyne, a village in Ukraine's eastern Donetsk region. Donetsk has been the site of intense fighting in the counteroffensive launched by Ukraine's military in early June. The Institute for the Study of War think tank wrote on Wednesday that Kyiv's forces have recently achieved at least partial success in a number of Donetsk settlements, including near the long-contested city of Bakhmut.
Mysiagin wrote, according to a translation by the Kyiv Post, that Russian soldiers in Optyne were "retreating to new positions chaotically and almost in a panic" when other Russian forces mistook them for Ukrainian troops. As a result, an artillery strike was reportedly ordered by a drone operator on the fleeing Russians.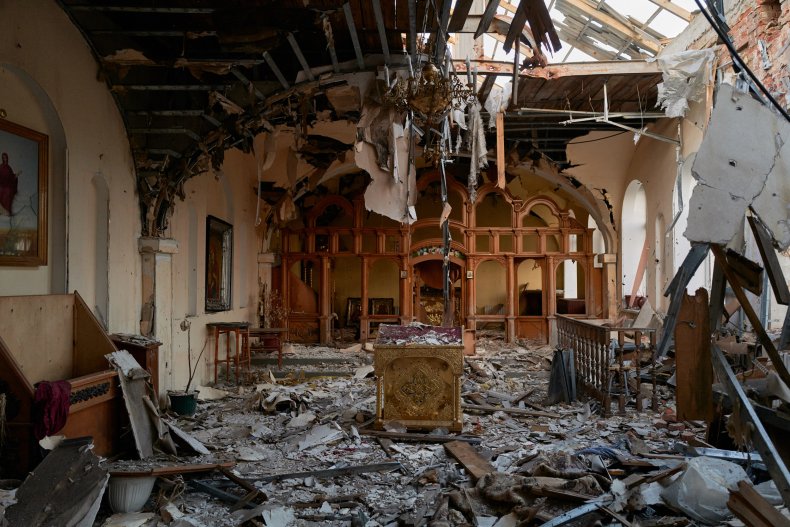 "The result was 27 dead and 34 wounded. Approximately half of the wounded had their arms or legs blown off and several pieces of equipment were lost," Mysiagin said.
Newsweek reached out to the Russian Ministry of Defense via email for comment.
The Kyiv Post said multiple pro-Kremlin bloggers have published more details about the incident. The bloggers wrote that Zelensky's forces had overtaken Russian defenses set up in Optyne, and around 200 of the Russian soldiers there retreated as a means to find better fighting positions.
The retreat was described as hurried, which the military bloggers attributed to the artillery strike being ordered on Moscow's own personnel.
Konstantin Mashovets, a prominent Ukrainian military journalist, also described the panicked state of the Russian troops in Optyne prior to the alleged incident.
"For some unknown reason, the enemy artillery began to fire, not near the front line or behind Ukrainian positions in order to suppress our firepower, but on the positions occupied by this unit," Mashovets wrote in a September 10 Facebook post.
Mashovets further speculated that despite what others had written, perhaps the Russian troops were not retreating when their own forces opened fire on them. Instead, he suggested they began fleeing after artillery shells began hitting the unit.
The Kyiv Post also reported that Ukraine's military in Optyne was able to capitalize on the incident and advance its lines to a neighboring village.