Russian Military Plane Confronts NATO Aircraft Over Northern Europe: Reports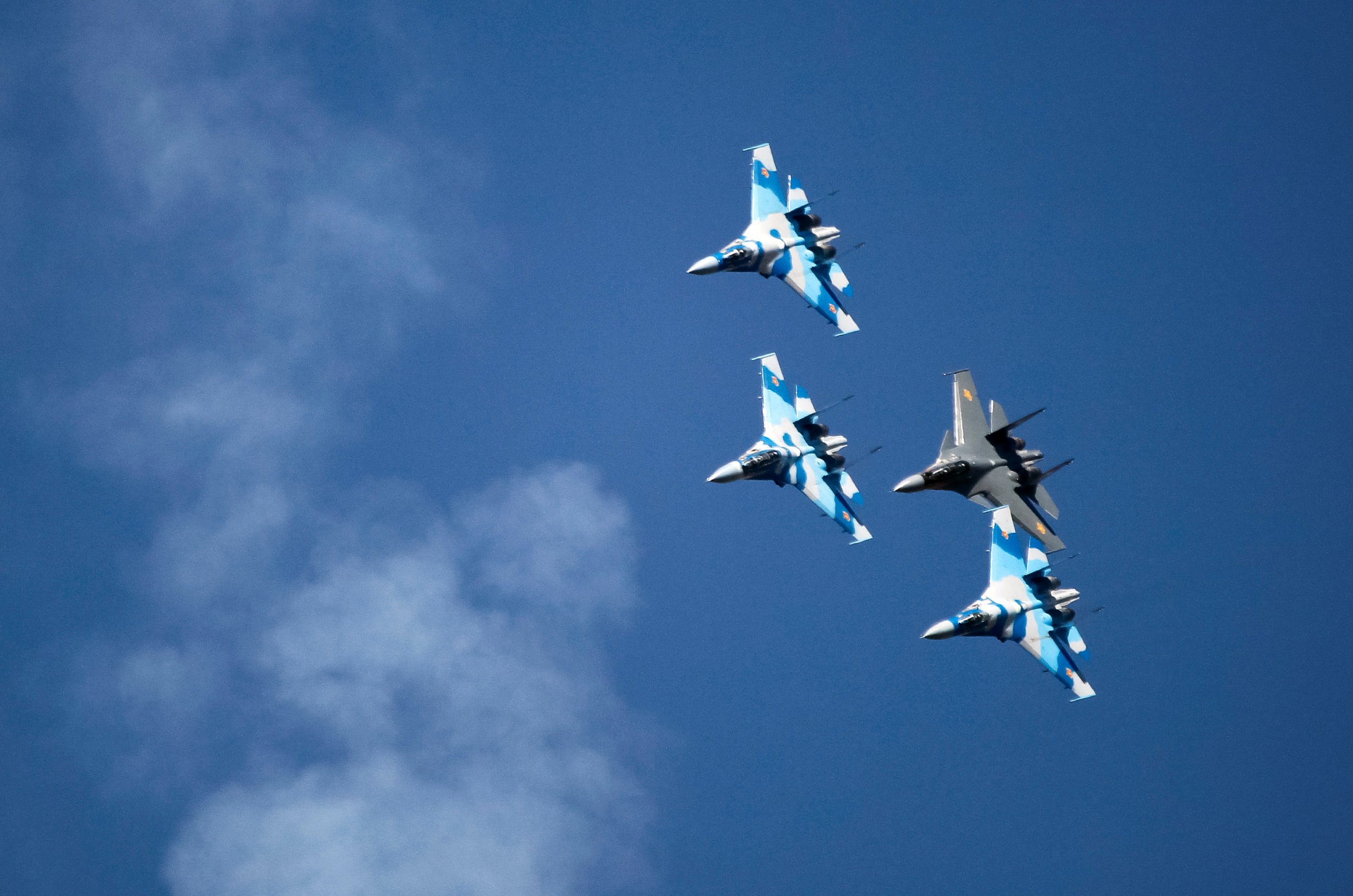 Updated | A Russian military fighter aircraft flaunted its firing capabilities to chase off a NATO jet as it tried to escort Russian Defense Minister Sergei Shoigu's plane above the Baltic Sea, multiple Russian agencies report.
A NATO F-16 neared the state liner carrying Russia's top state defense official on Wednesday, in a common maneuver for aircraft moving near allied airspace, particularly in the high traffic area over the Baltic. Last week, NATO escorted 32 Russian military jets above the region, according to Lithuania's Ministry of Defense.
Read more: How serious is Russia's threat to the U.S. in Syria?
During Wednesday's approach, however, the Russian liner and the two Su-27 naval aviation fighters flanking it did not appreciate NATO's attempt to track them closely, state and non-state media reporters on board the state liner reported.
One of the Su-27 jets moved its wings to present the arms it was carrying, according to the on-board correspondent of Russia's Interfax news agency, who said the NATO jet fled shortly afterwards.
Shoigu was flying to the Russian Baltic enclave of Kaliningrad, the on-board correspondent of state news agency Itar-Tass reports. But NATO's attempted escort took place in international airspace, a Russian Ministry of Defense source told state newspaper Rossiyskaya Gazeta. Shortly after these reports, the Russian Ministry of Defense's official TV channel, Zvezda, broadcast purported footage of the encounter shot from inside Shoigu's plane.
A NATO official who spoke to Newsweek confirmed that an allied jet did track "three Russian aircraft. including two fighters" over the Baltic Sea on Wednesday, but gave no evidence to suggest the Russian party tried to intimidate the allied aircraft.
"As the aircraft did not identify themselves or respond to air traffic control, NATO fighter jets scrambled to identify them, according to standard procedures. NATO has no information as to who was on board. We assess the Russian pilots' behavior as safe and professional."
The incident took place after another tense encounter on Monday between allied and Russian aircraft in the Baltic, during which a U.S. reconnaissance jet reportedly came within five feet of a pursuing Russian jet.
A U.S. official, speaking on the condition of anonymity to CBS, confirmed the close call between the U.S. RC-135 and a Russian Su-27 fighter, calling it an unsafe intercept.
Russian state news agencies accused the U.S. aircraft of turning abruptly and causing the dangerous pass. U.S. Navy Captain Jeff Davis, a Pentagon spokesman, said the U.S. aircraft "did nothing to provoke this behavior."
U.S. and allied forces are currently undergoing their annual, month-long defense drills in the Baltic, called Saber Strike. Russia and its nearby ally, Belarus, plan to conduct a mass drill in the region in September. NATO ally Lithuania has expressed concern that Russia will, as it has in the past, dramatically increase the number of troops participating in drills closer to the exercise's date and effectively simulate out and out warfare against NATO.
This article has been updated with a comment from a NATO official,