Russian Missile Flies 'Critically Low' Over Ukraine Nuclear Plant: Report
A Ukrainian energy company has claimed Russian missiles flew "critically low" over a power plant in the country as explosions rocked the capital Kyiv.
Nuclear power state-owned company Energoatom claimed missiles had flown overhead of the southern power plant near the city of Yuzhnoukraisnsk, about 220 miles south of Kyiv, early in the morning of Sunday, June 5.
In a translated statement shared across numerous social media accounts, a company spokesperson said the missile was headed towards Kyiv and referred to Russian soldiers as "racists".
It read: "Russia committed another act of nuclear terrorism at 5:30 a.m. Russian cruise missile, similar to the 'Caliber' missile, flew critically low over the South Ukrainian nuclear power plant."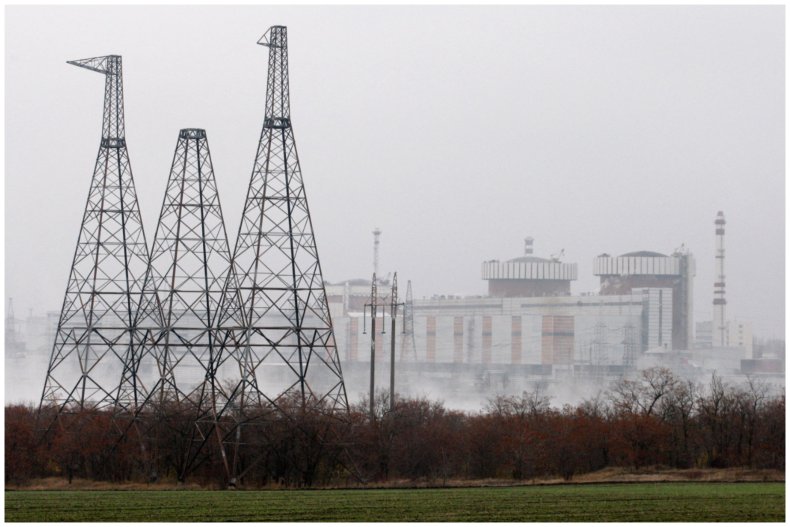 "Probably, this rocket was fired in the direction of Kyiv where explosions were heard this morning."
Photos shared on social media websites, including Facebook, showed a missile flying over the southern power plant.
Energoatom's translated statement continued: "At present, Russia continues to threaten the nuclear safety of Ukrainian nuclear power plants and threatens the world with a new nuclear catastrophe.
"The racists still do not understand that even the smallest fragment of a missile that can hit a working power unit can cause a nuclear catastrophe and radiation leak."
Its concerns follow the Russian attack and occupation of the infamous Chornobyl power plant in March, the location of the 1986 nuclear disaster.
Newsweek has contacted Energoatom and the Kremlin for comment.
The energy company made the announcement after explosions rocked Kyiv on Sunday morning.
According to Reuters, Kyiv's Mayor Vitali Klitschko said in a Telegram message: "Several explosions in Darnytskyi and Dniprovskyi districts of the capital. Services are already working on site."
Klitschko said at least one person had been hospitalized following the bombardment but that no deaths had been recorded.
The news agency added that Ukrainian officials said the Russian bombardment had appeared to target the railway network.
It comes as Russian forces continue their campaign to fully capture the two separatist regions of Luhansk and Donetsk.
The intense fighting has led French President Emmanuel Macron to say it was important not to humiliate Russia.
According to Reuters, he said in an interview published on Saturday: "We must not humiliate Russia so that the day when the fighting stops we can build an exit ramp through diplomatic means."
But Ukrainian Foreign Minister Dmytro Kuleba tweeted in response: "Calls to avoid humiliation of Rusia can only humiliate France and every other country that would call for it.
"Because it is Russia that humiliates itself. We all better focus on how to put Russia in its place. This will bring peace and save lives."