Missile That Hit Ukrainian Civilian Station Had 'For Children' On it  
A Russian missile with the Russian lettering "For the children" painted on its side was photographed on the ground in the aftermath of an attack on a railway station packed with women and children in Ukraine's Kramatorsk on Friday.
The eastern city of Kramatorsk, in the eastern Donbas region, was struck by two powerful rockets. Ukrainian officials say at least 39 were killed and more than 100 were wounded in the attack which President Volodymyr Zelensky said deliberately targeted civilians.
A photograph showing the remains of what appears to be one of the rockets that struck the railway station bears an inscription that appears to push Russian propaganda that Russian children of the Donbas region are "suffering under Ukrainian shelling," according to Berlin-based Eastern Europe expert Sergej Sumlenny. Some interpreted it as a message of revenge.
"One needs to add, although both 'За детей' and 'Для детей' can be translated as 'For kids', the latter means 'to hit kids', and the first is more 'because (you have done smth [something] to ) kids'. The text is 'За детей', so it obviously played with the lie, Ukrainians killed Russian kids," explained Sumlenny.
"'Russian Children of Donbas' who are 'suffering under Ukrainian shelling' was a very popular Russian propaganda narrative since 8 years," Sumlenny tweeted, sharing clips of articles from Russian state-run media outlets including the newspaper Izvestia, which he said include "identical sentences."
Newsweek has not been able to verify who wrote the message on the missile in Russian lettering, or when it was written.
Pavlo Kyrylenko, the governor of the Donetsk region where the city is located, tweeted that a Russian rocket included "cluster ammunition."
"Thousands of civilians were waiting for evacuation there, dozens killed and injured," he wrote. "Russians knew exactly whom they were targeting."
The Kremlin has denied that it targeted civilians.
"All statements by representatives of the Kyiv nationalist regime about the 'rocket attack' allegedly carried out by Russia on April 8 at the railway station in the city of Kramatorsk are a provocation and are absolutely untrue," the Russian defense ministry said in statement on Friday.
"We emphasize that Tochka-U tactical missiles, fragments of which were found near the Kramatorsk railway station and published by eyewitnesses, are used only by the Ukrainian armed forces," the ministry added.
Newsweek has contacted Russia's Ministry of Foreign Affairs for comment.
The Prosecutor General's Office of Ukraine said on the Telegram messaging service that at the time of the attack, people were being evacuated and there were almost 4,000 civilians at the station, most of them women and children.
Follow our live blog for updates on the Russia-Ukraine conflict.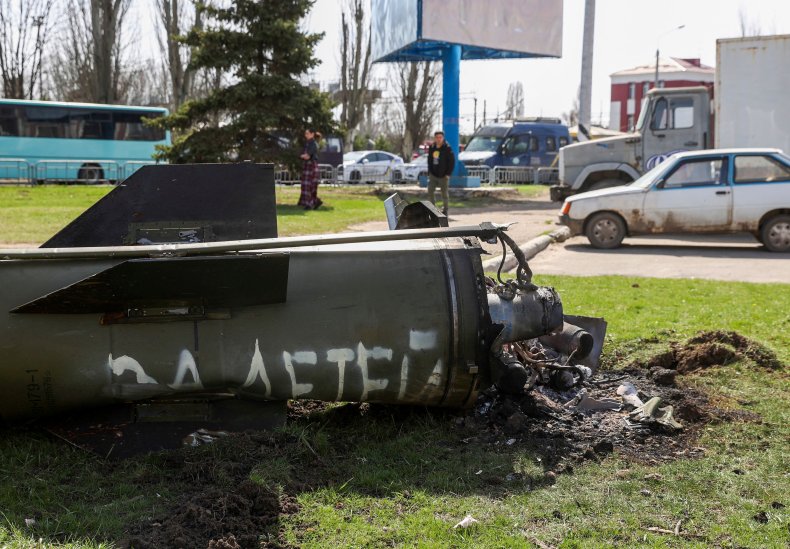 Update: 04/08/22, 10:32 a.m. ET: This article was updated with additional quotes and background information.