Russian Military Mounts Missiles Near NATO Borders in Central Kaliningrad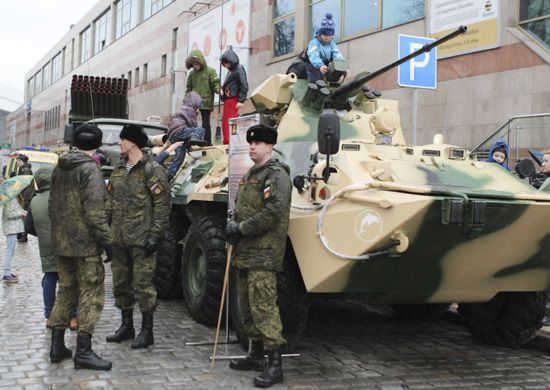 The Russian navy has put on an unusual show of military muscle, displaying some of its newest arms and missile kit in the main square in its westernmost big port city, Kaliningrad.
Kaliningrad has no land link with mainland Russia and is sandwiched between NATO members Poland and Lithuania. The two are among Russia's most critical neighbors, who have repeatedly requested that the alliance helps them reinforce, in the wake of the swelling budget of Russia's much bigger military.
Russia's Baltic fleet mounted several missiles on Kaliningrad's Victory Square over the weekend, deploying soldiers to act as tour guides under the banner of "defending the motherland." According to the fleet's spokesman, Roman Martov, the move was a demonstration for local residents, telling state news agency Itar-Tass on Sunday that it was in honor of the military's annual holiday, dedicated to missile and artillery troops.
"The Baltic fleet is demonstrating to Kaliningrad's citizens and guests of the city the modern equipment of rocket and artillery troops of the ground, coastal and air defense forces," Martov said. According to him, the exhibit featured coastal defense arms such as the Bal and Bastion missile systems, Russia's newest S-400 Triumf air defense missile system, the truck-mounted Grad missile system and the anti-aircraft artillery gun Pantsir-S1.
A military orchestra also marked the service holiday of artillery and missile defense servicemen, playing and marching through Victory Square on Sunday.
The placement of such a display of military might in Kaliningrad is notable for its proximity to two NATO member states. Since Moscow's annexation of Crimea from Ukraine—another ex-Communist state—in 2014, tensions in the Baltic region have risen, with fears among neighboring countries that their territory could be the Kremlin's next target.
Russia has upgraded Kaliningrad's combat capabilities since, and military traffic in Baltic waters and airspace has grown increasingly tense. The Kremlin has repeatedly accused NATO of acting aggressively by rotating foreign troops in Moscow's former sphere of influence. The alliance has deployed four battalions across Poland, Lithuania, Latvia and Estonia, as well as rotating other forces there during military drills.
The city's new open-air exhibition in part flaunts the new additions to the arsenals of local forces but is also designed to promote recruitment in the armed forces. The Kremlin announced last week that it hopes to have over a million troops in its ranks in 2018—a target experts estimate it has consistently missed in the past.
People in Kaliningrad can now view the kit on display, and soldiers will answer questions about the realities of military life, Martov said. Next to the imposing equipment, there is a sign-up desk for military service. The recruitment point runs alongside this and other exhibitions of military prowess on Victory Square this month. The series of events runs under the title inspired from a popular line in a Soviet war film, during which a commanding officer convinces a conscript in his platoon that he can make a career out of "defending the Motherland."