Russia's inability or unwillingness to close the skies over Ukraine has presented a potential opportunity for the United States to conduct a secret drone campaign in the conflict-ravaged country, current and former U.S. military officials familiar with the nation's drone program tell Newsweek.
And with chaos on the ground in Ukraine, these sources said it would be possible to obscure who was flying the unmanned aerial combat systems and at the same time avoid belying Biden's public promises not to send U.S. troops to take on Russian soldiers.
"Biden's statement about no U.S. service members in Ukraine opens the door wide to covert drones as well as CIA paramilitary in the country," one former senior U.S. intelligence officer told Newsweek.
Among the possible targets referenced is a Russian convoy currently rolling toward Kyiv that stretches some 40 miles long. By necessity, such an operation would likely be limited in scale to avoid detection by Moscow.
"The Russians don't have the time to conduct forensics," the former senior U.S. intelligence officer said, "and the U.S. could claim [the drones] were donated to Ukraine."
Neither the U.S. nor any other NATO state actively backing the Ukrainian military has expressed any interest in targeting Moscow's reinforcements, and Biden himself has emphasized the risks associated with a shooting war erupting between the U.S. and Russia, the world's top two nuclear powers.
And U.S. officials, to whom Newsweek reached out for comment, say "such a program is not under active consideration."
But other U.S. officials with whom Newsweek spoke were confident in the U.S. capability to do so and the former senior U.S. intelligence was skeptical of the capacity of Moscow's SIGINT (signal intelligence) and ELINT (electronic intelligence) to pinpoint the origin of such an operation, saying "Russia's inept performance in Ukraine removes many fears" of such a risk.
"You can't identify the pilots of drones when they are downed," the former senior U.S. intelligence officer said, "and it is very hard to identify them while in flight."
A senior Pentagon official told reporters during a press briefing Monday that, despite Moscow's larger and better-equipped military in comparison to that of Ukraine, "the Russians have not achieved air superiority over the whole country."
The senior Pentagon official noted the situation was "shifting," however, as Russia, which wields considerable ballistic and electronic warfighting capabilities not yet fully unleashed in the war, was expected to intensify its campaign against Ukrainian aerial and anti-air platforms.
"The Russians have not been able to dominate the airspace, but of course, we would expect them to try to target those defensive capabilities for the Ukrainians," the senior Pentagon official added, "and I suspect we'll continue to see those elements being targeted."
And time is becoming a factor if the U.S. seeks to pursue covert actions against Russia.
"The window of opportunity is rapidly closing," the former senior U.S. intelligence officer said.
The slow progress of Russian forces in the initial phase of the multi-pronged incursion into Ukraine and reports of logistical setbacks have led to speculation of disarray in the Russian military's chain of command, an environment that the former senior U.S. intelligence officer said could be exploited.
"There is clearly massive confusion among their leadership," the former senior U.S. intelligence officer said. "The U.S. can provide precision airstrikes from our best platforms, integrating with U.S. and NATO ISR [intelligence, surveillance, and reconnaissance] to conduct critical precision strikes on Russian command and control nodes or other targets of opportunity."
With Ukraine's airspace still contested, a senior U.S. military aviator told Newsweek that "you could never prove U.S. personnel were operating these drones, you could always say Ukrainians were operating them outside of Ukraine."
A senior U.S. military officer with experience operating U.S. drones explained to Newsweek how such a clandestine operation could succeed.
"Because of the nature of how the ground control station [GCS] communicates over networks and satellites," the senior U.S. military officer said, "even if the Russians recovered a drone, it would be next to impossible for them to determine where the GCS was, let alone who was flying the drone."
Such an operation, a U.S. intelligence official said, "seems in line with CIA's historical precedent."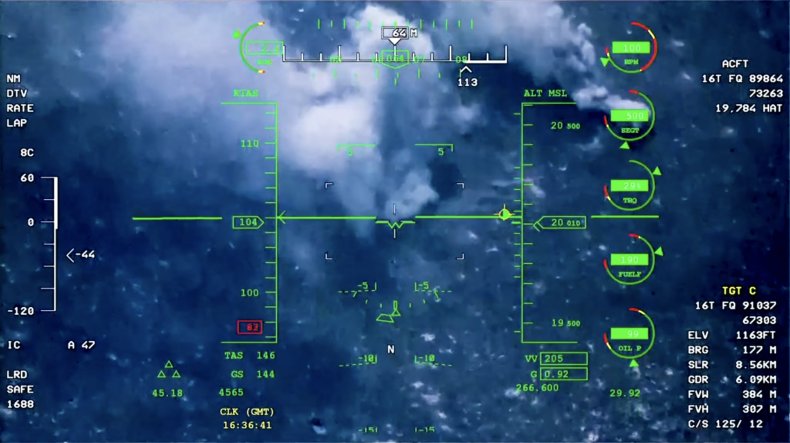 Still, the idea that Washington or Moscow would ever target one another's forces appears untenable, given the high stakes associated with such a confrontation.
Russian President Vladimir Putin made these stakes clear late Wednesday when, in announcing his "special military operation" amid Ukraine's efforts to join the U.S.-led NATO alliance, he warned that "whoever tries to interfere with us, and even more so to create threats for our country, for our people, should know that Russia's response will be immediate and will lead to such consequences that you have never experienced in your history."
Adding to this threat, Putin put nuclear forces on high alert. The Russian leader said it was in response to what he called "aggressive statements" coming from top NATO leaders as well as widespread sanctions that target him, his leading officials and a growing number of Russian state and non-state institutions.
But there is precedent for the U.S. and Russia taking on one another's forces directly under false pretenses.
At a distant time of friendly relations between the U.S. and Iran while under the rule of Shah Mohammad Reza Pahlavi, U.S. pilots flew Iranian aircraft to probe Soviet anti-air defenses, resulting in the loss of at least one aircraft after a Soviet pilot rammed an F-4 Phantom piloted by Iranian and U.S. personnel.
Soviet pilots in aircraft with Chinese or North Korean markings were also known to engage U.S. and allied targets during the Korean War in the early 1950s. And in 1989, the Soviet military newspaper Krasnaya Zvezda, also known as "Red Star" and still in publication today as the official outlet of the Russian Defense Ministry, acknowledged that Soviet troops operated surface-to-air missile sites that targeted U.S. warplanes in the 1960s during the Vietnam War.
The 1989 confirmation of the Vietnam-era subterfuge came just as the Soviet Union withdrew from a decade-long conflict in Afghanistan, where CIA personnel had provided mujahideen rebels with arms, including Stinger shoulder-held anti-aircraft missiles now being sent by the Pentagon to Ukrainian troops in their fight against Russia.
Stinger systems are part of the latest $350 million military aid package to Kyiv, bringing the total amount of U.S. security assistance to Ukraine to $1 billion over the past year alone, according to a statement published Friday by Pentagon Press Secretary John Kirby and shared with Newsweek in response to a question regarding the depth of U.S. efforts to support Ukraine.

Asked specifically whether drones, including potentially the advanced MQ-9 Reaper, would be a part of this package, a Defense Department spokesperson said, "We have no additional details to provide."
Ukrainian forces already operate a number of unmanned aerial systems, including locally manufactured suicide drones and the powerful Turkish Bayraktar TB2 drone, which has capabilities comparable to the MQ-9 Reaper. Reports have emerged of direct hits on Russian troops, but conflicting narratives and disinformation surrounding the conflict in Ukraine have made the success of the weapon difficult to verify.
The nature of U.S. drone warfare also remains murky even as the program, with components led by both the Pentagon and the CIA, has come to the forefront of international attention over the past two decades, especially after its expansion under former President Barack Obama. Deadly strikes have been carried out across a number of countries, including Afghanistan, Iraq, Pakistan, Somalia, Syria and Yemen, and the true scope of this campaign remains unknown to the public.
As Newsweek reported two years ago, the U.S.' own spy satellites were kept out of the loop when a U.S. drone took out Iran's top military commander, Revolutionary Guards Quds Force Major General Qassem Soleimani, at Baghdad International Airport in January 2020, though then-President Donald Trump quickly took responsibility for the action.
Drone warfare appears to have been significantly drawn down in the Biden administration, but civilian casualties in recent U.S. strikes in Afghanistan and Syria continue to draw scrutiny nonetheless, leading the Pentagon to order a review of its strategy.
In order to pursue any covert course of action against Russia involving the CIA, a presidential finding, formally known as a Memorandum of Notification, would need to be established. And while no such document has been made public, such materials are considered highly classified.
This article has been updated to include comment from U.S. officials to whom Newsweek reached out.