Dozens of Russian Deserters Threatened With Execution, Families Say
Dozens of mobilized Russian soldiers who have refused to fight in Ukraine are being locked up and threatened with execution, family members say.
The wives and mothers of 21 Russian soldiers say the men are being held captive in Zavitne Bazhannia, a village in the Donetsk region in eastern Ukraine, over their refusal to participate in the war. The conflict began when President Vladimir Putin launched a full-scale invasion on February 24.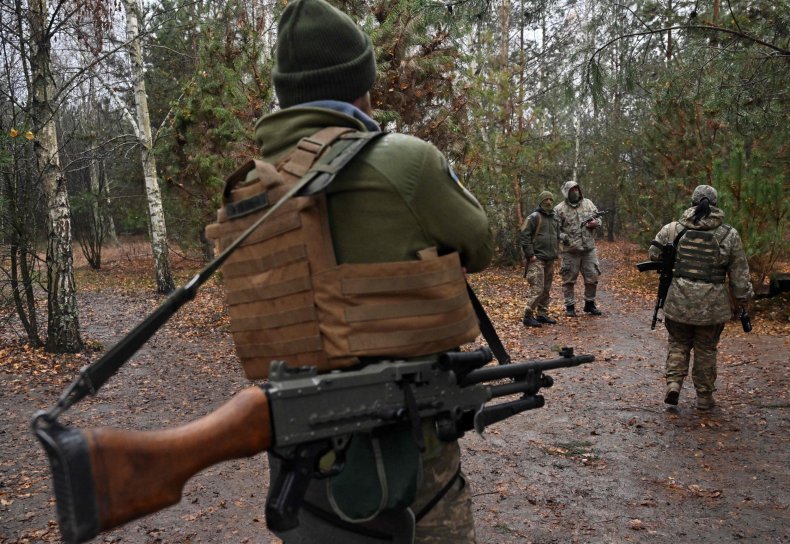 At least eight of the detained men had official exemptions from military service and should not have been drafted as part of Putin's September 21 "partial mobilization" order, a letter from the women obtained by Russian media project The Insider stated.
The mobilized soldiers were allegedly sent to the front lines in Ukraine without appropriate training, and were locked up for submitting written reports in which they said they didn't want to fight because it was against their conscience.
Unit commanders are now attempting to force them to withdraw their statements, relatives have said. The men are also being deprived of food and personal hygiene items, and are being threatened to be sent to the front lines or shot.
Elena Kashina told The Insider her 33-year-old husband was summoned despite having no military experience.
"My husband worked at a mining and smelting complex, which is considered a defense enterprise, so, they shouldn't have called him up for military service, but he was not so lucky," she said.
Kashina said her husband was deployed to Ukraine on October 2, and on October 12, he said that he did not want to kill people, and that he would rather "cover his eyes and ears" and wait for the firing squad.
The soldier said he and other mobilized men were threatened with execution when they said they didn't want to take part in the war.
"Before they wrote their reports, the deputy commander of the 5th company in 'DNR' [Donetsk] said that if they wrote anything, they would be shot, their bodies would be thrown into a pit, and their relatives would be told they were missing in action," Kashina said.
"My husband called me and said: 'Lena, they might shoot me today.' They were completely depressed, psychologically broken. I think that if they returned home, they would need the help of a psychiatrist. They were thrown into the basement in such a condition, and they sat there on the ground in the brick basement for two days," she added.
Kashina said she has not been able to contact her husband since October 31.
The news comes as the British Ministry of Defence said Russian unit officers are likely threatening to shoot deserting soldiers.
The UK ministry said in an assessment of the conflict on Friday that Russian forces have likely started deploying "barrier troops" or "blocking units" to deal with their own retreating soldiers, who are unwilling to fight "due to low morale."
"These units threaten to shoot their own retreating soldiers in order to compel offensives and have been used in previous conflicts by Russian forces," the British defense ministry said.
Putin's military commanders are also likely seeking to keep their troops in defense positions "to the death."
"Recently, Russian generals likely wanted their commanders to use weapons against deserters, including possibly authorizing shooting to kill such defaulters after a warning had been given," the British assessment added.
UK intelligence states that this tactic of shooting deserters "likely attests to the low quality, low morale and indiscipline of Russian forces."
Newsweek has reached out to Russia's foreign ministry for comment.