Russian Music Festivals Are Militarizing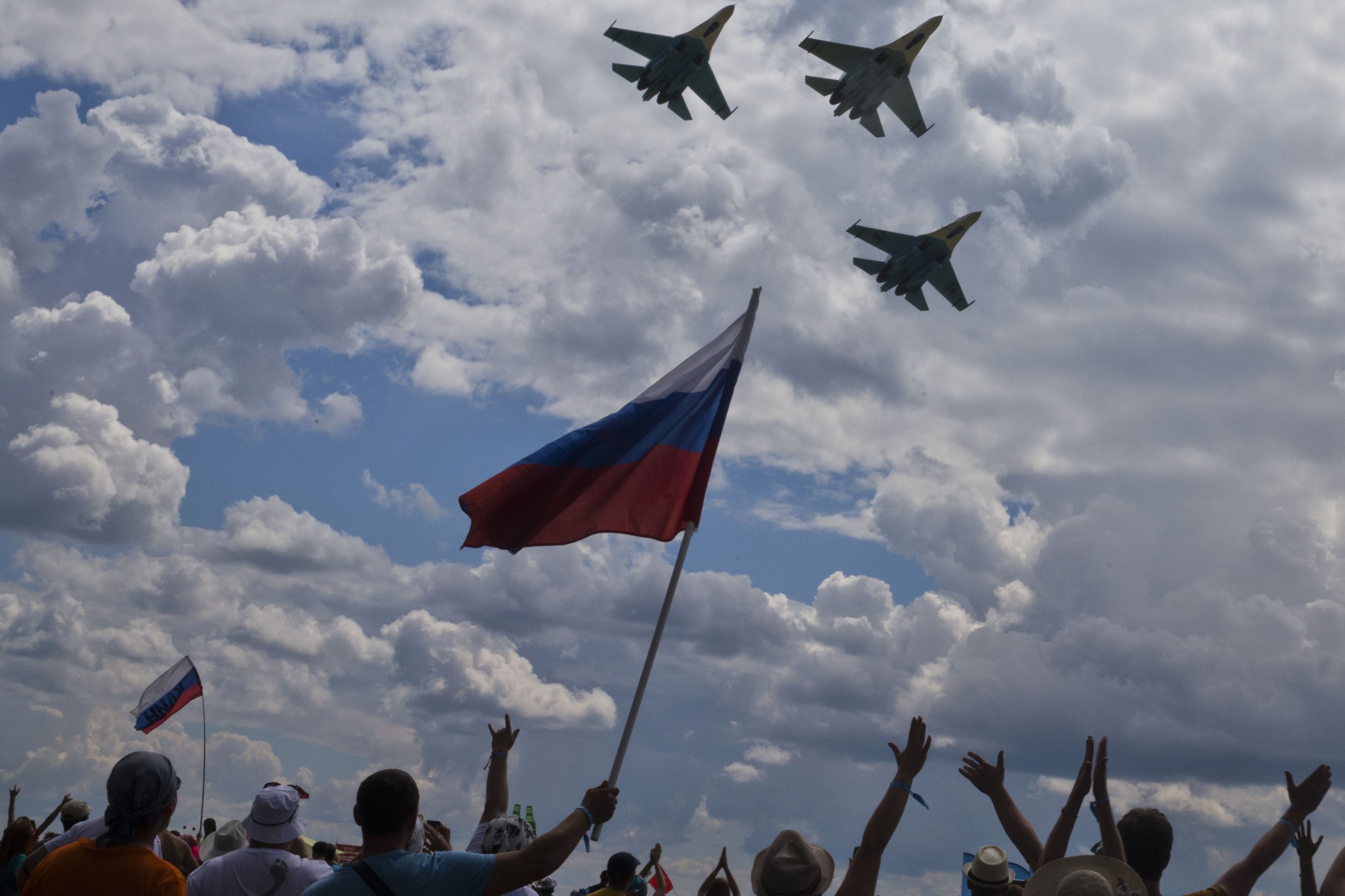 If you happen to go to Nashestvie, Russia's biggest rock festival, which takes place during the first weekend of July in the Tver region, you can expect to see some of the most popular and respected Russian bands playing live. You can also expect to see an exhibition of the newest military equipment used by the Russian army (including howitzers, various armored vehicles and, for the first time ever, an air defense system that goes by name "Cuirass-S"), learn about them from actual soldiers, try on a uniform, pose for a photo and pass a test that contract soldiers are required to pass to get their jobs.
Children are very welcome. Grab a beer, listen to your favorite songs and explore powerful military-grade weaponry, all thanks to the Russian Ministry of Defense, which will establish a special area at the festival.
If you happen to go to Grushinsky—the biggest festival of Russian country and campfire songs, also taking place the first week of July, at a beautiful lake in the Samara region—you can immerse yourself in Russian hiking culture and listen to tens and hundreds of people who, usually using just an acoustic guitar, sing about the romantic nature of mountain climbing and kayaking.
You can even try it yourself, since, technically, Grushinsky is a talent competition. You can also go to the very special Victory stage, conveniently located at the center of the festival, and listen to patriotic songs, participate in the Lesson of Courage, watch a show by a SWAT team and even win a competition by dissembling a Kalashnikov gun faster than the other participants, all thanks to the festival's official Military Council, established this year to "nurture patriotism in the younger generation" and featuring not one but four Russian army colonels on its board.
The unlikely coupling of music festivals and military patriotism is a rather new development in Russian popular culture, and it has already provoked some controversy. Andrei Makarevich, leader of Mashina Vremeni, one of Russia's longest-running rock bands, has been consistently harassed by pro-government activists for his charity concerts in Ukraine and his antiwar position. He wrote a statement on his Facebook page saying that the band refused to play at Nashestvie because of military activity of the kind that they saw at last year's festival.
"We don't want to sing our songs with tanks in the background," Makarevich wrote, also demanding the festival stop using his band's name in its advertisements.
Aleksandr Ivanov from the punk band Naiv, which is scheduled to perform at Nashestvie, also didn't like the idea. "I'm disappointed by the militarization of Nashestvie," he said in an interview with a Moscow radio station. "It's an outrage. It's kind of awkward for us now to play there, because the festival is becoming an instrument of military propaganda." Ivanov said that Naiv would consider pulling out of the festival.
However, according to Andrei Matveev, one of the organizers of Nashestvie, the issue has been pulled out of thin air. "The idea that rock music is supposed to be against war is rather obsolete," he told Newsweek. "Rock is a business, as is our festival. If our audience didn't like the military activity, we wouldn't do it. But they love it. There are always a lot of children posing for photos, people climbing into tanks.… Anyway, this whole area covers maybe 1 percent of the festival territory. Some visitors only learned that it was even there after the event."
Matveev explained that the partnership with the Ministry of Defense was established three years ago, and through it Nashestvie was able to arrange an air show (which the organizers seem to see as a crucial part of the event) much more easily than before.
"Those who critique us shouldn't overestimate their own perceptions. People don't necessarily associate those things with war," he said. "We live in a democratic country, so we have to let the people do what they want and get what they paid their money for."
Boris Keilman, a longtime organizer of the Grushinsky festival, doesn't see any problem with the fact that the festival now has a military presence, he told Newsweek. "Maybe the Military Council wasn't the most appropriate name," he said. "But there will be no army and no marches. We just want to commemorate this great day [the Victory Day] that is important to any Russian citizen." When reminded that the patriotic part of the Grushinsky's program includes a show by a SWAT team, Keilman said that "military people will also attend the celebrations" and that it "wasn't a big deal."
Not all the festivals in Russia are allowed to permit people to do what they want, however. Just this Wednesday, it was announced that another big festival, Kubana, which was supposed to occur in August in the Kaliningrad region and feature Panic! at the Disco as well as some top Russian acts, was banned by the local city council because of safety concerns. Apparently, the local police declared that they wouldn't be able to provide adequate security at the event.
It's not the first time that Kubana has encountered problems. Because of disputes with another local government in the Krasnodar region, the event had to be moved to another part of the country. In Krasnodar, Cossacks and nationalist groups protested against the festival because, in their opinion, young Russian people who came to Kubana were engaging in indecent behavior, drinking alcohol and listening to songs with strong language.
Kubana's producer, Ilya Ostrovsky, said that an unnamed group of locals in Krasnodar cited the same concerns in their request to ban the festival.
Last year during his performance at Kubana, Noize MC—a popular rapper known for his outspoken criticism of the Russian government—made a speech arguing that, contrary to what Russian propaganda said, there were no real Nazis in contemporary Ukraine. That didn't leave the opponents of the festival particularly thrilled.
"They said that citizens' morality was offended by the behavior of the young members of the rock subculture," Ostrovsky said. "This is really old-fashioned language, and I'm surprised that the rock subculture can astonish or offend anybody these days.
"This whole situation reminds me of some grim periods in Russian history, when there were a lot of vigilant citizens, and the government listened to them very attentively," he added, referring to the Stalin era.
Nor is this the first time musicians have gotten into trouble in Russia because some pro-government activists saw the content of their music as too extreme and immoral. Just last year, shows by Behemoth, a black-metal band from Poland, were attacked by radical Orthodox groups. Last July, Marilyn Manson's show in Moscow was canceled after an anonymous bomb threat. Before the show, Dmitry Enteo, one the country's most vocal Orthodox activists, stated repeatedly that he and his supporters wouldn't allow the concert to happen because Marilyn Manson promoted blasphemy. The group also attacked Manson's band, throwing eggs at them and pouring holy water on the musicians. Nobody was arrested or charged in the attacks.
Meanwhile, officials of the Russian Orthodox Church support the decision to cancel Kubana. "This is a logical and just outcome. Common sense and morality have prevailed," said Vsevolod Chaplin, a spokesman for the church.
Mikhail Cherenkov, a local church official, was even more enthusiastic. Talking to Komsomolskaya Pravda, he said that instead of Kubana, the town it was supposed to be held in will host a patriotic festival in honor of "the defenders of the homeland."
"Most musicians [that were supposed to perform at Kubana] sing about violence, drugs and suicide. Why does the government allow it?" he said. "We want to create a festival without booze and obscenity."