Russian News Anchor Likens Home to North Korea, 'Absolutely Isolated'
Russian news anchor Ekaterina Kotrikadze says her home country has become so "isolated" that it's now comparable to North Korea.
"Russia is becoming absolutely isolated," Kotrikadze, who worked as an anchor for the independent Russian television channel TV Rain before she fled the country, told CBS News. "It really looks like North Korea to me."
Kotrikadze left Russia with her family last week shortly after TV Rain was blocked by the country's media regulator as part of Russia's increasing crackdown on independent news outlets and journalists.
Over the last couple of weeks, a number of media companies have been shut down by the Kremlin over its coverage of the ongoing war in Ukraine, which state media and President Vladimir Putin have described as a "special operation."
Russian lawmakers recently passed a bill that could sentence individuals charged with spreading "false information" on Russia's military operations to up to 15 years in prison.
"Journalism is banned in Russia," Kotrikadze told ITV News last week. "Russia is now a terrorist state. Vladimir Putin has ruined the lives of the 140 million people who live here. This is the end for freedom of speech."
While the operations of TV Rain, also known as Dozhd, had been suspended by Russia's regulator, the channel had continued to broadcast on YouTube. Last Thursday, the outlet's staff shut the channel down by walking out of the studio live on the air.
"We need strength to exhale and understand how to work further. We very much hope to return to the air, and we will continue our work," TV Rain's general director and co-founder Natalia Sindeyeva announced on the channel's final broadcast.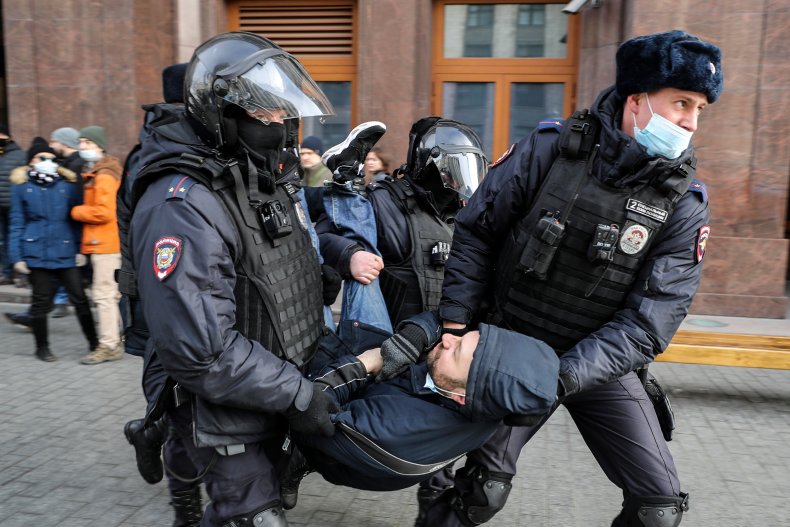 Russian forces have moved quickly to silence protesters in the country speaking out against Putin's actions.
On Sunday alone, more than 5,000 people were arrested across 69 Russian cities for partaking in demonstrations opposing the invasion of Ukraine. Since the war began on February 24, monitoring groups estimate that more than 13,000 people have been detained.
Putin's political rival Alexey Navalny spearheaded Sunday's protests from prison, posting to his blog through his team "Not Russia attacked Ukraine, but Putin."
"It was Putin who wanted to bomb peaceful cities, kill children and destroy lives. The Russians were not asked if they wanted war. In Russia, which we love and are proud of, millions of people are against this madness. And now their help is needed more than ever," the post read.
On Thursday, Kotrikadze said the propaganda being sent by the Kremlin to the Russian is clear.
"The message is clear and very simple: That NATO is right around the corner. That NATO is threatening Russia," she said.
Kotrikadze said she and her family were not the only ones leaving Russia.
"In the airport, we met so many people we know. So many colleagues. A whole bunch of people are trying to run. It's crazy, I've never seen anything like it," she said last week.
"Half of Moscow is trying to get out the country," she added.