Russia's floating nuclear power plant, dubbed the "nuclear Titanic," has arrived in the Arctic port of Murmansk ahead of its first mission, in spite of criticism from environmental campaigners.
The Akademik Lomonosov is designed to provide energy for hard-to-reach coastlines, such as in Russia's subarctic regions. After its stop in Murmansk, the vessel will begin a 3,100 mile journey to the town of Pevek in the eastern region of Chukotka, just across the Bering Strait from Alaska, Reuters reported.
Russia's state nuclear company Rosatom, which owns and operates the plant, says it is a new way to bring power to remote regions, but environmentalists have branded it a disaster waiting to happen. Greenpeace has claimed the "nuclear Titanic" poses "a shockingly obvious threat to a fragile environment which is already under enormous pressure from climate change."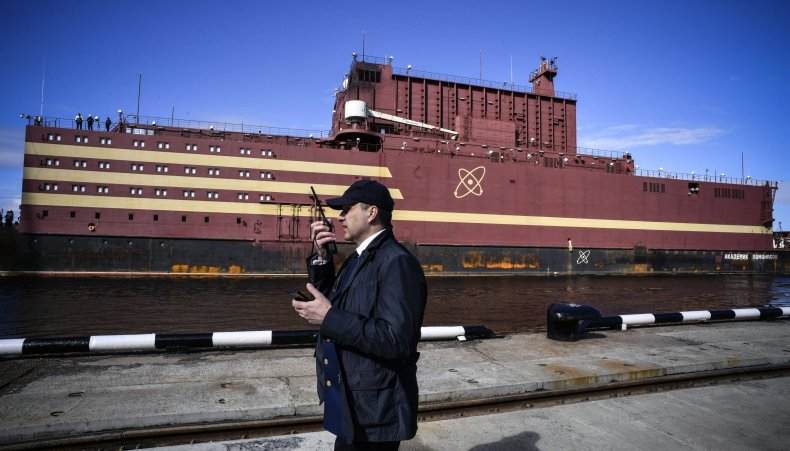 The dual-reactor Akademik Lomonosov will begin operations in Pevek next year, replacing the town's coal-fired power plant and aging nuclear power plant, which 50,000 people in Chukotka rely on for electricity.
Once it is fired up, the Akademik Lomonosov will become the world's only operational floating nuclear power plant and the northernmost nuclear installation in the world, according to Rosatom. It will be able to operate non-stop for three to five years without being refueled, and has a lifespan of at least 40 years.
The Akademik Lomonosov was built in St. Petersburg and Rosatom planned to test it in waters nearby. But opposition from neighboring countries and local residents persuaded Russia to move it elsewhere. It will take on its nuclear fuel in the remote Arctic port of Murmansk before tests begins.
Greenpeace has sent a letter to Rosatom boss Alexei Likhachyov, urging him to ensure the vessel is operating at the highest levels of safety. The letter calls for full oversight of the project by the Russian nuclear regulator and an international study into the potential impact of such power plants. The organization wants these steps to be taken before tests begin to avoid what it called a "Chernobyl on ice."
Greenpeace said there are suggestions that as many as 15 other countries—including China, Algeria, Indonesia, Malaysia and Argentina—are interested in hiring the floating nuclear plants to service their own remote communities or provide power for oil and gas exploration.
However, Jan Haverkamp, nuclear expert for Greenpeace Central and Eastern Europe, said there remain concerns about the vessel's suitability for such a range of missions across different regions. "The flat-bottomed hull and the floating nuclear power plant's lack of self-propulsion makes it particularly vulnerable to tsunamis and cyclones," he warned.