Russian Oil Refinery Ablaze After Reported Hit From Ukrainian Drone
A Russian oil refinery in the Rostov region was ablaze Wednesday morning after a reported hit from a Ukrainian drone, authorities said.
Russia's state-run news agency TASS cited an anonymous source in the local authorities as saying that a fire broke out at Novoshakhtinsk refinery in the Rostov region five kilometers from the Ukraine border after two Ukrainian drones were spotted over the plant.
"One of them made an impact, crashing into a heat transfer unit, after which the blaze started. The second one flew away," the unnamed source told TASS.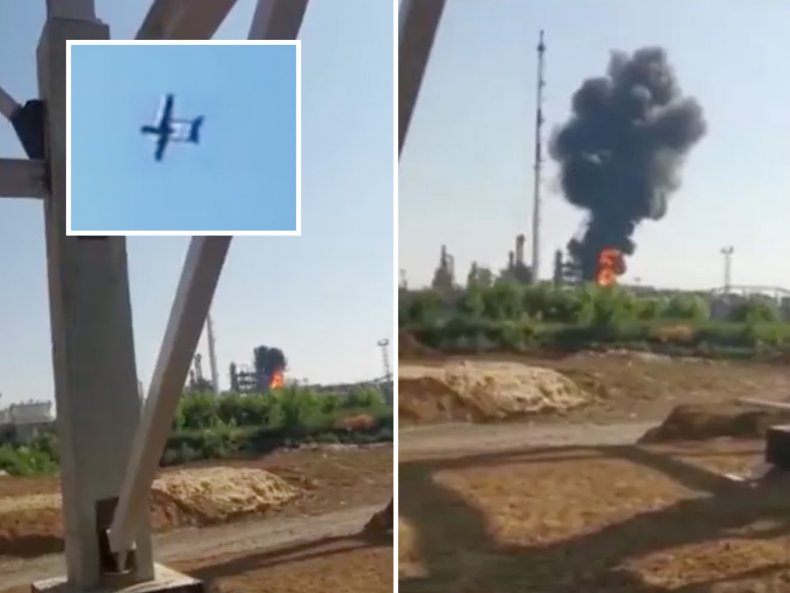 The local emergency service said the fire at the oil refinery was localized just after 10 a.m. local time, according to Russia's Interfax news agency.
Russia's Ministry of Emergency Situations for the Rostov region said no casualties were reported.
The ministry also noted that 35 people and 17 pieces of equipment were at the scene of the fire, and that its cause is under investigation.
A video of the incident circulating on social media showed what appeared to be a single drone flying through the sky and towards the plant. Shortly later, an explosion can be heard, followed by a large fire and plumes of black smoke rising into the air.
Newsweek has been unable to independently verify the authenticity of the clip.
Regional governor Vasily Golubev said on social media that a drone strike may have caused the Novoshakhtinsk oil refinery blaze.
Golubev said the refinery had suspended operations after a fire had broken out in the refinery's vacuum unit. Fragments of two drones were found near the refinery, he said, adding that no injuries were reported.
Golubev said an investigation was underway.
"Employees noticed a Ukrainian drone. It crashed into the plant's structures, after which there was an explosion and fire," state-owned news agency Tass quoted an unnamed regional official as saying.
The Novoshakhtinsk refinery began operation in 2009, and has a processing capacity of up to 7.5 million tons per year, making it is one of the largest oil refineries in southern Russia.
In recent weeks, several regions close to Ukraine's border have seen unexplained explosions at military and industrial sites.
In Kursk, videos posted on social media purportedly showed explosions in the region. Two oil depots in Bryansk were also believed to have been struck by Ukrainian missiles on April 25, and an ammunition depot also caught fire near the village of Staraya Nelidovka in the Belgorod region, Newsweek previously reported.
Kyiv has so far denied accusations from Moscow that it is attacking checkpoints and Russian targets across the border.
Newsweek has contacted Russia's Ministry of Foreign Affairs for comment.
Update: 6/22/22 6:20 a.m. EDT: This article has been updated with additional background information.