Former Russian Oligarch Warns Putin Will Invade NATO Territory
Mikhail Khodorkovsky, a self-exiled Russian oligarch and a prominent critic of the Kremlin, said in a Thursday interview that Russian President Vladimir Putin will eventually wage war in NATO territory if the coalition doesn't help Ukraine win in the current conflict.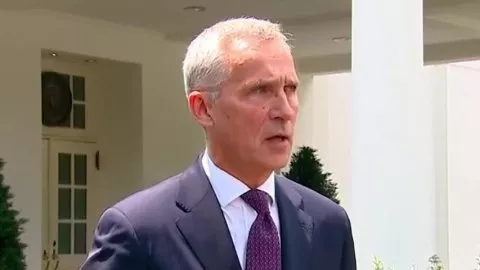 Khodorkovsky made the warning during an interview with Euronews, a television network headquartered in France. He called on NATO to continue providing Ukrainian President Volodymyr Zelensky with weapons and supplies to fight Russia's military, which began its invasion in late February.
NATO Secretary General Jens Stoltenberg has condemned Putin for his attack of Ukraine, and he reiterated the organization's support of Ukraine during a Wednesday conversation with Politico. He said NATO has a "political and a moral obligation to provide substantial support" to Zelensky's country and would continue supplying Ukraine with weapons for "[a]s long as necessary."
Putin has used possible NATO expansion as one reason to justify his invasion of Ukraine, though Finland and Sweden both applied to join the alliance after the outbreak of the war. He has also warned the organization and the U.S. about becoming directly involved in the war.
Khodorkovsky told Shona Murray of Euronews, "Today, NATO has a great opportunity to help Ukraine defend its sovereignty by participating in this war with weapons, supplies and training Ukrainian soldiers, rather than fighting on its own territories.
"If this opportunity is missed, I issue a warning: In a few years, or perhaps even earlier, NATO will be directly involved in this war, because it will be happening on the territory of a NATO country."
At one time, Khodorkovsky was the richest man in Russia thanks to a substantial oil fortune, but then he began openly criticizing Putin. He founded the pro-democracy Open Russia organization in 2001, only to be arrested by Russian authorities in 2003 for tax evasion. He was found guilty in 2005 and sentenced to nine years in prison. Embezzlement and money laundering charges were added to his sentence in 2010, which extended his jail time. However, after some high-profile lobbying, Putin pardoned Khodorkovsky and freed him in late 2013.
When Murray asked Khodorkovsky if he feels NATO should become directly involved in Ukraine, he answered that the alliance must do all it can to ensure that Putin doesn't prevail.
"Those who believe you can somehow reach agreement with an aggressor are repeating the mistakes of their many predecessors," he said.
Khodorkovsky also said he doesn't believe the sanctions imposed on Russia have had a large impact. He said that while sanctions "can weaken the regime so this aggression doesn't get reproduced for some time," the issues between Russia and Ukraine are "being resolved on the battlefield."
Khodorkovsky further added that the weapons and supplies that NATO has been sending to Ukraine are insufficient in comparison to the considerable amount of weapons in Putin's arsenal.
"If NATO wants it to be resolved on the territory of Ukraine, then, of course, it needs to provide much more systematic support," he said.
{{#isDisplay}} {{/isDisplay}}