Russian Oligarchs Face Tough Sanctions to Deter Putin From Invading Ukraine
Russian oligarchs will be hit with tougher sanctions that could include the seizure of London property in a bid to deter Russian president Vladimir Putin from invading Ukraine, the U.K.'s foreign secretary has said.
Liz Truss said deterring Putin from taking action was "the number one priority" amid escalating tensions over Russia's build-up of troops on its border with Ukraine.
"That's we are offering to deploy extra troops into Estonia, we are providing more air support across the Black Sea, and we're supplying defensive weapons to Ukraine to make sure they are in the best possible position should Vladimir Putin try to stage an incursion," Truss said in an appearance on Sky News' Trevor Phillips On Sunday.
The foreign secretary also said she would announce "improved legislation on sanctions" later this week that is aimed at targeting "more Russian interests that are of direct relevance to the Kremlin."
"Of course we'll use diplomacy," Truss said, adding that she would be traveling to Ukraine this week and Moscow the following week.
"However, the number one thing that will stop Vladimir Putin taking action is if he understands the costs of that action. This could result in a quagmire and he should be well aware of that."
Current U.K. laws on economic sanctions are "fairly narrowly drawn, so we could only target companies with a direct involvement in destabilizing Ukraine," Truss said.
"What we are looking to do is widen that, so any company of interest to the Kremlin and the regime in Russia would be able to be targeted.
"So there will be nowhere to hide for Putin's oligarchs, for Russian companies involved in propping up the Russian state. That is what we are looking at doing this week."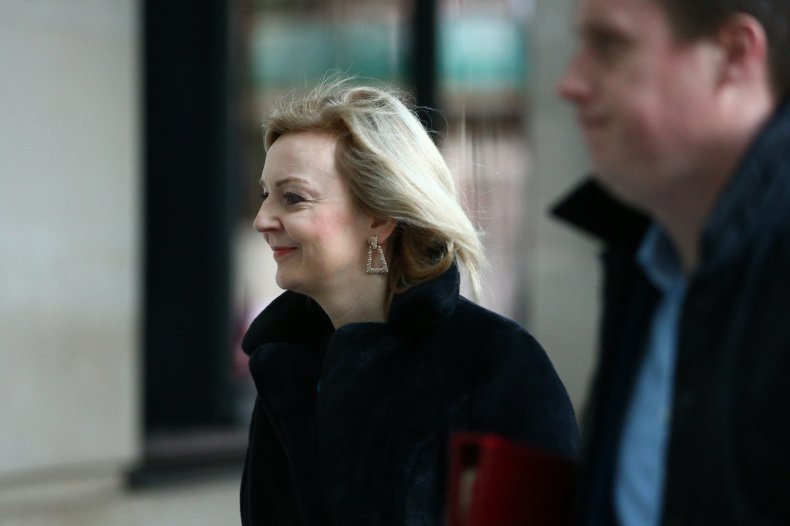 She did not rule out the possibility that the tougher sanctions could include the property of Russian oligarchs being seized in London.
"Nothing is off the table," Truss said. "We're not going to go into the details of exactly who and how we would target the sanctions. What the legislation enables us to do is hit a much wider variety of targets, so there can nobody who thinks they would be immune to those sanctions."
Although Truss said she was "ruling absolutely nothing out" in terms of the U.K.'s support for Ukraine, she said out was "very unlikely" that British troops would be deployed to fight alongside Ukrainians.
In an opinion piece for The Telegraph newspaper, Truss said it is "vital we face down the clear and present threat posed by Russia," which was "undermining the very foundation of European security."
She said U.K. Prime Minister Boris Johnson would "spearhead diplomatic efforts" by talking to Putin and traveling to the region in the coming days.
Truss said the U.K. is sending fast jets, warships and military specialists and doubling troop numbers to Estonia.
The U.K. is "joining forces with our allies to show that there can never be rewards for aggression," Truss added. "By standing up for our ideas and ideals, we will together ensure the world is a freer, richer and safer place."
Johnson, currently embroiled in a scandal over lockdown parties, said the situation on Ukraine's border was "increasingly concerning."
"I continue to urge Russia to engage in negotiations and avoid a reckless and catastrophic invasion," he said on Twitter on Sunday.