Russian Orthodox Priest Banned after Violently Baptizing One-year-old Baby as His Mother Pleaded 'Let Him Go, He's in Pain'
A Russian Orthodox priest has been banned for one year for performing a baby's baptism that was so violent it provoked outrage across Russia.
Footage of the religious rite of passage shows a priest identified as Father Foty plunging the head of the one-year-old into the font that looks too small at the Marienburg Intercessional Church in Gatchina, 25 miles south of St. Petersburg.
The shocked mother, named as Anastasiya, is heard shouting at the priest who prevents her from intervening and forces the screaming baby's head into the water again.
The Kremlin-backed news station Channel 5 tweeted a video of the ceremony, claiming that the child was "nearly killed" and had suffered bruises from the traumatic incident.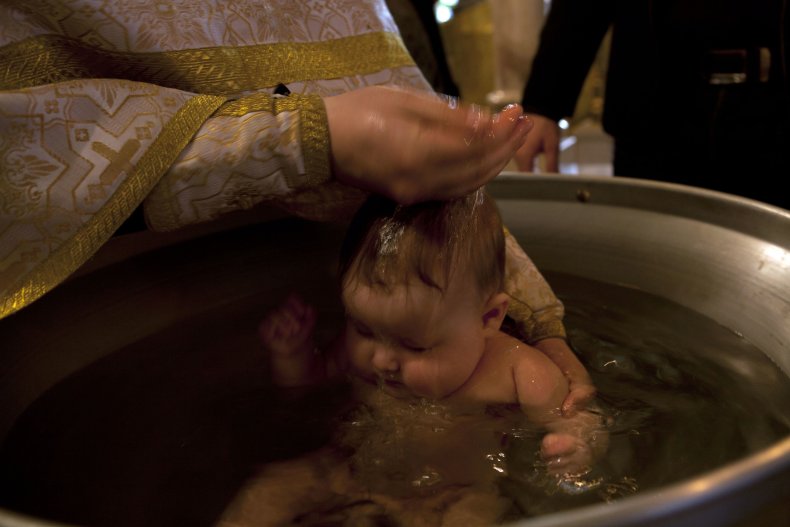 The mother told the Fotanka news site that the priest appeared to get angered when people did not know the Lord's prayer and she screamed: "Let him go, he's in pain."
"The baby was screaming, trying to wriggle away. I got frightened and ran up, started to take him back," she said, according to The Times.
The priest defended his actions, telling Channel 5 that the child's parents did not understand the rites of the faith and "turned out to be people completely far from church life."
"According to church rules, [a] baptism with a small amount of water is only allowed in the event of a serious illness of the child or mortal danger. Baptism itself requires immersion three times," he added.
However the priest caught the attention of church authorities in Moscow and Hieromonk Gennady of the Moscow Patriarchate's department of parish education said his actions were "madness." Police are investigating the complaint.
The Gatchina Diocese apologized for the incident and said the priest has been banned from ministerial duties, wearing clerical robes, and giving blessings for one year.
"The high rank of clergyman obliges its holder to serve in the image of the good shepherd, our Lord Jesus Christ, and to perform all sacred actions reverently, with the fear of God and a sensitive attitude toward the children of the church," the diocese statement said.
News agency RIA reported that there had been complaints about the priest before from his parishioners, with one describing him as "rude and demanding."
A source in the Gatchina Diocese's press service said he had not received any official complaints but he had been transferred there as a disciplinary measure resulting from his time serving at another Leningrad region church, Radio Free Europe reported.