Ambassador, You Are Spoiling Us! Russian Pair Make Life-Sized Chocolate Vladimir Putin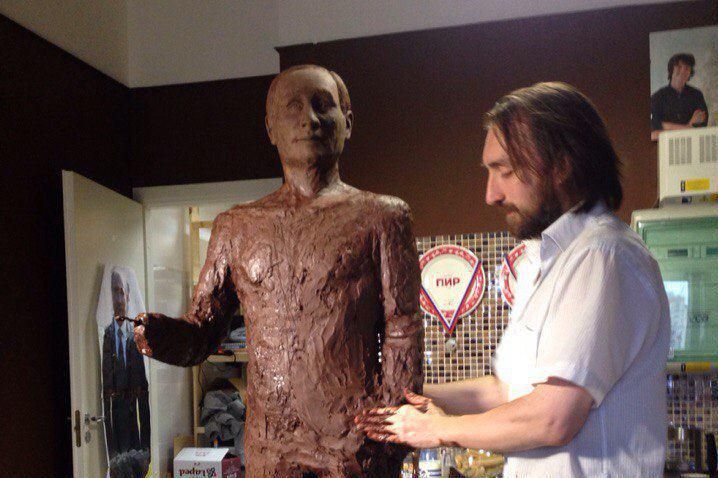 Russian confectioners have built a life-sized figure of Russian President Vladimir Putin made entirely from chocolate —and that's the relatively normal part of the story.
Master chocolatiers Nikita Gusev and Vladimir Daragan fashioned the figure out of 170 pounds of chocolate in a bid to win a contest at St. Petersburg's annual "Festival of Chocolate" on Tuesday, reports Russian newspaper Metro.
The sweet creation currently stands at 172 centimeters (5 feet 8 inches) — close to the Russian President's actual 170 centimeters (5 feet 7 inches) —and Putin is striking as statesmanlike a pose as once can when one is molded from chocolate.
But the current sculpture is only a prototype, Daragan told Metro newspaper, and the pair now hope to produce a second version that will depict the President smiling, with his thumbs up and with a chocolate dog located at his feet.
In another interview, Daragan told Russian newspaper Business News Agency the reasons behind the project.
"The popularity of our President in the world has reached a level where we can say that he is one of the most popular people in the world," Daragan said. "We would like to clarify that the action is apolitical and has no ideology. We just decided to cast the sculpture of Vladimir in full size."
The team will send an application to the Guinness Book of World Records in the hope that it recognizes their efforts as a "major figure made of chocolate," event organiser Michael Lubchenco told Metro. There is currently no such record listed on the Guinness Book of Records' website, although the site recognizes that a team in Brazil set the mark for the "largest rabbit made of chocolate" in April 2014.
The festival in St. Petersburg is in its fifth year and will also include confectionary masterclasses, fairs and chocolate quests.
Putin-faced merchandise appears to be a popular subject for sculptors. In October, a Russian artist fashioned Putin's head into a hi-fi component, quite literally turning Putin into a powerful speaker. One example of the speaker sold in Japan for $7,400; a second fetched $4,790 in Norway. Putin's face is also etched into a golden iPhone made by luxury brand Caviar.
And Putin is not the first figure to be cast in chocolate. Last April, a team of eight people, created a life-sized chocolate sculpture of British actor Benedict Cumberbatch. The Sherlock star's hollow figure took 250 hours to complete and weighed 40 kilograms (88 pounds), the BBC reported at the time.
Chinese chocolatier Aficion Chocolate currently hold the Guinness World Record for the largest chocolate sculpture. Created on September 30 this year, the creation was of a shape of a building and weighed more than 11 tons.