Russian Parliament Backs Bill To Ban Putin's Face From Duma Elections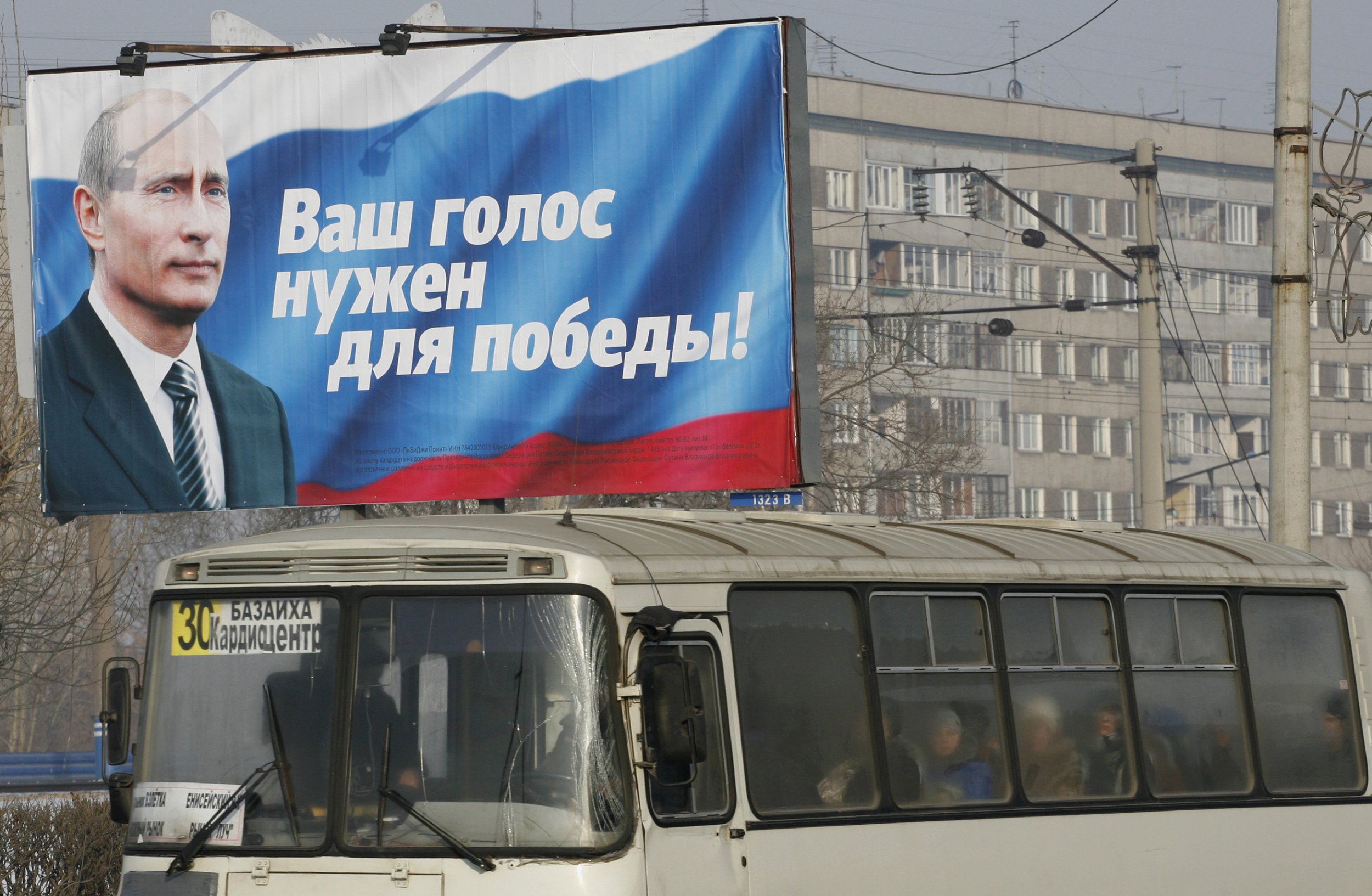 Russian parliamentarians have approved a law to ban the use the images of popular figures or party leaders such as President Vladimir Putin in campaigns where they are not candidates, according to the country's parliamentary website.
The draft was submitted by the nationalist Liberal Democrat Party of Russia in the lower house of parliament (the State Duma) in December 2015 and, following a vote, has been backed by a majority of 341 in the 450-seat house at its first reading. Should it survive two more readings, it would be submitted to the Kremlin and be signed into law.
The draft's authors seek to remove celebrity endorsements and the backing of powerful political figures from being a factor in elections, particularly in the upcoming Duma elections in September.
"The president is not a candidate for the State Duma, which is why using, for example, a poster where a candidate is standing alongside Putin is unacceptable," Yaroslav Nilov, one of the bill's three authors said when the bill was submitted.
The draft bans the use of images of famous figures not standing for the relevant election, as well as quotes or citations of such persons about candidates standing for election. However, the law permits images of candidates standing in a group of "unidentified people."
United Russia, Russia's ruling party led by Prime Minister Dmitry Medvedev and created by Putin, would be among those most directly affected by the new law as the party has repeatedly publicising its links to the president.
In 2003, posters consisting simply of maps of Russia and quotes from the Russian president about the need to make Russia strong, launched the party's first election campaign, despite the fact that Boris Gryzlov was nominally the leader, not Putin. At the next election in 2007, Putin's face adorned campaign posters for the party, hailing the virtues of small business. Putin's image even appeared in the only Russian presidential election campaign of this century, which he has not contested, endorsing his temporary successor and then-United Russia leader Dmitry Medvedev.
Recently, the head of the Russian polling company Public Opinion, Alexander Oslon, said that United Russia's rating is inherently tied to Putin's own higher approval rating.
The potential new law would also, however, affect opposition groups such as Alexey Navalny's Party of Progress, the late Boris Nemtsov's Parnas party and candidates backed by ex-Yukos boss Mikhail Khodorkovsky. The three are among the most well-known critics of Putin's; however, Nemtsov was mysteriously shot dead in Moscow in February 2015, while both Navalny and Khodorkovsky face dubious criminal charges, which technically prevent them from contesting elections.
Russian Parliament Backs Bill To Ban Putin's Face From Duma Elections | World