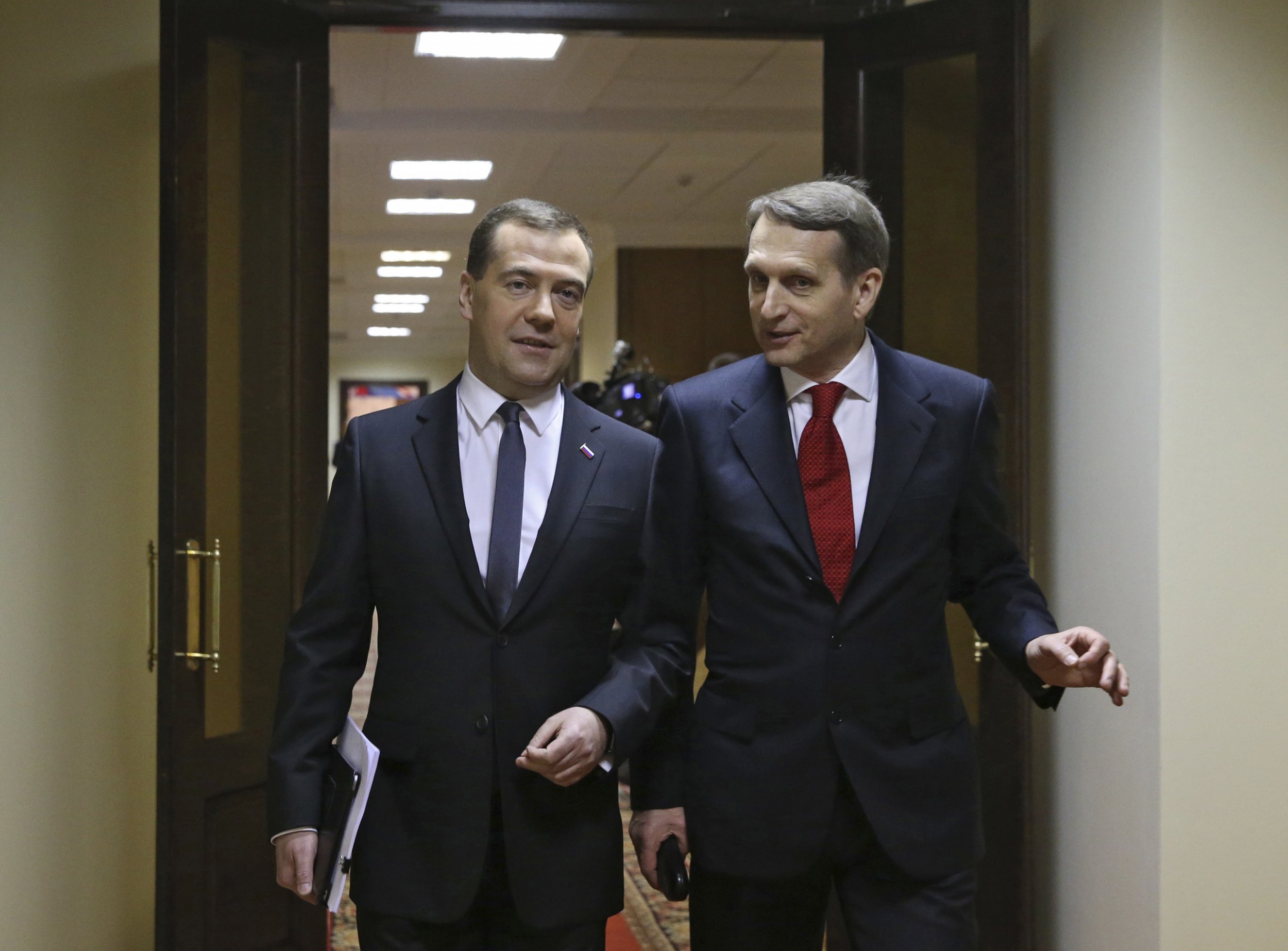 The speaker of Russia's lower house of parliament has said Ukraine would last "a maximum of four days" in open conflict with Russia, state news agency RIA Novosti has reported.
Sergey Naryshkin, speaker of the Duma and leading member of Russian President Vladimir Putin's United Russia party, spoke to Russian lawmakers and visiting German political experts at a seminar in Moscow on Wednesday—and shared some controversial opinions.
Speaking about Ukraine's struggle against pro-Russian rebels in its eastern regions, Naryshkin said the mere fact the conflict has lasted two years shows Russia is not involved.
"If for any reason Russia needed to begin military operations and reflect the aggression of a country comparable by its capabilities to Ukraine, I trust we all understand how many days the conflict would last," Naryshkin said. "Two, three, a maximum of four days and everyone understands what the result of such a conflict would be."
"There is your answer to the question who the Kiev regime is fighting," Naryshkin said, referring to persistent accusations from Ukraine and the West that Russia is running covert operations within its southern neighbor. Numerous captures of Russian soldiers in Eastern Ukraine and reports of an influx of both arms and troops across the eastern border have not changed Russia's insistence that the fighters in the east are volunteers.
In the same seminar, Naryshkin also compared the Baltic countries to angry dogs, trained to fear and growl at strangers, Russian independent news agency Interfax reported.
Russia's relationship with the Baltics since the annexation of Ukraine's Crimean peninsula in 2014 have deteriorated rapidly. Lithuania, Latvia and Estonia have pushed for permanent NATO deployments on their territory since 2014, although this has not yet materialized. "Here we often see signs hung by the doors of houses in the countryside that read 'Beware, Angry Dog,'" Naryshkin said.
The event featured the apparent differences in how Russia and Europe view one another. Fear of a potential Russian attack has been particularly palpable in Moscow's former Communist allies in Eastern Europe since the start of the Ukraine crisis.
"Well, an angry dog isn't born angry," Naryshkin said, continuing his metaphor. "When it is young, it comes into the world good, and the anger is especially manufactured so that it will be vicious to those who approach its owner without his invitation," Naryshkin said. "It is the same with people and fear is taught and it also instills itself in the mind."
"I imagine, in any case, that some of this fear on behalf of our Baltic neighbors is also taught and taught with a purpose," Naryshkin added. He did not unveil what the purpose was, but Naryshkin has previously accused Western states of being "Russophobic" when they have not seen eye to eye on Russian foreign policy. He branded the Parliamentary Assembly of the Council of Europe "genetic Russophobes" in December 2015 after a decision to ban Russia from the group over its annexation of Crimea was upheld.
Both Russia and NATO have reinforced assets in Eastern Europe since the annexation and both sides have said their measures are defensive. However, a recent analysis of both sides' military exercises by London-based think-tank the European Leadership Network warned that the two sides are openly planning for war with one another and may inadvertently cause conflict.
A NATO summit in Poland this summer will determine the alliance's future strategy in maintaining the security of its Baltic and Eastern European members.