Russian Police Detain 'Vladimir Putin' in the Red Square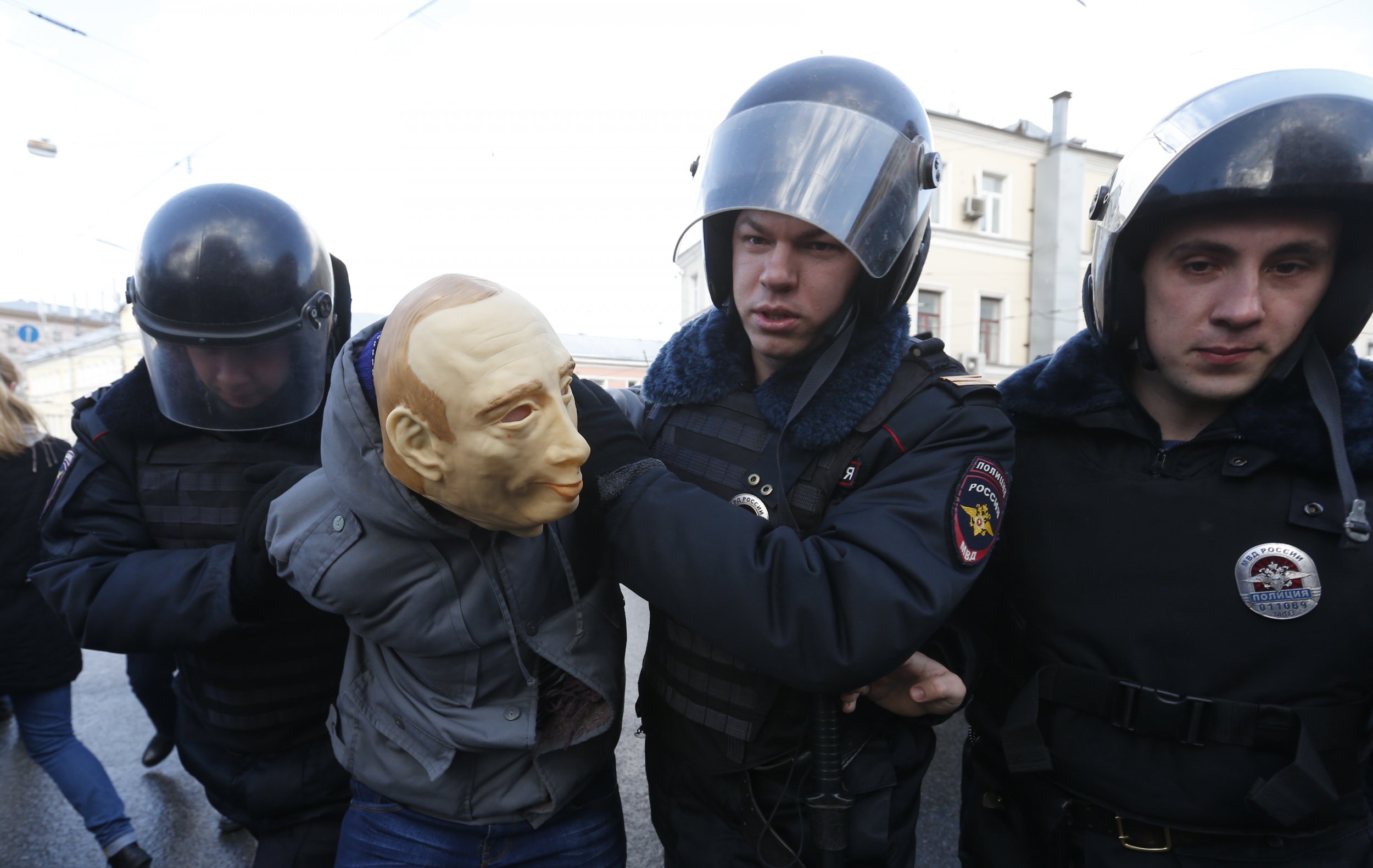 Vladimir Putin was detained by police in broad daylight, while crossing Moscow's Red Square on Thursday.
Was it Putin's alleged links to an apparent $2 billion money laundering scheme, detailed in the recent Panama Papers leak that did it? Perhaps Russian authorities finally decided to heed activists' calls to question Putin on the series of suspicious killings of opposition figures, persisting allegations of corruption or alleged human rights violations in Syria?
Not quite. The Russian president spent Thursday in his hometown in St Petersburg, warning the nation's press against causing revolutions and by Friday morning he was probably back safe behind the Kremlin's many walls.
The man detained was Roman Roslovtsev, who has risen to fame over the last few months for being held by police six times while walking around the Russian capital in a full-face Putin mask. While it may sound innocuous, his actions are supposedly in violation of Russia's controversial article 212.1 in the Criminal Code.
This means he and anyone else who is repeatedly seen making public political or protest statements without first having a permit from local authorities can be jailed for up to five years.
The law itself states that it is intended to ensure public safety during large manifestations, however the Russian opposition has often complained that the government is using the law to deliberately stifle their gatherings. Anti-corruption blogger Alexey Navalny and punk-rock protest group Pussy Riot have all been detained numerous times by police for unsanctioned acts of protest.
Anticipating this, Navalny has often published requests for permission to protest on social media, well before the 15 day notice required by Russian law, to pressure the government from using the law to stifle protests without explanation. Russian authorities also reserve the right to approve protests but change the venue, often opting to allow opposition protests away from the Kremlin in Moscow's outskirts.
So what is Roslovtsev's cause? The man masked as Putin is protesting against the very law that allows those unsanctioned protests to be jailed. Besides his mask, he is also seen walking the streets with a poster, which reads in simple black letters "I am not afraid of 212.1" in reference to the article in the criminal code, which could see him imprisoned.
According to Roslovtsev, if he racks up enough administrative violations and detentions to be charged with a criminal offense and be jailed, he will be able to show how "absurd" and "unconstitutional" the article is.
"I think if this is done, it will just look embarrassing because they will have jailed a man for just walking around in central Moscow in a Putin mask and a poster," Roslovtsev told Radio Liberty.
Navalny recently commented on the absurdity of detaining Roslovtsev by comparing how much quicker a man with a Putin mask is arrested in Moscow, when a woman was allowed to roam the Moscow metro for an hour, shouting "I am a terrorist", while carrying a severed child's head.
However last month Putin himself defended police using "repressive measures" saying Russian people largely supported such actions if they are intended to lead to the common good.