Russian Politician Brags About Americans Who Want to Fight for Putin
Vladimir Rogov, a Russian-installed official, said on Saturday that there are volunteers from Western countries including the United States who want to fight in Russian President Vladimir Putin's ongoing war in Ukraine.
Rogov told Russian news agency TASS that thousands of volunteers from former Soviet nations, Mideastern, and Latin American countries want to fight for Moscow.
"These are not only [people from] former Soviet republics, but there are citizens of the developed world - the United States, Great Britain, Canada, France, Germany, Middle Eastern and Latin American countries, including Brazil and Argentina," said Rogov, chairman of the We Are Together with Russia, which is a Russia-backed movement operating in the occupied Zaporizhzhia Oblast.
He explained that those volunteers can join the war after passing the necessary checks to enter Russia. Many of the volunteers have some combat experience and are licensed to carry weapons, according to Rogov.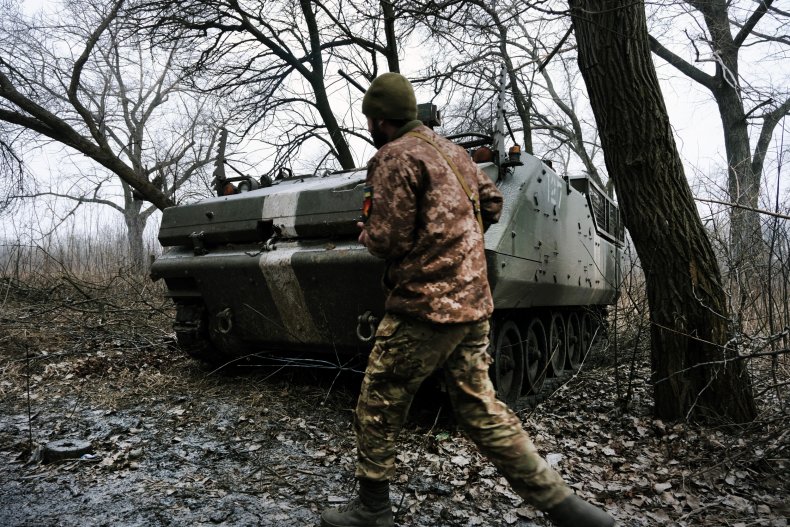 "Their motivation is quite strong, they would like to preserve traditional society and help Russia, they want to battle Nazism," Rogov told TASS, adding that volunteers would help gather information and assist troops on the ground.
However, foreign volunteers who want to join the war and fight on the Russian side are facing logistical problems that require a government resolution, according to Rogov.
Newsweek couldn't independently verify whether U.S. citizens joined the war to fight on Russia's side. However, volunteers from foreign countries have joined the fighting on both sides since the war began last February. In March, Putin called for providing facilitations for those who want to help the Russian army.
"If you see that there are people who want on a voluntary basis [to help the separatists in eastern Ukraine], then you need to meet them halfway and help them move to combat zones," the Russian leader said during a meeting at the time, according to Radio Free Europe/ Radio Liberty.
The Russian Defense Minister Sergei Shoigu said at the time that around 16,000 "volunteers" from the Middle East were prepared to join Russian troops in the war.
Meanwhile, Ukrainian President Volodymyr Zelensky has launched the International Legion of Ukraine, which is composed of foreign citizens who wish to join Ukrainian troops to fight against the Kremlin.
According to Ukrainian officials, over 20,000 foreign volunteers from 52 countries responded to Zelensky's call for enlistment, including those who served in the U.S. military, British Army, and the U.S. Marine Corps, ABC News reported last November.
However, there might be legal consequences in responding to calls to join the war, George Krol, the former U.S. ambassador to Belarus, Uzbekistan, and Kazakhstan, told the Harvard Politics Review last month.
Citing U.S. law, Krol said that "the Neutrality Acts...prohibit Americans...from organizing themselves in any kind of military formations...to fight against a country with which the United States is not at war." However, if an individual doesn't violate those rules then they could volunteer to join the war in Ukraine.
Newsweek reached out to the Russian foreign affairs ministry and the White House for comment.