Russian Politician Mocks Putin's Speech About Ukraine War
A politician recently took a Russian idiom literally when he listened to Russian President Vladimir Putin's speech about the Russia-Ukraine war.
Putin issued a national address on Tuesday, just days before the one-year anniversary of his country's invasion of Ukraine. In the address, Putin said Russia did not start the war and also announced the suspension of Russia's participation in the New START treaty, which limits the number of nuclear weapons for the United States and Russia. In his speech, the Russian leader issued another warning to Western nations over their support of Ukraine.
Mikhail Abdalkin, a Russian deputy of the nation's Communist Party, listened to the speech and sarcastically posted a positive status on his VK social media channel on Tuesday. In a video attached to the post, Abdalkin is shown with cooked noodles hanging from his ear as he watches Putin's speech on a computer.
"I fully support, I fully agree, excellent performance. I haven't heard anything like this in the last 23 years. Pleasantly surprised," he wrote with the video.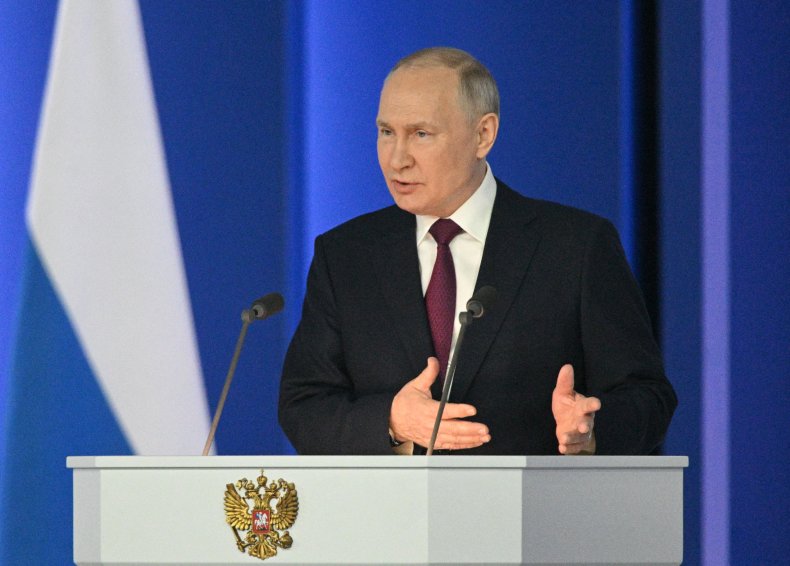 However, Abdalkin seems to be expressing a Russian idiom that translates "to hang noodles on one's ears," and is used to describe an act of deception or to portray when false information is fed to a listener, according to The Moscow Times.
The newspaper reported on Friday that Abdalkin seemed to bring the idiom to life as an attempt to express his true feelings about Putin's speech without saying the words, which could have brought legal action against him. The article called Abdalkin's approach "dangerously light-hearted."
However, other Russian politicians didn't take kindly to the exhibit, with Russian state Duma Deputy Aleksandr Khinshtein saying the "strange stunt" was better fit of a Ukrainian, The Moscow Times reported.
The newspaper also reported that Khinshtein called on the Communist Party to "restrain" Abdalkin in the future.
It isn't Abdalkin's first time taking a shot at Russian leadership, however. He allegedly has sent immature gifts to his rivals in prank-like fashion, such as sending a bar of soap in the shape of a male's genitals to Yuri Ferapontov, chairman of the city Duma of Novokuybyshevsk, Russian media site Zasekin reported in June 2020. Abdalkin also allegedly gifted a box of feces to Vitaly Ashchepkov, head of the Chapaev administration and another rival of Abdalkin's, and caught the exchange on video, according to another article by Zasekin in December 2021.
However, Abdalkin may be expressing a collective belief of some Russians. Center for Strategic and International Studies (CSIS) senior adviser, Mark Cancian, told Newsweek on Friday that propaganda comes out of both Russia and Ukraine, with many of each nations' claims exaggerating the truth.
As the war in Ukraine continues, support for Putin in Russia is faltering. However, the Kremlin has been strictly against Russians criticizing Putin's actions as several high-ranking Russian officials have mysteriously died after falling out of windows. Meanwhile, Bloomberg reported on Thursday that the Russian leader has shut down media outlets criticizing his leadership and actions during the war.
Earlier this month, one Russian official suggested Russia was not the best nation in the world and was harshly reprimanded by Putin. Later, the official issued an apology.
Newsweek reached out to Putin's press office for comment.