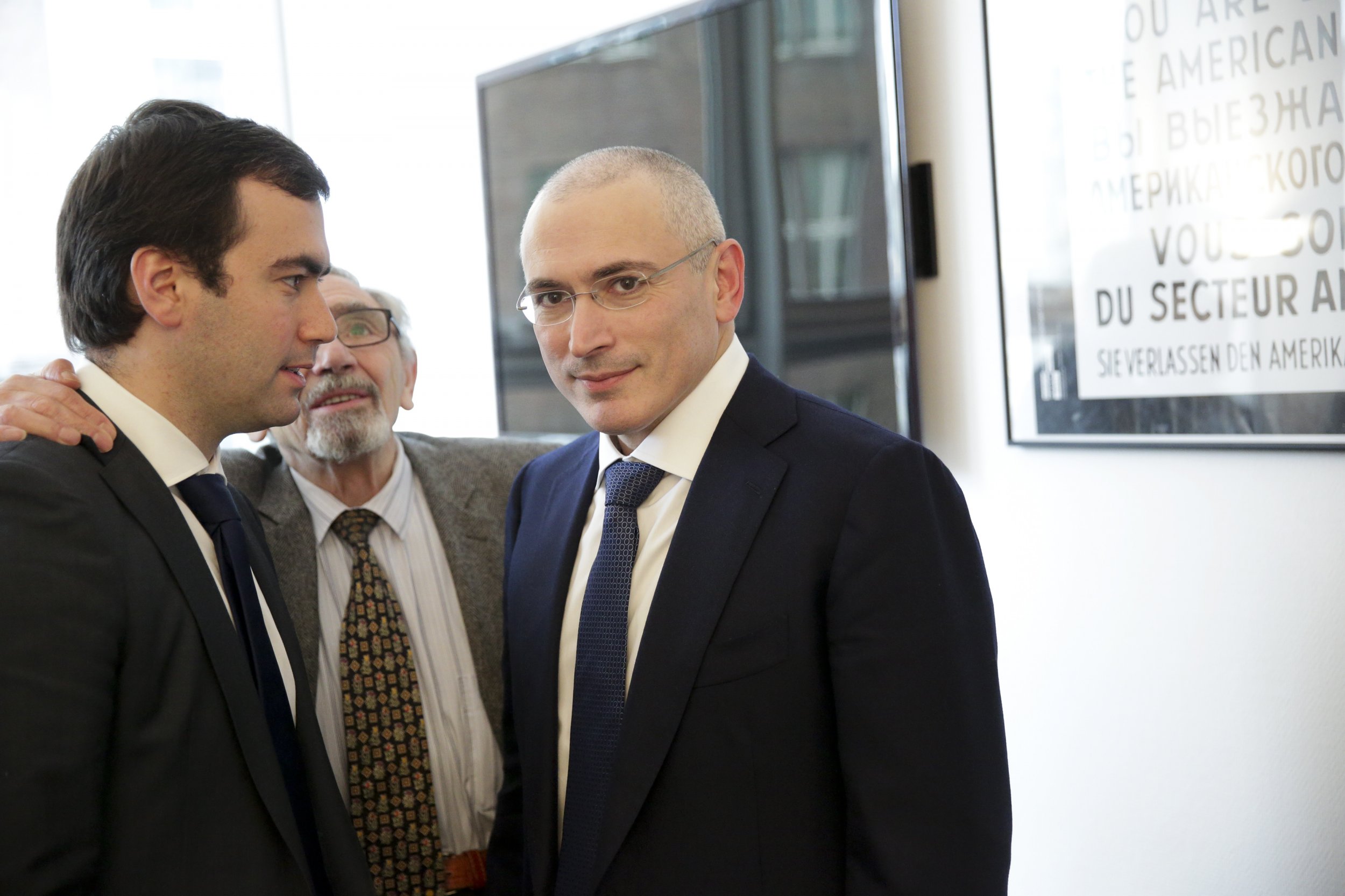 When Mikhail Khodorkovsky, the onetime oil billionaire who used to be Russia's richest man, was freed abruptly from prison last December after being locked up for a decade by Russian President Vladimir Putin, he vowed to forsake politics for humanitarian work.
Now, amid the escalating crisis in Ukraine, Russia's most famous exile is quietly staging a comeback that mixes a bit of both.
Khodorkovsky is planning to spirit himself into Ukraine from Switzerland in the coming days. As self-styled peacemaker or power-broker, he hopes to help defuse the crisis, his personal spokeswoman Olga Pispanen says. "He wants to see the situation and what is actually happening with his own eyes," she told Newsweek.
Khodorkovsky doesn't have any particular connection to Ukraine, beyond some relatives and friends there. Alluding to why he was going, he wrote on his website: "I believe that the presence of independent and internationally-known individuals in Ukraine at this time could help prevent the escalation of the conflict."
It's not clear what kind of reception Khodorkovsky might get, either from the new provisional Ukrainian government, Ukrainian protesters or pro-Russian entities in Crimea, where Russian troops have moved in. If it achieves nothing else, his planned trip highlights the silence of the still-powerful Russian businessmen who remain under Putin's influence.
The crisis is intensifying daily. President Barack Obama has announced visa bans and possible asset freezes against an as yet unspecified group of Russian and Ukrainian people and entities whom the White House deems responsible for threatening Ukraine's sovereignty. The West is hoping oligarchs who are hit by such measures can pressure Putin to step back. But that may be wishful thinking.
The passive stance of the oligarchs in the days following the ruble's plunge and the wild dip in the Russian stock market is notable -- if not surprising.
"When you look at the rich list, none are as rich as they appear on paper, because they're holding assets for government officials," says William Browder, chief executive of Hermitage Capital Management, a London-based investment fund that ran afoul of Putin. The so-called oligarchs "don't have any power to do anything -- Putin can just take their stuff away," he said.
"[The term oligarch] is a misnomer," says Dmitry Trenin, director of the Carnegie Moscow Center think tank, that is considered somewhat sympathetic to the Kremlin. "They are entrusted with all that money by the Kremlin, rather than have it truly for themselves."
With billions of dollars of personal wealth and a taste for luxury, the so-called oligarchs are not like the captains of business elsewhere who would worry first and foremost about a direct impact on their bottom lines from any sanctions. Awarded lucrative oil, gas, aluminum, diamond, platinum and other industries as part of Russia's privatization in the 1990s, they are more akin to stewards -- politically docile and already so rich that they are financially immune to sanctions.
They know the main factor in their continued prosperity is Putin. Those who clash with Putin suffer. After building Yukos, a once-giant oil company, into a darling of Western investors, Khodorkovsky was arrested in 2003, and tried and convicted in 2005 and again in 2010, on tax evasion and fraud charges after funding opposition parties and seeking to challenge Putin for the Kremlin hot seat; Boris Berezovsky, the one-time oil, media and automobile baron, died last year after more than a decade in exile in London following his clashes with Putin and conviction in absentia on fraud and embezzlement charges; and Vladimir Gusinsky, a one-time media executive who opposed Putin, fled to the United States.
"Putin started the end of the real oligarchs when he clipped Khodorkovsky's wings," says Keith Darden, associate professor at the School of International Service at American University.
Says Yevgeny Chichvarkin, a Russian businessman living in London who founded Russia's biggest cell phone retailer and often speaks publicly about corruption in Russia: "They hate Putin and they fear him. They have to be close to him, but they know it's very dangerous."
In other words, don't expect the threat of sanctions, visa bans or asset freezes to drive a wedge between Russia's ultra-wealthy businessmen and Putin - despite the hopes of people like Russian chess master and human rights activist Garry Kasparov.
Take Vladimir Potanin, head of Interros, an investment firm with stakes in mining, metals, energy and finance that is based in Moscow, and a close Putin ally with a personal fortune estimated by Forbes at $12.6 billion, making him the 86th richest person on the planet. "We have no business in Ukraine and do not comment on political questions," says Anton Muravyov, a spokesman for Potanin and Interros.
At Alfa Group, a conglomerate of banking, oil and telecoms holdings, principal founder Mikhail Fridman, Russia's second-richest man, is not talking about the potential effect on his $17.6 billion fortune. Asked by telephone about the impact of the crisis, an Alfa spokeswoman swiftly breaks in with "We will not have any comment about this. Nothing."
Roman Abramovich, the owner of the Chelsea Football Club who, according to Forbes, is worth $9.1 billion, isn't speaking up, either. Regarding Ukraine, "we wouldn't have any comment to offer," says John Mann, Abramovich's spokesman in Moscow.
Even those who spend much of their time abroad, like Mikhail Prokhorov, the main owner of the Brooklyn Nets basketball team, whose estimated $10.9 billion stems from presiding over the Norilsk Nickel giant and private investment fund Onexim, are reticent. Ellen Pinchuk, a spokeswoman for Prokhorov in Moscow, says that "he won't be able to comment, the situation being what it is."