Several Russian POWs captured by Ukraine have decried the invasion as an act of terror, with some vowing to "rise up" against Vladimir Putin when they return home.
Ukraine has held a series of press conferences with almost a dozen prisoners of war, some of the 600 troops that Ukrainian President Volodymyr Zelensky says have been caught so far.
A reconnaissance officer who gave his name as Vladimir told reporters: "Our government told us we need to liberate the civilian population. I want to tell Russian servicemen: lay down your arms and leave your stations, don't come here. Everyone wants peace here."
He added: "I want to tell our commander-in-chief to stop terror acts in Ukraine because when we come back we'll rise against him."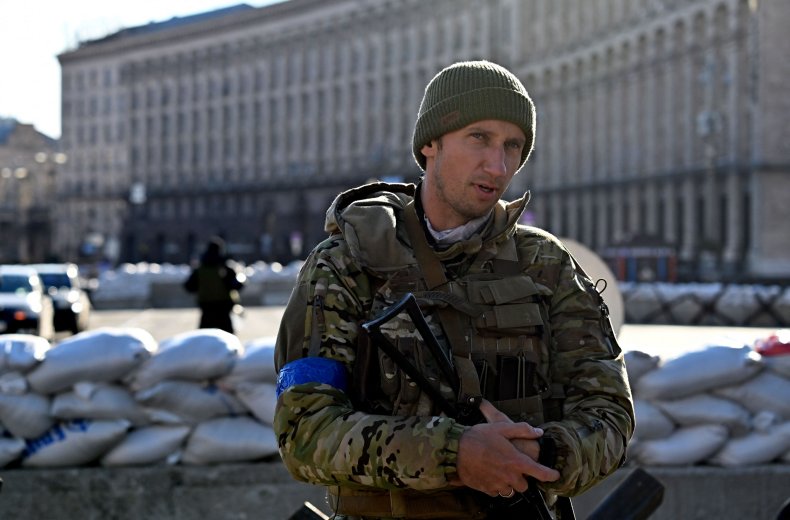 Another reconnaissance officer at the same press conference said his message for Putin was: "You won't hide this for long. There are many like us here. Sooner or later, we'll come home."
While those comments were made in front of an audience of journalists, CNN obtained an exclusive interview with three captured Russian air force pilots after they'd already spoken at a press conference in Kyiv on Friday.
Some commentators had previously questioned whether the captured soldiers' appearances in front of the press breach the Geneva Convention, which forbids states from causing unnecessary humiliation to POWs.
But CNN wrote "at no time did Ukrainian Security Services, who were in the room throughout, interject or direct CNN or the prisoners to ask or answer specific questions... The prisoners were not handcuffed, and while they didn't move from their seats, seemed to be under no physical restraint."
A fighter-bomber pilot named Maxim—whose surname was not disclosed by CNN for his own protection—was asked whether he believed Putin's assertion that Ukraine was being run by neo-Nazis. He dismissed the claim as "disinformation" and added: "We didn't see any Nazis or fascists. Russians and Ukrainians can communicate in the same language, so we see the good [in them]. It's hard to give a direct assessment of his [Putin's] actions. But, at the bare minimum, judging by the consequences of his orders, he is incorrect."
He became emotional about the suffering of Ukrainian civilians, saying: "It's not just about demilitarizing Ukraine or the defeat of the Armed Forces of Ukraine, but now cities of peaceful civilians are being destroyed. Even, I don't know, what can justify, f**k, the tears of a child, or even worse, the deaths of innocent people, children."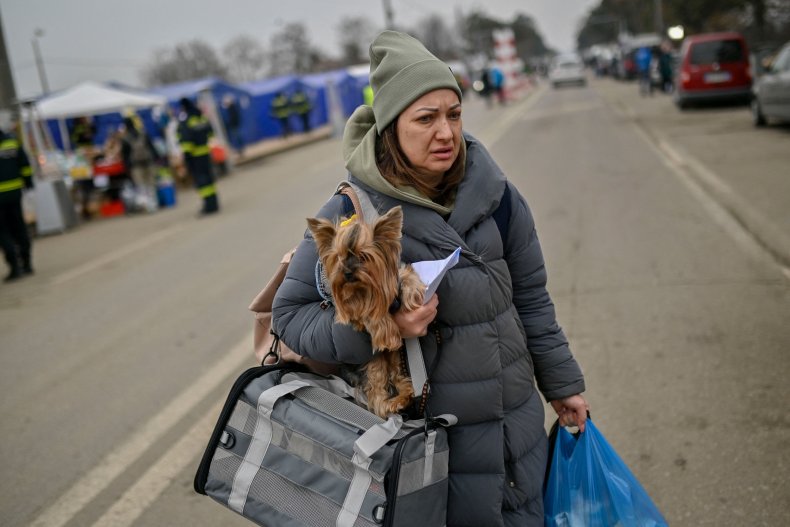 Maxim said of his Ukrainian captors: "The treatment has been acceptable. They've offered us food and drink. They offered medical treatment."
He had a cut on his forehead that he said was sustained before his capture, and CNN said he looked bruised and pale, but described him as lucid and professional.
He went on to discuss bombings in the city of Mariupol, where the death toll stands at almost 1,600, saying: "It was a horrifying fact, not just because it is a crime. It's vandalism. You cannot forgive such things. To bomb a maternity ward? It's the most perverse f**king form of neo-Nazism, neo-fascism. Who could think of such a thing?"
Another pilot, named Alexei, said: "It's not really up to us, who to bomb, what to bomb. It's a command."
Western commentators have suggested morale is low in Russian units, with many vehemently against the war.
Maxim told CNN: "I know in my unit, they are totally against it." Many soldiers in his unit have family or friends living in Ukraine, he pointed out.
The pilot claimed his unit was initially told by superiors that the operation was to be confined solely to the breakaway Russian-backed Donetsk area, and would not target Ukraine as a whole.
"If Ukraine wanted to become part of Russia, to strike up some cooperation, by all means. No one would be against that. But to force them is just not acceptable," he said.