Russian Protest Leader Ribs 'Old Man Putin,' Gets Arrested Before Arriving at Rally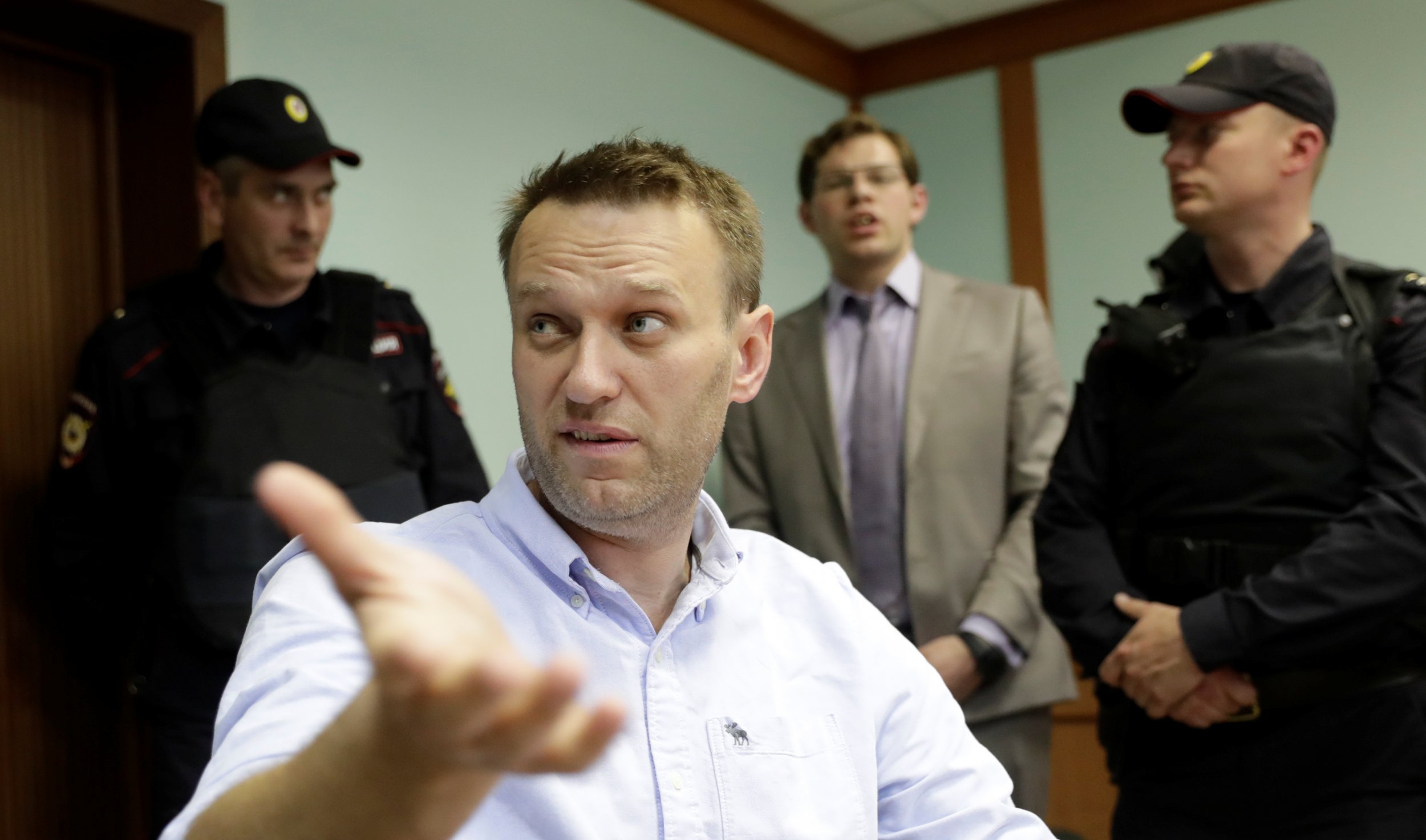 Russian protest leader Alexei Navalny has accused "old man Putin" and the Russian government of being "terribly frightened" of his planned protest, as Moscow police arrested him before he'd even left his building to attend the event.
"I would like to apologize to the citizens of Nizhny Novgorod because I will not be able to attend our protest, because the Kremlin got terribly frightened of the event we were meant to hold today," Navalny said in a video posted on his Instagram on Monday morning from the police station where he is being held. He noted a portrait of President Vladimir Putin that loomed on the wall behind him.
The video followed a handful of posts on Navalny's popular social media channels, showing a pair of bemused Moscow policemen taking him into custody in the parking area of his home. The detention took place on Friday morning as Navalny left his apartment to board a train for the city of Nizhny Novgorod, where he and his fellow activists claim they had permission to hold a rally. Filming the two officers blocking his way, Navalny sarcastically asked if they were there "on a manhunt for a dangerous criminal."
In a dry retort to Navalny's ersatz jocundity, one of the stone-faced law enforcement officials brusquely asked him to go with them, ensuring he would not make his train on time.
"Oh how old man Putin does not want me to attend the protest in Nizhny," said Navalny, who launched two mass protest waves across the country this year, largely comprised of young Russians. An anticorruption campaigner for years, Navalny's series of exposés of ruling-party and government officials hit an apex with his documentary on Prime Minister Dmitry Medvedev.
Viewed by nearly 25 million people online, Don't Call Him Dimon became one of the most widely watched collection of corruption allegations against such a senior Russian official in Russia's current political climate.
The rally in Nizhny this week is the latest in a series of detentions for Navalny in his efforts to assemble protesters against the status quo in Russia, which he claims is riddled with corrupt practices at the highest levels. He is running for president next year, though the head of Russia's electoral commission has dismissed his chances of obtaining official registration on the ballot.
Moscow police told state news agency Itar-Tass that the reason for Navalny's arrest was his "multiple appeals to attend an unsanctioned public event."
"I have never done that," Navalny tweeted after his detention. "I have been in the police station for three hours already. No protocols filed, nor is there an explanation for why I was detained. I am sitting in the auditorium, looking at a portrait of Putin. Maybe that is the point?"
Navalny's team in Nizhny reported that coinciding with his detention, a handful of activists in Nizhny were also detained. Police took away signs as well as the event stage, independent news site Meduza reported.
Polya Guseva, a project manager for Navalny's Fund for Combating Corruption, shared a clip of police in Nizhny, "vandalizing" the protest setup.
The city mayor's office claims it never officially permitted the protest but merely recommended the location for it, following Navalny's application to hold the event. As work to hold the rally there began, city authorities then rescinded the recommendation.