A photo circulating through social media on Tuesday showed a protestor in Moscow holding up a sign with no words, just two lines of asterisks.
The man, Dmitry Reznikov, was arrested on March 13. He has been fined 50,000 rubles (approximately $480 USD) for "discrediting" the Russian Armed Forces, according to a Telegram post from OVD-Info, an independent protest monitoring group.
The photo was also shared on Twitter by Kevin Rothrock, an editor for the English edition of the independent news outlet Meduza. He said the asterisks could allude to the phrase, "F**k war!"
Since Russia invaded Ukraine on February 24, more than 15,000 people have been detained at anti-war demonstrations across the country, according to OVD-Info.
On March 12, a Russian woman was arrested for protesting with a blank sign, Newsweek previously reported. Video captured her detainment by police officers in Nizhny Novgorod, a city in central Russia. Another woman holding a blank sheet of paper was arrested in the city of Rostov-on-Don, in southern Russia, shortly after the war began.
Russian authorities also arrested a woman in Moscow who wrote "two words" on a poster on March 13 according to multiple outlets, along with another woman who actually appeared to support the Russian invasion. A video of the arrests was filmed and shared by Russian activist group Activatica.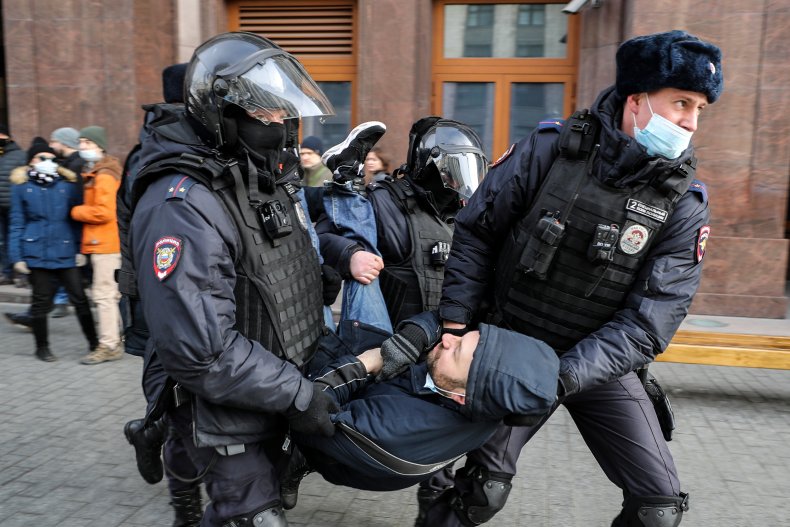 Russian President Vladimir Putin has severely cracked down on dissent and the free press this month. Two laws enacted on March 4 criminalized independent war reporting, as well as any calls to end the war and any support for sanctions against Russia, with penalties of up to 15 years in prison. Even characterizations of the attacks on Ukraine as a "war" or an "invasion" were criminalized as "fake news."
Russia has just strengthened the censorship law even further by making it illegal to "discredit" the actions of all government bodies abroad, not just the military.
The country's most widely consumed independent news sources, including the Echo of Moscow, TV Rain and the Znak news website, were forced to shut down in early March. Independent newspaper Novaya Gazeta, which has had six of its journalists murdered in connection with their work since 2000, said that it was deleting its coverage of the war in Ukraine.
Russia has also blocked access to Facebook and Russian-language media produced outside the country, including the BBC, Deutsche Welle, Radio Free Europe/Radio Liberty, the Voice of America and Meduza.
For live updates on the Russian invasion of Ukraine, visit our live blog.