Russian River Flooding: Guerneville, California, Is 'Officially An Island,' Evacuations Ordered
A northern California town has been cut off from the rest of the Golden State after flooding made the roads impassable by any mode of transportation other than a boat.
Shortly before 11 a.m. PST, the Sonoma County Sheriff's Office posted on Facebook that Guerneville, California, was "officially an island." A sheriff's vehicle was blocking a roadway leading to the town and the department said all roads leading to the community were impassable.
"You will not be able to get into or out of town without a boat today," the Sonoma County Sheriff's Office said.
Guerneville flooded even before the Russian River crested, which was forecasted to occur on Wednesday evening at 46 feet, according to the National Weather Service (NWS). At that level, which was 14 feet above the flood stage, the river was categorized as major flooding and the NWS said in a flood warning it could be "disastrous." If the river reaches 46 feet, SFGate reported the area will experience the worst flooding it has in 24 years.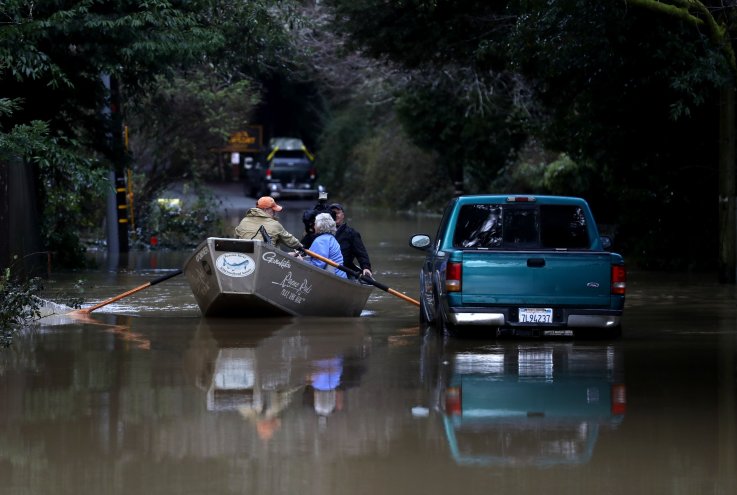 Beginning on Monday, the area experienced moderate to heavy rainfall, which caused the river to flood, prompting evacuation orders. As of Wednesday morning, the river already reached 43.25 feet.
Sonoma County Sheriff spokesman Sergeant Spencer Crum told the Associated Press that on Tuesday evening, deputies went door-to-door advising people to leave. An estimated 4,000 people were told to leave, but officials said only about half of those who were told to evacuate actually left their homes.
Sonoma County supervisor James Gore said it could be "100-year storm material" and advised everyone to evacuate if they were ordered to, just as his family was doing.
"Family most important, property second," Gore said. "We're not trying to have people standing on their roofs and have to get saved in the middle of the night."
The sheriff's office also posted two photos of a man standing at the edge of a flooded road in Forestville, located about 15 miles away from Guerneville. The man was paddling through the floodwaters when his canoe began filling with water. Fortunately, a deputy saw the man and was able to pull him to safety.
Although the man likely wouldn't have drowned, the department advised people to not enter flooded roads even if they are equipped with a boat, canoe, kayak or a stand-up paddleboard.
After cresting on Wednesday night, the river was forecasted to drop below the flood stage on Friday morning and decrease to about 12 feet on Sunday.
Russian River Flooding: Guerneville, California, Is 'Officially An Island,' Evacuations Ordered | U.S.