Russian Robot-Dog Weapons Look a Lot Like Those in Netflix's "Black Mirror"
That's the thing about Black Mirror: The whole point is that it reflects us right back to ourselves.
On Monday, Newsweek reported, Russia introduced at its Army-2022 International Military-Technical Forum arms conference a robotic dog capable of carrying and firing weapons. The announcement came around six months into the country's invasion of Ukraine. For fans of Black Mirror, the reveal felt eerily familiar.
In the black-and-white 2017 episode "Metalhead," written by series creator Charlie Brooker and directed by David Slade, a woman trapped in a barren hellscape must try to evade robot dogs on the hunt for surviving humans.
The dystopian series with a focus on the dangers of a world increasingly dependent on technology has no shortage of scary and sad episodes. Even the love stories, like season three's Emmy winner "San Junipero," have a bit of melancholy to them. Because, yes, beachy San Junipero is where virtual lovers Yorkie (Mackenzie Davis) and Kelly (Gugu Mbatha-Raw) meet, but a SAN is also a Storage Area Network, and those—unlike true love—can malfunction.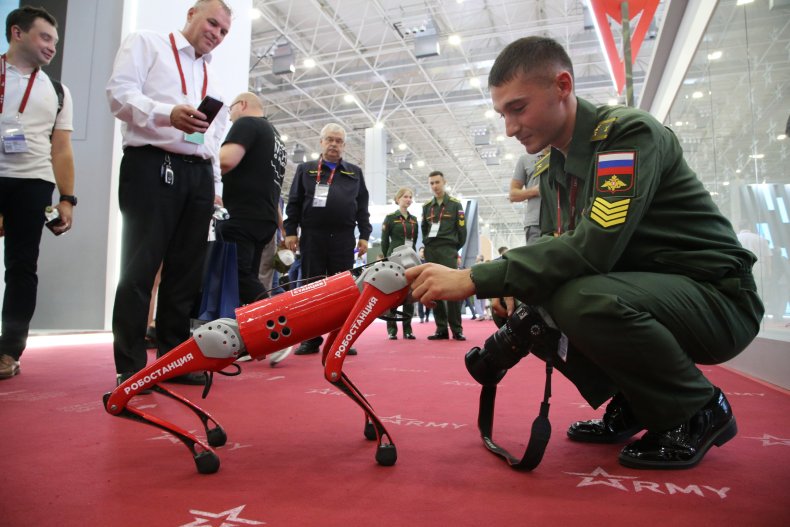 "Metalhead," though, was terrifying because its scenario seemed so possible, if not probable. And Russia's new creation is indeed not the first of its kind. After "Metalhead" aired in 2017, the Internet was quick to point out that American robotics creator Boston Dynamics had already created the adorably named SPOT, which the company describes as a "general purpose robot with broad applications, including potential military uses which could include remote inspection of hazardous environments, rescue operations, or logistics operations." But, the company added, "our robots are not made specifically for any particular government or military purpose."
SPOT, Newsweek has previously reported, is already being utilized by at least two police forces in the United States. A spokesperson for a St. Petersburg, Florida, police department that employs a SPOT said in February, "It can be used in extraordinary situations that involve a threat to human life and/or risk for First Responders, including active shooter response, hostage situations, search and rescue in an unstable building, exposure to biological or chemical hazards, mass casualty incidents and natural disasters."
Newsweek reported that at the Army-2022 arms conference, Russian president Vladmir Putin said, "We are talking about high-precision weapons and robotics, combat systems based on new physical principles," though he made no specific mention of the robot dog.
Twitter user Rob Lee shared a video of the dog in action, initially posted to Telegram by the Russian-state-owned news service RIA Novosti.
A sixth season of Black Mirror is reportedly underway, with Aaron Paul, Zazie Beetz, Kate Mara and other high-profile stars set to appear.
Newsweek has reached out to Brooker, Slade and Boston Dynamics for comment.