Russian Rockets Force Latvia to Close Airspace After Trump Promised to Sell the Country Military Equipment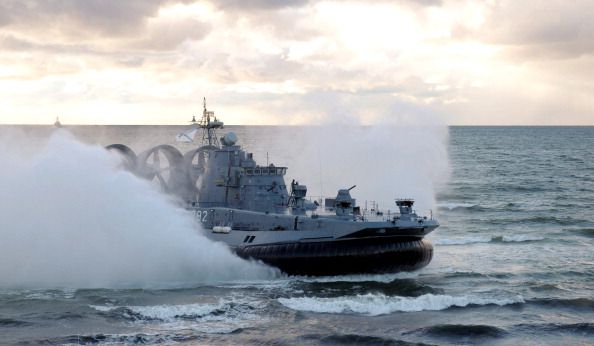 Russian military exercises sparked concern in its tiny neighbor Latvia on Wednesday, forcing the Baltic country to close parts of its commercial airspace and grumble about Russian intimidation.
Moscow had announced its intention earlier in the week to conduct military drills off of its enclave Kaliningrad, which is located along the Baltic Sea coast. But despite the warning, officials in Latvia said called Russia's decision to launch live rockets into the sea a "demonstration of force."
The exercises come just one day after Latvia's President Raimonds Vejonis met with Donald Trump in Washington and sought further guarantees that the U.S. would help the Baltic States protect their territorial integrity in the case of a Russian invasion.
Latvia and its two neighbors Estonia and Lithuania are all part of the North Atlantic Treaty Organization (NATO), meaning that the U.S. and its other NATO allies would be obligated to protect the country's sovereignty in the case of a military invasion by Russia.
The U.S. announced plans this week to provide the three Baltic States with around $100 million to purchase large-caliber ammunition and over $70 million for military training.
During the meeting on Tuesday, Trump also pledged to sell more military equipment to the Baltic States and praised them for their high contributions to NATO's budget. Because of the constant threat of military confrontation caused by their proximity to Russia, the Baltic States are among the European countries that spend the highest percentage of their budget on defense.
"You're buying a lot of military equipment from the United States. And we make the best military equipment in the world by far, whether it's missiles or planes or anything else. So we appreciate that," Trump told the leaders of Latvia, Lithuania and Estonia. "And we're also going to be promoting joint security initiatives. I especially want to commend the Baltic nations on meeting their defense spending obligations this year for NATO, unlike some of the other countries, frankly, that haven't met their obligations, but they will."
Nevertheless, Trump failed to acknowledge that Russia is a threat, and even suggested that the Baltic States would be better off if they had a better relationship with Moscow. Meanwhile, Russia continues to test the waters, quite literally, in the Baltic region. Last month, Estonia claimed that a Russian military aircraft had violated its airspace near Kaliningrad, a charge that Moscow denied.